It is a romantic relationship that we have with flowers. From having floral prints on our clothing to the ambient fragrances that we immerse ourselves in, room fresheners to embroidery and more, we cannot have enough flowers, can we? Flowers are very innate and feminine, and this is what often inspires us to tuck a bud or two into our hair as well. Indian women are known to decorate hairstyles with flowers. And this is not just for a bridal look, but given a chance, we would wear flowers in our hair every day.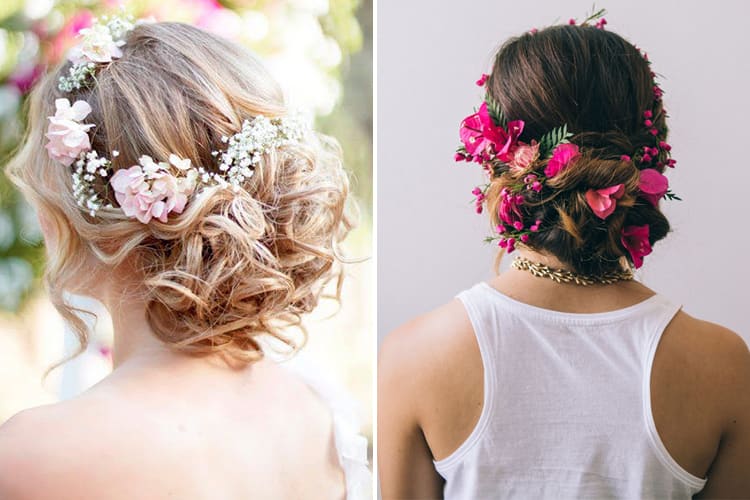 Down south, we find a lot of women wearing flowers in their hair almost daily, and it is a popular tradition too. If you are fed up with the normal hairstyles and accessorizing of hair, it is time you thought about hairstyles with flowers. This would be a new mode of hairstyling for sure and would give off a very vibrant and a fancy look, or maybe an ethnic one too. Depends on how you style hairstyles with flowers and carry them.
How To Decorate Your Hair With Flowers:
You can use real flowers or artificial ones on the hair. Decide if you want to go with updos, buns, topknots or plaits, and then tuck your flowers in it.
When doing an elaborate hair decoration, use a mix and match of flowers, like small and big. The color contrast and the shape of the flowers should be right, and should be in line with what you wear too. You can also add leaves to the hairstyle as well, which will help enhance the beauty of the hairstyle.
Using artificial flowers are very easy. They do not wither at all and would look fresh for a very long time. However, if you do plan on using real flowers, the species of flowers that you should think of using are-  Gardenia, daisy, lily, peonies, and orchid to name a few. These flowers last long and look very pretty with the flower hairstyle you chose to wear and flaunt.
Cut off the stems of the large flowers when you use them and keep the stem size not more than an inch. You should also use a strong U pin for the flowers to insert into the hair, in the areas where the hair is thick. For intricate details, using smaller flowers would be good and get them fixed with tiny beaded pins.
Never use hairspray on the flower hairstyle once the look is complete. They can destroy the flowers because most hairsprays have polymers in them, and the freshness of the flowers would be lost.
So here were some tips on how to use flowers for a flower hairstyle. Now let's take a look at some flower hairstyles.
Braided Flowers:
Braided flowers would be one of the simplest flower hairstyles that you can do. For this, you would need an inch-long stemmed flower, since they would be embedded into the hair that is braided.
Steps by Step Process:
Start by taking a small section of hair from the front and do the three-strand braiding.
When a few overlaps are done, you then can place the first flower onto the braid directly with the stem inside the hair.
Overlap a section of the hair over the stem, so that it is hidden.
Go ahead and do more overlaps and continue doing so until you reach the end of your hair with more flowers in alternate overlaps placed.
Tuck the flowers into the braid with a strong U-pin and you are done!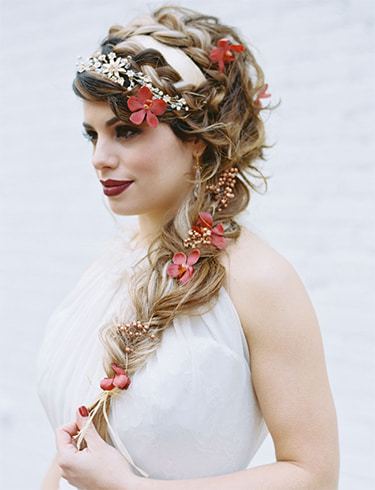 The Classic Updo:
There are many types of updos that you can choose to wear and it can transform your look into something very spectacular. All you have to do is first wear the updo and style it right, and then place a bunch of flowers or a single flower pinned above one of the ears, for a very vintage look or an elegant look to come through.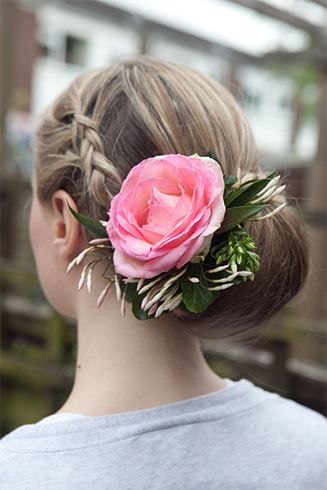 The Twisted Flower Crown:
This is another cute flower hairstyle, which can be worn for special occasions. It is a very feminine way to portray a sensual appeal as well. Here are the steps on how to do the twisted flower crown hairstyle.
Steps by Step Process:
Wash your hair and condition it a day ahead.
Start by spritzing the hair with hairspray.
Make a separation between the bangs and the back part of your hair.
Divide the hair now into two sections equally.
Gently tug and twist these sections loosely and bring them to the back of your head.
Secure the sections with a pin around one another.
Now make a messy loose bun with the rest of the hair.
Pin small flowers in this bun and around the hair as you please.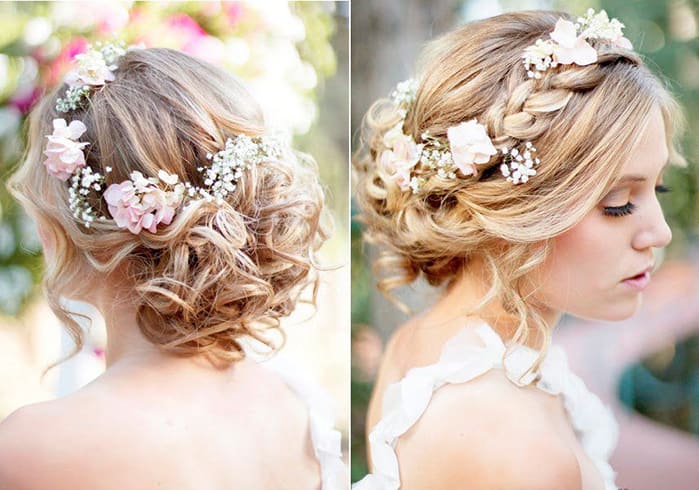 Flower Cascade:
This would be one of the easiest flowers hairstyles for you to wear this evening.
Steps by Step Process:
What you need to do here is wash and comb your hair well the day before, so that all tangles are removed.
Now take two sections of your hair (very loose) and twirl them around the back of the head.
[sc:mediad]
Secure the twirls with a bobby pin or any hair accessory of your choice.
Place small flowers of the same color or various colours around the twirls and the bun you make.
Secure them with tiny beaded pins but ensure that the pins are not seen.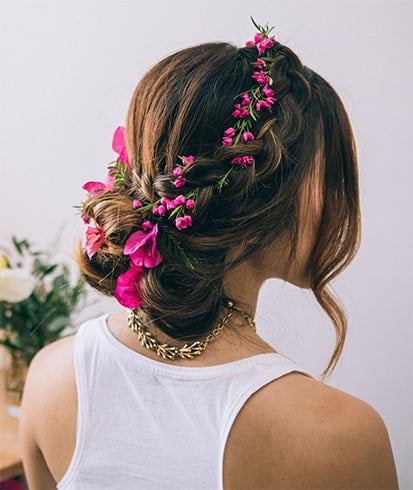 So here were cute hairstyles with flowers in hair. If you have hairstyles with a flower in it and you would like to tell us how you wore them or did the hairstyle, we would like to hear from you. Do write in!