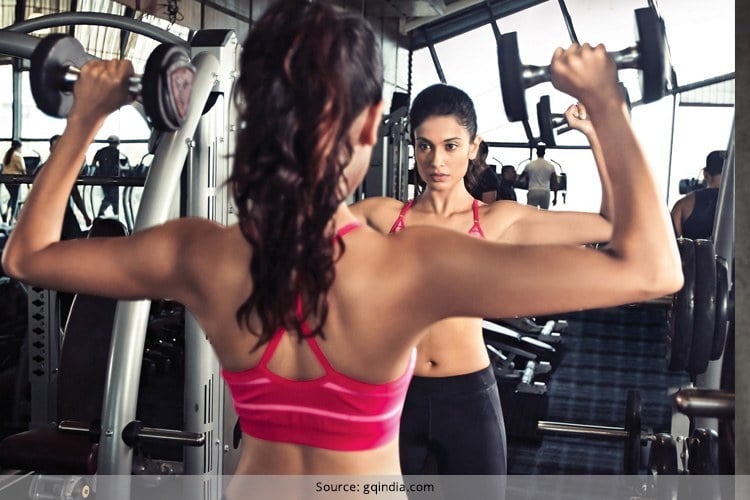 Our Bollywood divas may have quite a number of tags like bratty, self-obsessed, bitchy etc. attached to them but one cannot help but fall to their perfect beauty and features. If you thought that they were endowed naturally with it, you are in for a rude shock. The hours they spend in the gym and the discipline they follow to make you drop your jaws by their mere sight can leave you in shocked stupor. Let's check out some of these divas whose pictures of sweating out are bound to make you itch to hit the gym yourself.
[Also Read: How to Dress to The Gym to Absolutely Look Chic and Sexy]
Alia Bhatt
Alia Bhatt weight loss of 16 kgs before her debut film, 'SOTY' is admired as much as her gorgeous figure and acting skills. Going by Instagram, her svelte figure is the hard work in the gym which includes treadmill, ab crunches, bicycle, squats, cardio and many more. Recent Alia Bhatt gym pictures show her sweating out with a mix of coralline, pilates and trapeze under the guidance of Yasmin Karachiwala, the celebrity fitness trainer. If she can get the super sizzling body, so can we!
OMG, Alia does not miss her gym day inspite of injury, if this does not motivate you, what will?
Bipasha Basu
The dusky Bong's beauty attracted quite a fan following along with lot of criticisms for her voluptuous body, especially in 'Jism' opposite the fitness freak actor, John Abraham, who played quite an inspiring role in Bipasha's fitness journey. Today she is a fitness guru, motivating many to hit the gym. Bipasha gym time was predominantly a combination of weight and cardio training which helped her attain her sizzling hour glass figure. Looking ever so sexy, working out, her two released DVD's can make even the laziest itch to hit the gym!
[Also Read: Bollywood actresses]
Priyanka Chopra
Our PeeCee has never been accused of being overweight. Her sexy and sultry figure is the fruit of her intense training session in the gym. However, her recent pictures of 'Quantico' show her flaunting her well toned body in a swimming suit. Priyanka Chopra weight loss is evident there. How it has been achieved is evident from her gym pictures. If she can look so sexy sweating it out, so could we, What say!
Pareeniti Chopra
When we talk of Priyanka and fitness, how can we not talk about Pareeniti. Debuting in the industry with her chubby figure, her transformation to a hot sexy diva cannot help but inspire you. Pareeniti weight loss has taken the world by storm. Her pictures of sweating out in the gym leaves you completely bowled over. If Parineeti fitness pictures do not make you move towards the gym, then what will? To further pep you up, is her motivating note that if anybody wants a challenge, just take it from her. Got your adrenaline running! Huh!
[sc:mediad]
Jacqueline Fernandez
Jacqueline's workout pictures in the July edition of Vogue are bound to make your knees go weak. Feels like her smile is beckoning you to join her in sweating it out! The 'Roy' star is a diehard fan of pilates and squats to get a dream like figure. Focusing on acquiring flexibility, strength and stamina, she indulges in zumba, capoeira, hoopla and all kinds of sports and swimming as well. No wonder, 'Puma' had selected her as the ambassador of their dynamic lightweight training shoes. Seeing her gym pictures, you will agree that they have hit bang on!
Katrina Kaif
Not many know that that Katrina's entry film in Bollywood is "Boom'. In the movie, she is neither overweight nor fit. Her sexy pictures of gym workout are proof of her serious dedication and discipline behind the figure that mesmerizes many and draws green eyes from almost all females. The steely determination in her calm smile during her gym time says it all. Come, join her in the fun!
[Also Read: Bollywood Debut 2016]
Sonam Kapoor
If anybody has the credentials to inspire all to walk the gym, it's Sonam. This Daddy's little girl was quite overweight and almost near the century mark before signing her first movie, Saawariya. Her aggression, determination and discipline at the gym are all too evident of her success story. If ever you feel in need of motivation to go to the gym, simply check out her pictures. If she can acquire that svelte figure, why can't you?
There is no Bollywood diva who has not hit the gym. A lot of hard work and determination goes behind their beautiful and sexy bods. In their endeavor to motivate others, they do not shy from posting their gym pictures on various social media sites. Why not return the favor by posting yours?