Be it at the airport or at the workout session, looking good is a mandate for B-town fashionistas.
With health and fitness taking centre stage, gym has become the new runway for our leading ladies. While they tone up their gorgeous facade, their active gym wear is absorbing all the attention of fashion followers.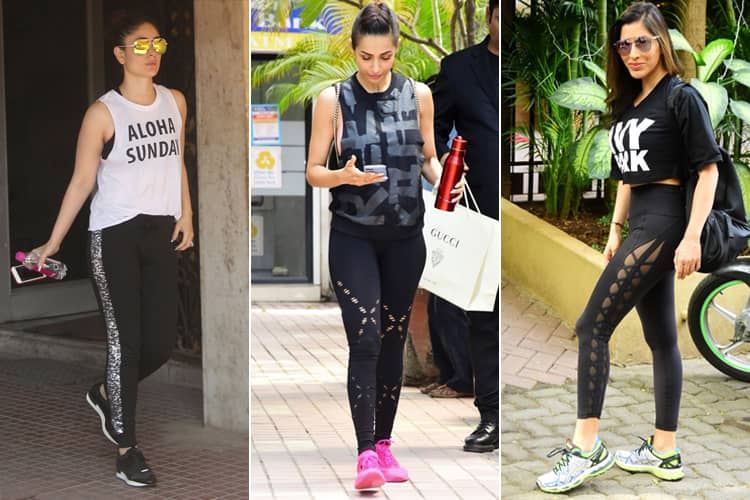 From fitness veterans like Kareena and Malaika to newbies Sara and Jhanvi, these women are taking gym wear to an all new high with their personal styling touch up.
So ladies, if it's your gym day today, make it a little more bearable and approachable by adding a dosage of fashion to your basic workout closet, just like our divas.
Bollywood's Awesome Gym Wear:
Here's a list of 9 things that will instantly up your workout glamour and have you looking like a B-town celebrity as you sweat out those fats and carbs.
1. Neon Activewear:
A neon tee shirt like Malaika's or the famous orange tracks Jahnvi most frequently wears to her workouts are perfect to brighten up the mundane workout mornings. After all, a little brightness hurts no one.
Malaika Arora In Neon Green Sports T-Shirt.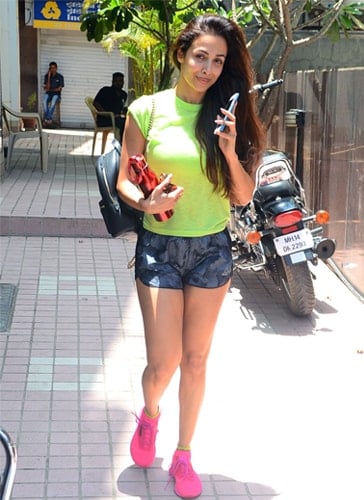 Jahnvi Kapoor In Orange Tights.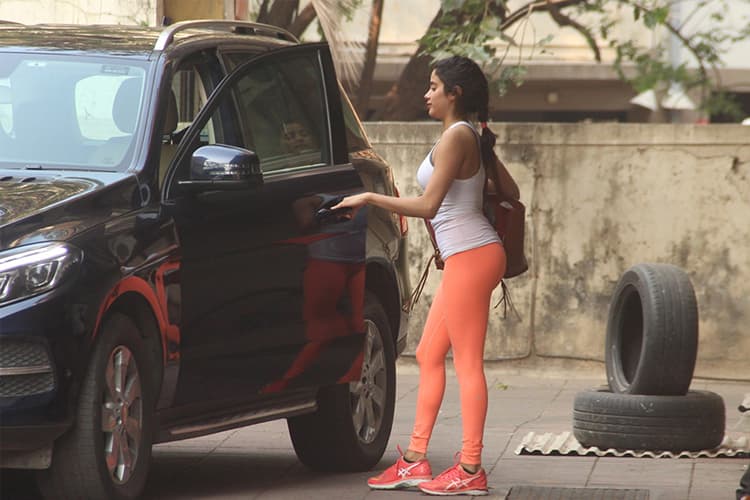 Kareena In VS Pink Neon green vest.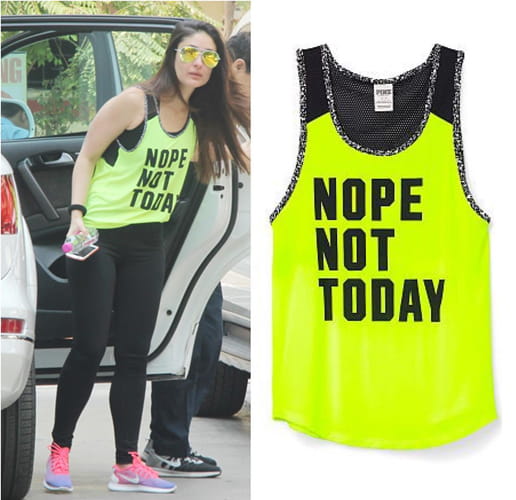 2. Criss-Cross Sports Bra:
Criss-cross straps on the back are passé. In comes the trend to flaunt the criss-cross straps in the front, just like Bollywood training pros, Malaika and Kareena did. The criss-cross sports bra is all you need to restore your fashionable girl repute.
Kareena Kapoor In Black Criss-Cross Sports Bra.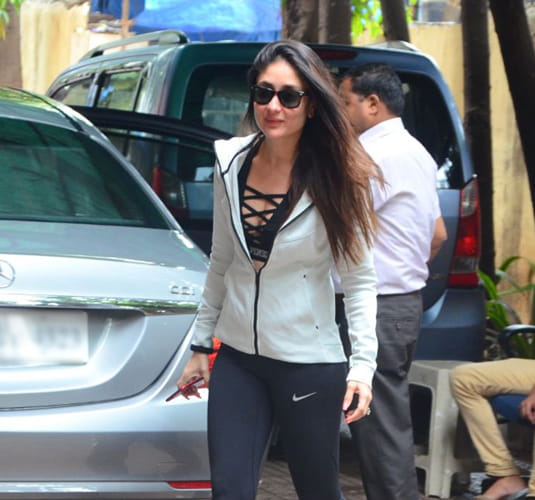 Malaika Arora Khan in Yellow Criss-Cross Sports Bra.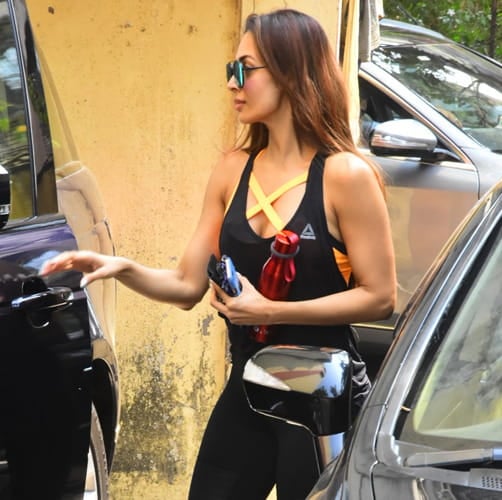 3. Fashionable Workout Tights:
While solid black tracks are the classics, it's high time you stepped up and opted for varieties. Celebrities currently are crushing on their sheer tracks. But if you still have some toning up to do, then printed or a glittering side panel just like Kareena's should work in your favour.
4. Bright Shoes:
Trainers in bright shades have been making their way to the gym for quite some time now, but Malaika's bright pink trainers are game changers. With that pair, the woman is literally killing her workout peers as far as fashion is concerned. After Malaika, the second spot has to be of the begum Kareena Kapoor who works out wearing pleasantly-bright coral sport shoes.
5. Number T-Shirts:
We spotted the SOTY2 debutante, Ananya Pandey working a numbered Sports tee-shirt to her workout and we have to admit, we were stumped instantly. Surely loved that touch up.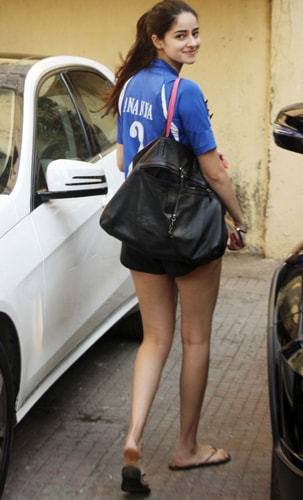 [sc:mediad]
6. Tone On Tone:
Wearing tone on tone gym wear is the latest fad as far as activewear is concerned. We are totally loving Sara Ali Khan and Malaika's monotone sportswear- A smart way to create a slimmer illusion and hence, more motivation and positive vibes.
Sara Ali Khan In Blue Vest On Blue Nike Sports Shorts.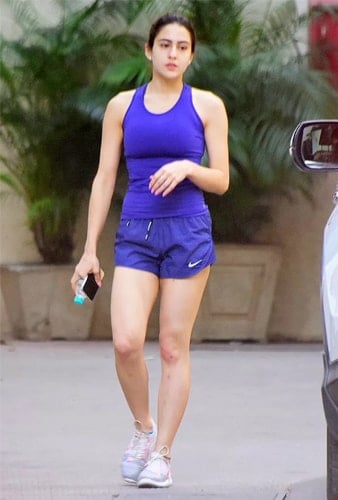 7. Caption T-Shirts:
Kareena Kapoor is frequently spotted entering workouts wearing cool and comfy captioned t-shirts. Following the suit is newbie Ananya Pandey.
Kareena's Pilate Girl Vest.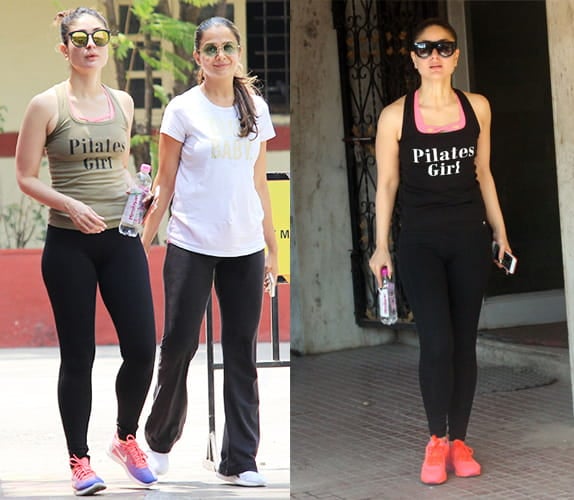 Gymming suddenly looks cool, courtesy the workout clothing of these Bollywood celebrities
Images Source: instagram.com/malaikaarorakhanofficial/   facebook.com/ananyapaanday/   instagram.com/janhvikapoor/   twitter.com/kareenaonline/   twitter.com/sonakshisinha/   twitter.com/Sophie_Choudry/   instagram.com/saraalikhan