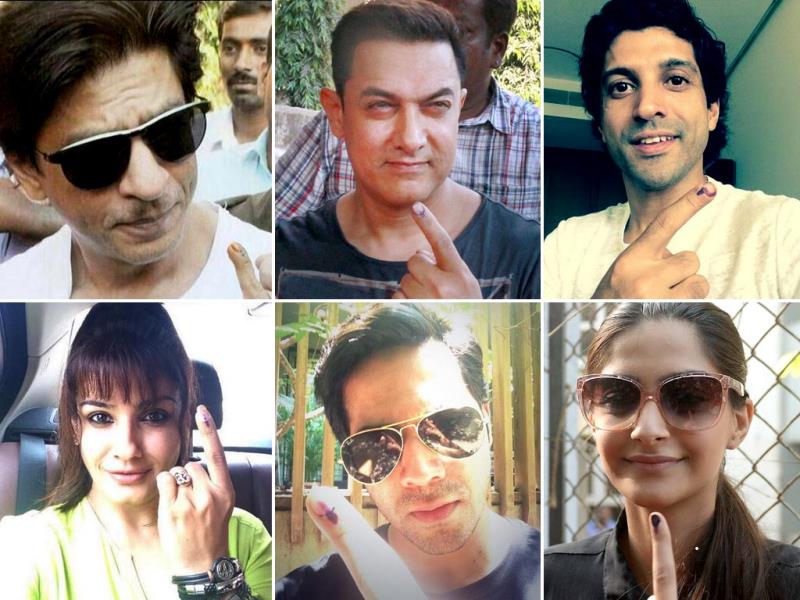 Firstly, Fashionlady's entire team is all set to cast their vote on 30th April. Have all you exercised your right just as Bollywood did?
Once popular as a feckless industry, where celebs hardly rarely turned out every 5 year to exercise their right to vote, this year the Bollywood fraternity seems to have taken their political views quite seriously. This is the reason; the responsible Bollywood now stands divided as A-list Bollywood stars are having to choose between the IIFA 2014 celebrations in Tampa, Florida and voting for their political preferences in Mumbai.
There were some prior commitments towards contracts due to which some Bollywood celebs had to forcibly quit voting and head for US. However, it was pretty impressive to see most of the film fraternities turned up to cast their vote in Mumbai on April 24.
Stars from Amir Khan, Shahrukh Khan, Ranbir Kapoor and entire Bachchan family to Sonam Kapoor, Vidya Balan, Dia Mirza Parineeti Chopra to name a few had visited their respective polling stations to vote for their preferred candidate.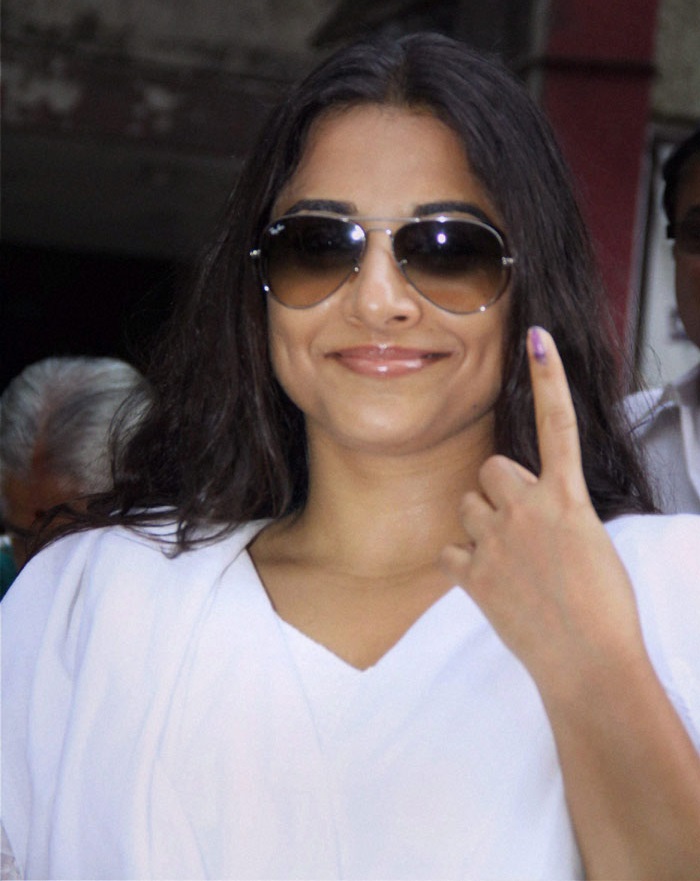 Actress Vidya Balan was one of the first Bollywood celebrities to cast her vote. Vidya, who has shifted to suburban Juhu after her marriage with UTV head Siddharth Roy Kapur, cast her vote at a Chembur booth. When asked about voting in Chembur, the , "Why not? this gives me a chance to come to Chembur… I do come often." "It's my responsibility to vote… To point fingers at others and (if) I face a problem, I need to have this on my finger," she said while displaying her inked finger.
Vidya, who's supposed to host a workshop in Florida had delayed her trip for the ballot.
Here's a list of other celebrities who postponed their plans and trips to vote –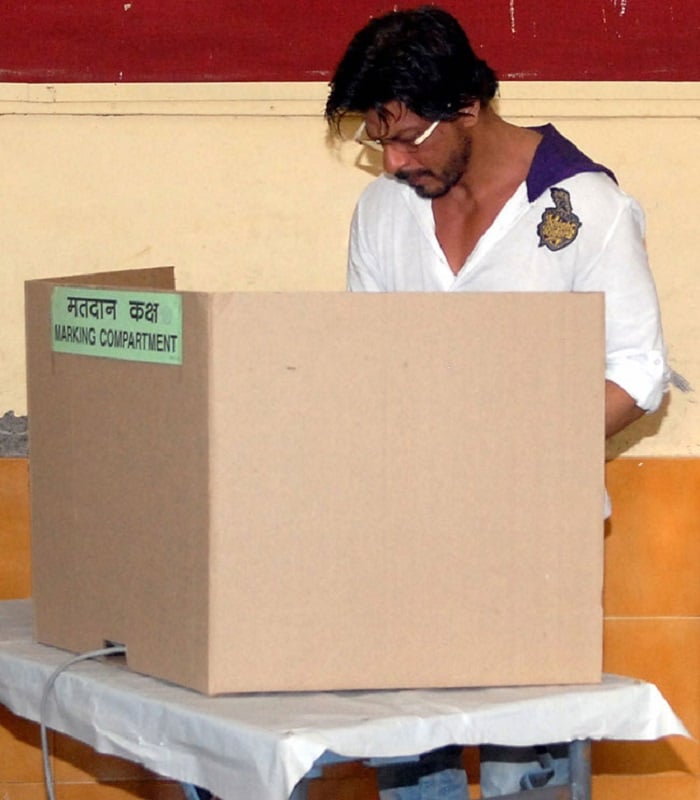 Shahrukh Khan – Bollywood Badshah decided to stay back and vote and take a next day flight to Tampa for IIFA, while his co-stars such as Hritik Roshan and Anil Kapoor had already left. He tweeted, "Most times I don't even get to choose the channel I want to watch on TV. Today I have an opportunity to choose my country's future. Awesome!"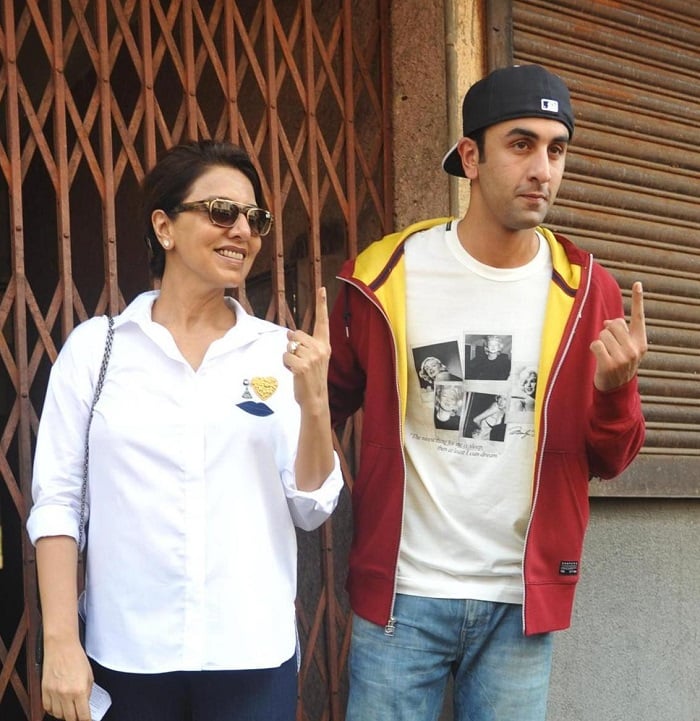 Ranbir Kapoor – Even Ranbir has shown his responsibility towards his country by delaying his IIFA trip to vote. He showed up with his mother Neetu Singh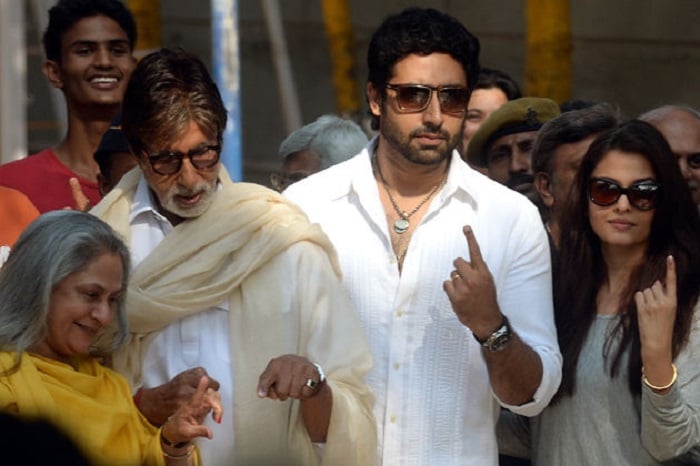 Amitabh Bachchan – Even Big B, who is supposed to attend the IIFA made sure to exercise his rights first before the award function. Earlier that day, Big B had urged everyone in his blog stating,
"Its voting hour tomorrow… the members shall go to vote as shall millions of others, to decide for the future of the nation, the future of the leaders that shall lead us into the next, and the next."
Jaya Bachchan – The actor-politician who has been extensively campaigning in UP flew down to cast her vote with husband Amitabh Bachchan, son Abhishek and daughter-in-law Aishwarya Rai.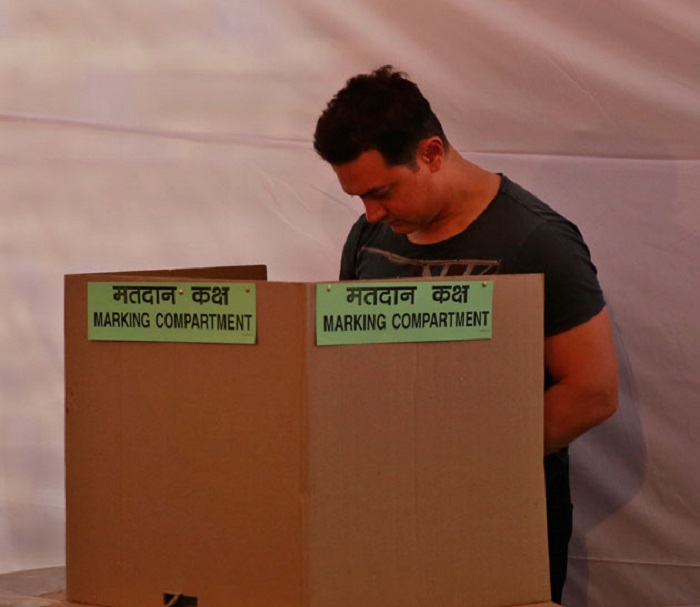 Amir Khan – Amir Khan was in Istanbul along-with his wife Kiran Rao, but the couple made sure to fly down to Mumbai a day earlier and impressively both were at the polling station in suburban Bandra by 8 a.m. After voting, he said to the media, "Voting is an important process in democracy. It is my duty as an Indian to vote."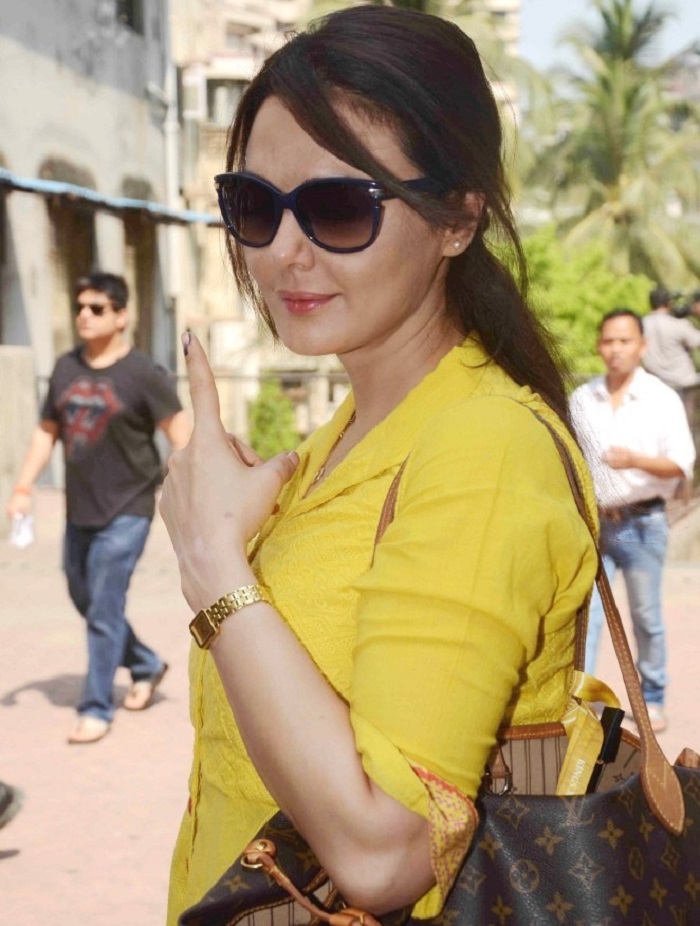 Preity Zinta – The actress, who was in Abu Dhabi, took a day off from her busy IPL schedule to air-dash to Mumbai and cast her vote at St. Ann's School in Bandra. She will soon fly back to join her team. She tweeted, "It's time to stop complaining about the system and take action. Boys and girls either Vote now or forever keep Quiet!"
[sc:mediad]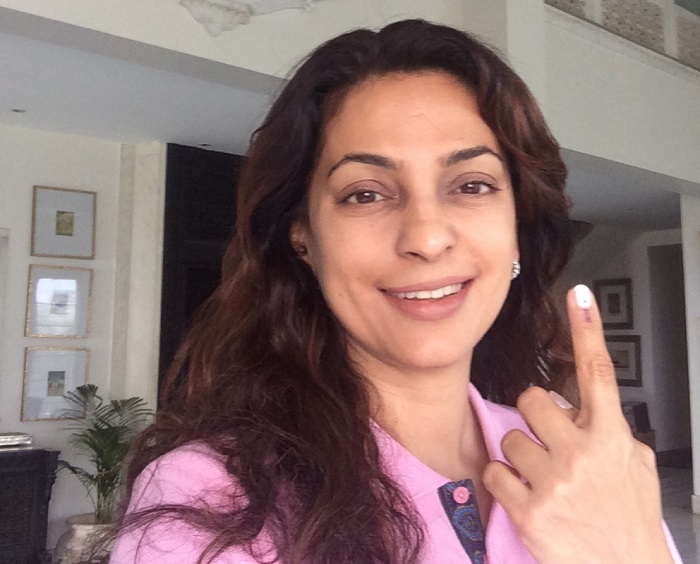 Juhi Chawla – Co-franchise owner of Kolkatta Knight Riders, Juhi Chawla also flew down from Abu Dhabi to cast her vote in a general election for the first time. After doing her duty, she'll be back to cheer for her team. Juhi tweeted soon after she voted, "Cast my vote in a general election for the first time!!! So happy to have done my duty… I voted for change !!! Grr !!"
Kiron Kher – The actress-turned politician, who is contesting the election from Chandigarh, drove straight to the polling booth from the airport. She was accompanied by son Sikander. However, husband Anupam Kher had to give voting a miss as he is in Florida, where his short film I Went Shopping for Robert De Niro is being premiered. "I don't blame the ones at Florida as the award date was confirmed well before the election dates were announced so they were contractually bound," she reasoned.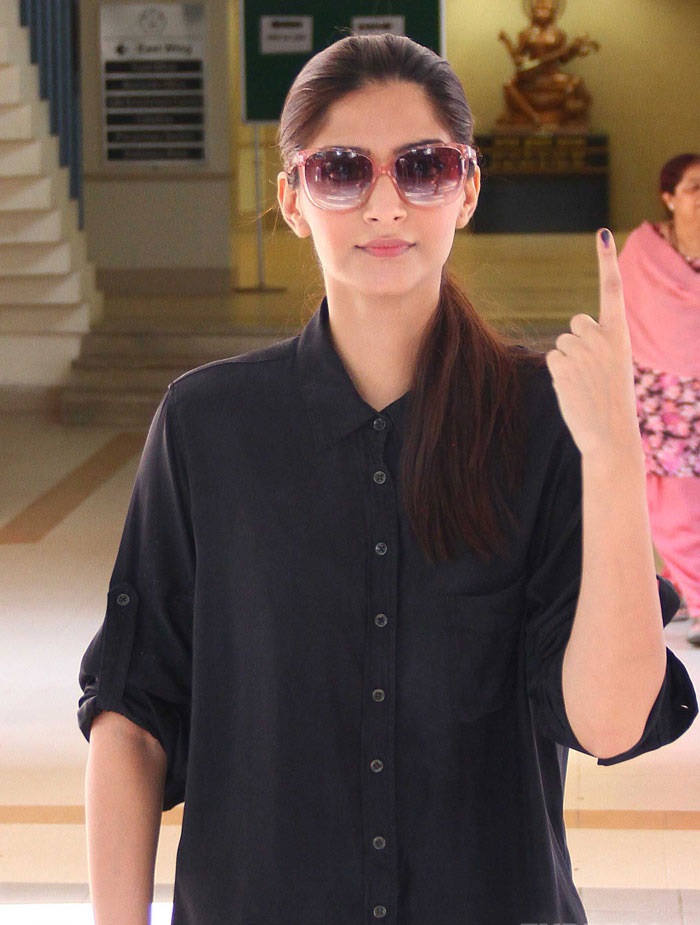 Sonam Kapoor – Even Sonam preferred voting over IIFA, which could wait for the politically-aware fashionista.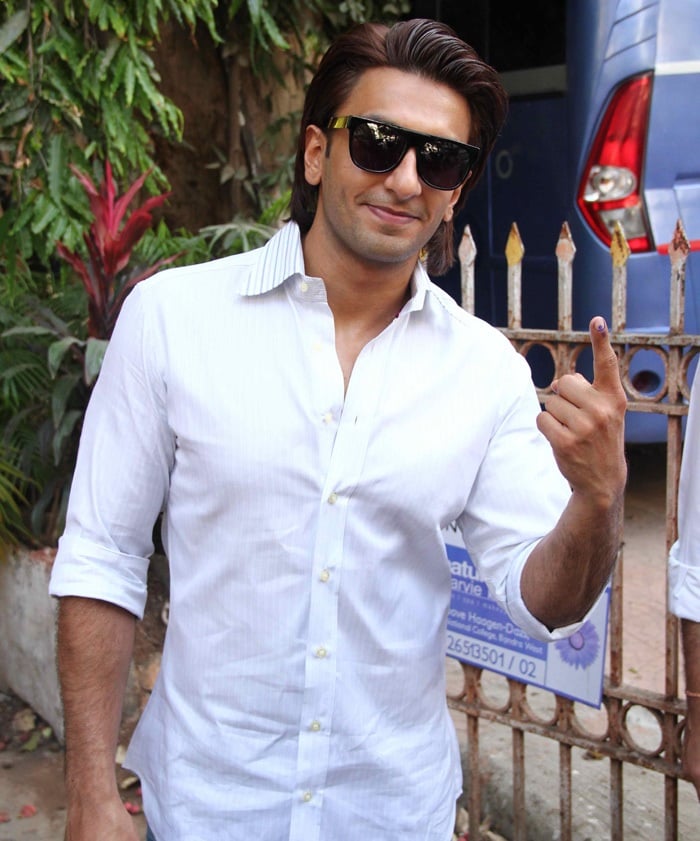 Ranveer Singh – The actor was shooting at Film City for an upcoming film till 2 a.m. on Wednesday. As per the actor, after returning hoome he stayed up watching a movie and was one of the first voters to turn up at Bandra's polling booth at 7 a.m. Only then did he catch up on his sleep.
Esha Deol – The actress and her husband had been busy campaigning for her mother Hema Malini in Mathura, made sure to flow down with her husband Bharat Takhtani to vote.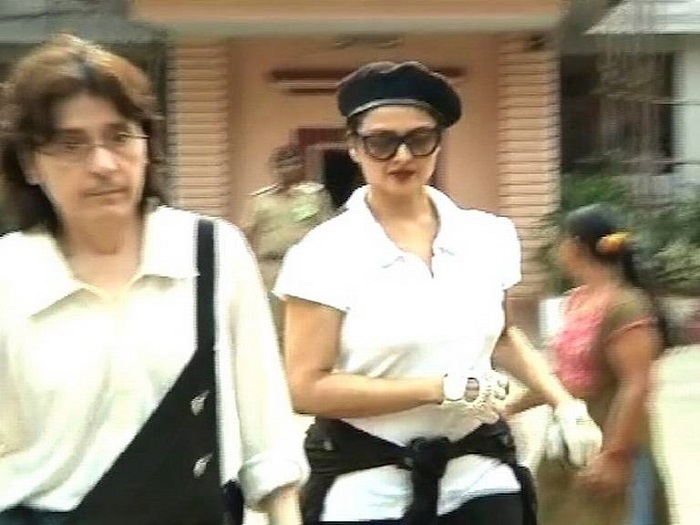 Rekha – Actress and Rajya Sabha member (nominated) Rekha came in a track suit to exercise her right to franchise, giving IIFA a miss.
Other celebrities who got inked were Shilpa Shetty, Kunal Kapoor, Shreya Ghoshal, Soha Ali Khan, Sunny Deol, John Abraham, Onir and Riteish Deshmukh.
We couldn't miss him –
Sachin Tendulkar – Birthday boy Sachin Tendulkar posted this pic on Twitter after casting his vote and tweeted, "I have voted, have you? A wonderful start to my birthday, as a responsible citizen of our great nation." 
Fashionlady urges every eligible voter to cast their vote for a better India for the next 5 years!!