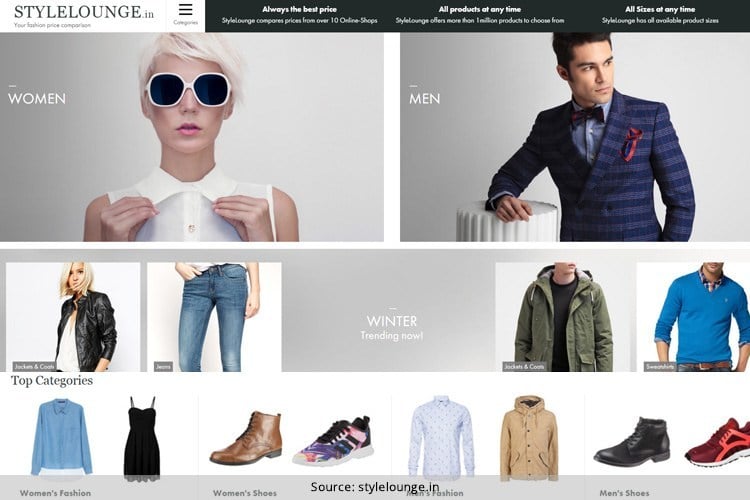 The current swing of online shopping attracted numerous shopaholics relieving them from the strenuous walks along the malls but also brought about new worries mainly being where to buy? And, is someone offering the same thing at a better price?
[Also Read: Love Trending New Styles – Try LooksGud]
The German fashion portal, StyleLounge has launched a website catering wide, beyond the limit of search engines for clothing and lifestyle products. Johannes Heinen, the founder and CEO expresses that StyleLounge has made its entry aptly into the fashion world with its new technology, especially when the shoppers are scratching their heads, trying to figure out how best to compare the product prices.
So stop feeling overwhelmed by the profuse clothing, accessories and many more lifestyle products that the internet has to offer. StyleLounge has resolved it by providing for price comparison inclusive of discounts, returns, vouchers etc. along with availability-scanning across all the stores based on color and size appeasing the buyers from visiting every retailer's portal.
Finally, StyleLounge, Europe based fashion platform has made its entry into the Indian market. So brace yourself shopaholics, as here comes a smarter way of fashion shopping.
[sc:mediad]
StyleLounge has delved deeply into expanding their meta-search by inextricably interconnecting products from different shops like Snapdeal, Jabong, Flipkart, Elitify etc. India being its fourth launch country, one can only imagine the extent of their growth and visualization, as Indian market is a very challenging platform; where you find people merging different delicacies of fashion to savor their taste.
StyleLounge has not left any stone unturned. The portal invites its users to a wide range of products from clothing, beauty, to hats, gloves, shawls, glasses etc. which is so daunting to find on a single platform. It's introducing the Indian market to the international brands and classes of fashion. Their portal is well-structured to indulge the different choices of the audience and this shows the potential with which they seem to be growing their enterprise.
People who have migrated from abroad do not ponder on acquiring the accustomed brands and clothing anymore, as StyleLounge has it all. It is opening a window of opportunity to explore the top international brands like Ralph Lauren, Michael Kors, Coach, so on and so forth up to 20,000 brands and more than a million products to choose from. So, come on fashion enthusiasts get on to the StyleLounge portal on www.stylelounge.in to explore, experiment and feel like a fashion insider.