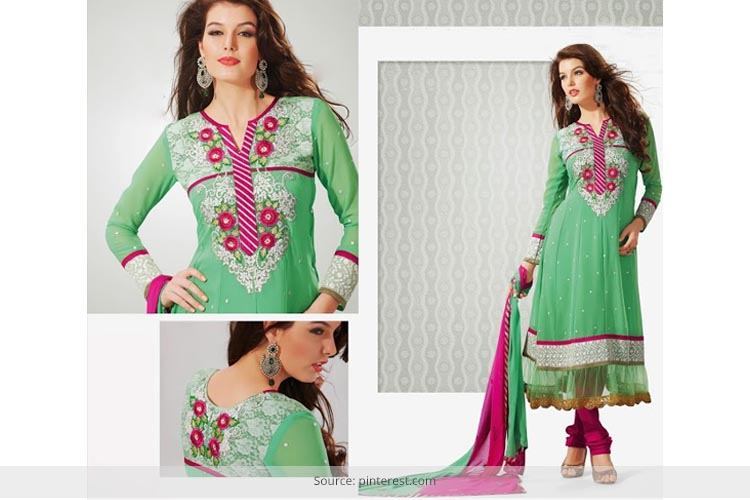 Price – Rs: 6995.00 ($140), Rs. 4896.50 ($91)
Price – Rs: 6995.00 ($140), Rs. 4896.50 ($91)

Exclusively for Fashionlady visitors, we offer you product of the day with 30% introductory discount – As sea green best suits cancer women, so we offer you two very beautiful flowing, anarkali dresses. To buy these pieces contact here.
Zodiac sign fashion is a rage these days. With people's faith on astrology getting immense with each passion day, astrology 's influence on Indian fashion is of no surprise these days.
In this edition, Fashionlady offers some superb fashion tips for girls with cancer sign. Do have a read!
If you are in habit of picking glitzy outfits randomly from store, like whichever color just appeals to you then think again. Just look up to the wild blue yonder to look for your zodiac sign; you believe it or not it influences your fashion quotient to a great extent.
At this stage of life where technology has only worked as a catalyst in increasing the craze of astrology, understanding what you sun sign has in store for you is not a great deal anymore.
Most of our readers probably are pretty aware about their astrological signs and even what their sun sign accredits to their personality. Let us tell you the affinity between your sun sign, say Cancer, and style runs deep. In fact, the tie-up is so strong that you can experience a huge change in your life after dressing up to your sign.
Before going further let's discuss on this zodiac sign Cancer
Character Analysis
A moon ruled sign, cancerians happen to be fragile and ethereal in the their youth, therefore they unintentionally strive to italicize the vulnerability by picking appropriate color for outfits.
The zodiac sign cancer is known by the crab symbol. Once the cancerians are able to break their shell just like the crab, their true personality and feelings shine.
By nature, people with this sign are mysterious, displaying a sense of calm and tranquility. However, deep down they are quite unpredictable and driven.
They are introvert and often keep their emotion hidden in their shell and people who encounter them may never know what's actually going on in their minds.
They are intuitive and endure a strong sense of empathy and can quickly read people's emotions.
Sense of Style
Similar to their personality, cancer women's sense of fashion reflects their basic nature. In sort, a cancer girl literally wears her emotions on her sleeves.
Their fashion taste embraces outfits which are flowing, free fall and dreamy, embellished, fanciful, ornate, embroidered and customized.
[sc:mediad]
The cancerian woman usually prefers to have a decent grease of layer at mature age and is driven to wear clothes of freer class. The silhouette on the other hand often reminds us of the cocoon featuring cut lines with draperies and folds; all these signifying to water elements of this particular sun sign.
These women always fall for big scarves and stoles, while men preferring more volume as their mature.
Their outfits are usually made up of basic and simple elements without any kind of detailing or contrasts. However, some sort of embellishment always amuses them.
To summarize, their fashion quotient brings our a soft lunar shape with lateral cuts, rounded line at shoulder area, asymmetric waistline and trousers with soft folds.
Cleanliness in clothes is emphasized by all Cancers, therefore they prefer outfits made up of natural materials which it is easy to maintain.
The cancer woman's fashion taste also reveals the idea of liberated bust with underlined bodice and a free skirt.
You can easily notice her wearing a souvenir choker (necklace worn high on the neck) left behind from her grandmother or an empire-waisted kamarbandh – the vintage number. There's always a story behind the Cancer's fashion stuff, which she often finds hard to let go.
In western countries, you can expect such women to display a little cleavage– her sign rules the breasts after all!!
Tips for Visitors with Cancer Zodiac Sign
The colors, which are best for Cancer are white, blue and sea green. These shades keep those sensitive and caring ladies at their best, though the emotional side always remains paramount.
The color of the Jupiter sign; the planet of benevolence yellow is also an auspicious shade for the cancerians. This shade symbolizes success and a positive frame of mind.
Green, especially sea green is very good for career, so young girls should shop for outfits in this color.
Pale and pastel shades are also suggested by astrologers.
Peppered with a gentle dash of creamy colored palette of silver, pearl-white or pastel, a cancer woman's shape becomes more enhanced with soft elaborate and feminine silhouettes.