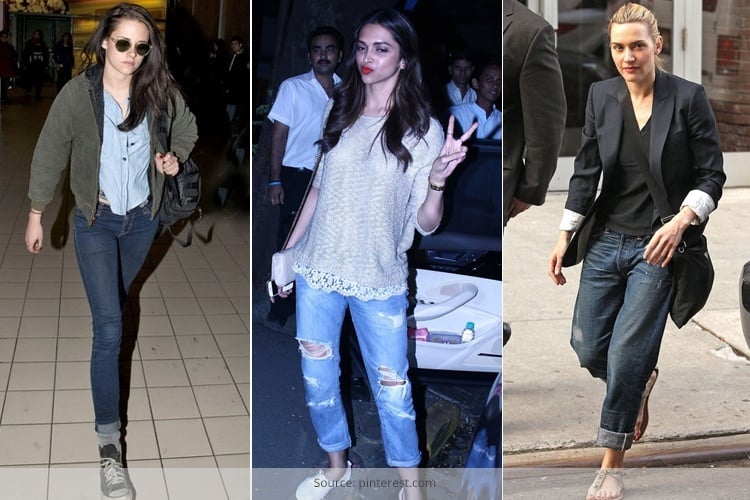 There was a time when rolling up jeans was done as a matter of convenience. You rolled up your jeans if it was too long. You rolled up your jeans to keep the ends from getting frayed. But that act has now gone from being a matter of convenience to a trend sported by a lot of celebrities. Rolling up their jeans, these celebrities are going for a casual everyday look but still look super stylish. Here are a list of celebrities totally owning the rolled-up jeans trend.
[Also Read: Tips to fold Denims]
Sarah Jessica Parker
We're convinced that fashion-forward actress Sarah Jessica Parker is the biggest fan of the rolled-up jeans look. She has been spotted on numerous occasions flaunting this trend. From a simple half-inch cuff to a ridiculously high cuff, she has tried it all.
Kristen Stewart
Kristen Stewart seems to prefer a neat one-fold cuff. Apart from cuffing her jeans for a casual look, she even sported the look for a red carpet event. Well, I guess now that Hollywood has given it the go-ahead, the cuffed jeans look is considered appropriate for red carpet events as well.
Jennifer Aniston
Jennifer Aniston nailed the casual look with a white tank top, wide belt, cuffed jeans and ankle boots. While this look was hard-core, she was also pictured in a dressier avatar, with cuffed jeans, white tank top and a blazer. Which of these two looks do you like best?
Deepika Padukone
Our Bollywood diva Deepika Padukone kept it simple with a small one-fold cuff at two occasions. She had one comfortable shoes and a casual top to complete her laidback style.
Keira Knightley
The British actress seems to love the trend and we love seeing her in it. She makes the rolled-up jeans trend seem so effortlessly classy and charming.
[Also Read: How To Wear Distressed Denims]
Priyanka Chopra
Priyanka Chopra shows us how it's done with a white crop top, rolled up straight-cut jeans and black sandals. All we can say is – she nailed the look.
Kate Winslet
With cuffed boyfriend jeans, a black blazer teamed with a black t-shirt and comfortable sandals, Kate Winslet was all about striking the right balance between comfort and style. She proved to us that we don't have to compensate on the comfort factor in order to look trendy and stylish.
[Also Read: Denim Jacket Outfit Ideas]
[sc:mediad]
Heidi Klum
Model Heidi Klum, known for her impeccable dressing, seems to love rolling up her distressed jeans to achieve a very casual look on her day out. Take notes ladies!
Emma Stone
Emma Stone keeps it simple and neat with a one-fold cuff. She pairs her jeans with a white shirt for a classic look. We like!
Miley Cyrus
Rolled up boyfriend jeans, white crop top and platform heels complete Miley Cyrus's casual day-out-look.
[Also Read: How To wear Boyfriend Jeans]
Miranda Kerr
Model Miranda Kerr looks stunning in this understated look. With cuffed skinny jeans, ankle boots, a black blazer, an oversized tote and a scarf, she manages to take her look from casual everyday streetwear to runway –worthy style.
Now that you know that all the celebrities are crushing on the rolled-up jeans trend, what's your take on it? Will you sport this trend? If yes, which of the above celebrities will be your inspiration? Who do you think looks the best wearing cuffed jeans?