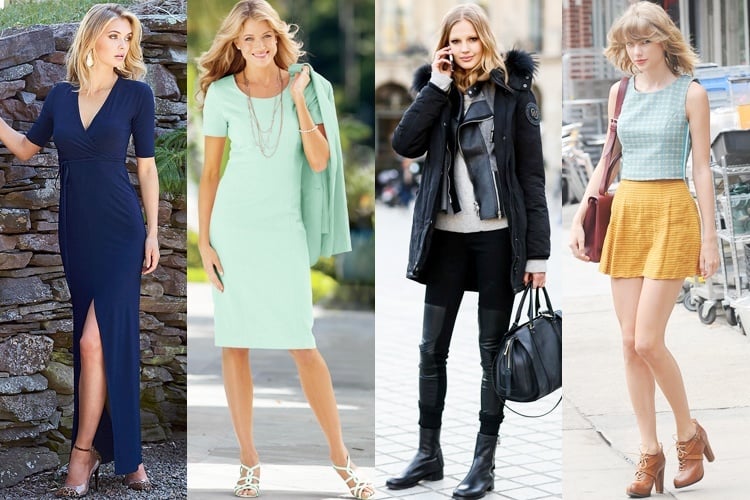 Height is something that we all strive for. I know it all the more because I am a li'l vertically challenged. But there are many like you who have inherited a great height. When it comes to fashion there is a lot in store for you. You can mix-n-match from a variety of stuffs out there, and can hardly make a fashion blunder, unless you totally got it wrong. After my deliberate study of our Hollywood celebs, here are a few points I have jotted down for you.
[Also Read: Fashion Tips for Petite Women to Look Taller]
1. Lay Your Hands On Anything And Everything
Girl, are you lucky or what! Yes, you are, because there is absolutely nothing that you shouldn't try on. Everything that you see in the style magazines, everything that is in fashion, you can try them all. Hardly anything can go wrong on you. You may look elegant in solids and equally pretty in prints. What's more, you can even sport those horizontal stripes, which are a no-no for most of the body types as long as you own those long legs.
2. Find a Good Tailor
Now because you are taller than the average population in this world there are a few challenges that you might face. One of these would be finding a maxi dress or pants that cover your legs completely. Most of them would end up at you ankles or perhaps even above them. Here is when your tailor comes to your rescue. Find a good tailor who is well versed with all the new styles and cuts in the fashion bazaar. Collect raw fabric for maxi dresses and trousers from the cloth store and get them stitched for you in the tailor shop.
[Also Read: When Should You Opt For Tailor-made Clothing]
3. Less Is More For You
Most girls can kill for longer legs, but you have them already. Show off those never-ending legs in shorts and miniskirts. You may try various types of skirts like skater, A-line, flared, or straight fit. The trick here is to play it up but not look skanky. Don't show a lot of skin all together. May be you can keep your blouse a li'l conservative if your skirt in too short.
4. Pet Your Giant Accessories
Don't be afraid to carry an oversized handbag, they are made for you. You can also sport huge loop earrings, broad arm bands, or thick belts with your denims or dresses unlike your shorter bestie. The best match-ups for you would be wearing a wider belt with a shift dress to office or even for an evening affair, a giant bag with vests, denims with leather boots, and a thick studded wrist-band to go with your denims shorts and tanks.
[sc:mediad]
5. Highlight Your Neckline
You have the freedom to play as much as you want to with your neckline. You can go for turtleneck tops and accessorize it with multiple neckpieces to dangle at your bust. Wide collars will also sit on you perfectly.
[Also Read: Best Hollywood Dresses]
Wear your hair back into a neat ponytail to show off the accentuated neckline more. Chandelier earring would add on to this look, but if you are wearing heavy earrings, then avoid wearing multiple neckpieces else you would end up looking busier at the bust.
6. Play With Prints
Solids look good on everyone. But, prints look good only on a few. You can try out from a vast range of prints that would include asymmetric prints, floral prints, polka dots, animal prints and what is very 'in' these days is the butterfly print.
If you are wearing separates try not to mix match two different categories of prints if they don't blend really well, which in most cases, they don't. It is safer to keep the lower solid, if the top is printed and vice versa.
7. Heels Are For Everyone
Every woman loves shoes, heels in particular, and you are no different. Your splendid height doesn't really strike out your right to heels. Heels not only add a few inches to a shorter figure but also add tons of sex appeal and confidence to the appearance as a whole. And no one denies you the right to look sexy and confident. Yeah, maybe you do not need to wear a 6.5-inch stilettoes, but you sure can pick up that pair on the rack which has bewitched you through the showroom's display glass.
[Also Read: Types of High Heels You may consider Buying]
8. Time To Cover Up
And you can look equally gorgeous when you are playing no-skin-show. For such times you look best in a full jumpsuit. You may even try a pair of well-fitted trousers with a classy jacket. Checked shirts are an option you might want to try with your trouser. Don't want to keep it too formal? Then just wear a girly frilly top with your trouser, and you are done! Wear your hair into a twisted bun or just let them down as per the mood of the ambience.
There is a list of celebs in Hollywood who are blessed with an envious height. Of course the height factors makes their stylists' job a tad easier. As there is absolutely nothing that doesn't work on people with good height. So if you got it, you know this is an asset that you won't ever lose. Embrace your height.