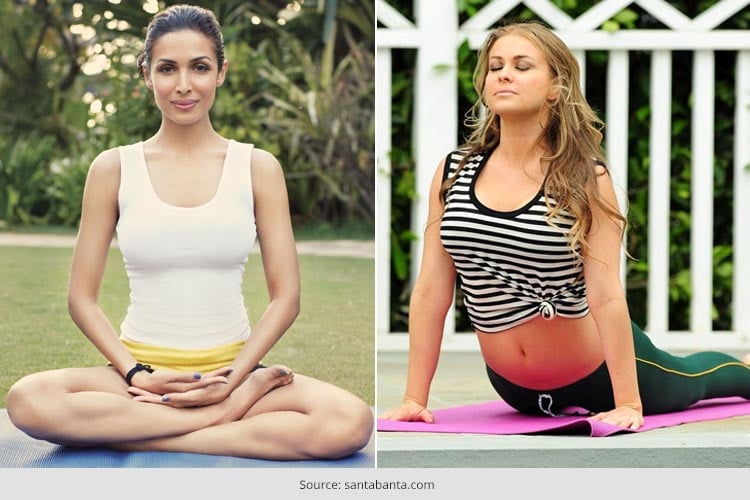 Being a poster girl or boy doesn't always need good looks. You need to be a yoga freak to get the perfect sculpted body you watch on television in order to be like famous celebrities who do yoga.
When you put your leg up in the air or stretch out to reach your palm toes, you are doing the best form of jugglery with your body – the one that will tone up every single pore of your muscle. Yoga is a natural and the best treatment to say goodbye to joint pains, arthritis, cardiac problems and common to severe ailments. And it is also the best way to get celebrity fitness.
[Also Read: Here's What To Wear Under Yoga Pants!]
Celebrity Yoga Workouts
Yoga is also the best workout for your body that keeps your body free of aches and pains. Let's check out Celebrity yoga workouts, who can't stop raving about it.
Shilpa Shetty Kundra
Her marriage to business tycoon Raj Kundra could be another reason for her to be in the news, but the hot and sexy siren Shilpa Shetty knows how to flaunt her perfectly toned body. Shilpa Shetty is not only a Bollywood star who is a true fitness icon, she is also known for her celebrity yoga workouts. So dedicated she is to spreading the art of fitness to her followers and the public that she went ahead and launched a DVD named as "Shilpa's Yoga" in the year 2008.
How many of you are aware that Shilpa Shetty took to yoga after chronic spondylitis and neck problems that started to trouble her? Her DVD has successfully packaged various asanas for body fitness. It makes great sense for bulging ladies, housewives and corporate honchos to watch this DVD in order to get back to shape. I would say she is the name to watch out for when it comes to Celebrities Who Do Yoga.
Kareena Kapoor Khan
Bebo is a classic example of celebrity yoga workouts as she practises Surya Namaskaar and Ashtanga Yoga for approx. two hours on a daily basis. Kareena said in an interview "I am completely into yoga. I think yoga has changed my life."
Kangana Ranaut
Call her the 'Queen' or the endearing 'Tanu', Kangana owes her body fitness to 'power yoga' which she does on a daily basis.
Rani Mukherji
Nice to know our Bengali Kuch Kuch Hota Hai star Rani has become a proud mother. But Rani is an avid follower of yoga as well as weight training.
Sonam Kapoor
We all know Sonam being a regular at the Cannes. But despite her hectic schedules, Sonam is a tremendous follower of Bikram Yoga which helps her look fab. Incidentally, Bikram Yoga that has 26 asanas was developed by Bikram Choudhury, a yoga guru who has put US copyright on his invention. Sonam had tweeted once "Starting bikram yoga today. It's my dad's secret for looking fab".
Lara Dutta
She is the wife of tennis star Mahesh Bhupathi, who was crowned Miss Universe 2000 and Miss Intercontinental 1997. Lara has been practising yoga for over 12 years, and has brought out a DVD on yoga called HEAL which looks into bringing health and fitness in pregnant mothers. Lara admits it was her yoga exercise schedule during her pregnancy which made her recover soon after child birth.
[sc:mediad]
Padmasree Warrior
This woman holds an impressive portfolio as technology and strategy officer at Cisco Systems. But what interests Padmasree more is her yoga and meditation schedules done by her on a daily basis. Padmasree has been candid enough in saying that meditation helps her reboot herself, her mind and her soul which helps her to carry out her responsibilities well.
Madonna
This American singer is a sensation when it comes to music compositions and singing. What has made the queen of pop Madonna achieve popularity is her celebrity yoga workouts.
Ashtanga Yoga and Hatha Yoga are her favourites. Madonna considers yoga as a technique that keeps her soul and mind at peace.
[Also Read: Yoga For Hair Loss]
Lady Gaga
She might have shocked you in her skimpier outfits. But Lady Gaga frequently visits a health studio in New York that teaches her 'Bikram yoga'.
So much is her interest level in yoga that she shows up for the yoga classes in lacy undergarments. In February 2013, Lady Gaga went for hip surgery and was restricted to a wheelchair for several months but that did not stop her from joining yoga classes. Ever expected Lady Gaga to be in the list of Celebrities Who Do Yoga?
Jennifer Aniston
J Aniston has been an astute fan of yoga for many years now. And she gives credit to her instructor-cum-friend Mandy Ingber.
Aniston says it is Ingber's fitness program, which is a combination of traditional yoga and fat-burning cardio as well as toning exercises that got her back in shape for few lingerie scenes in the film "We're the Millers."
Jennifer is honest enough to admit that yoga was a major influence in saying goodbye to smoking.
Hillary Clinton
The First Lady and Former Secretary of State Hillary Clinton puts yoga on top of her 'must dos' to keep her healthy and fit. Hillary is the one who coaxed her husband Bill Clinton to join yoga classes 30 years back.
Gisele Bundchen
This Brazilian supermodel and a proud mother of two has a figure to die for. Credit for it goes to yoga. Gisele practices Anusara yoga each morning for about an hour. She also tries her hand in free-style yoga which keeps her body toned and fit.
That's the power of Celebrities Who Do Yoga. Start it today, if you haven't yet and notice the change it will bring to your body and mind.