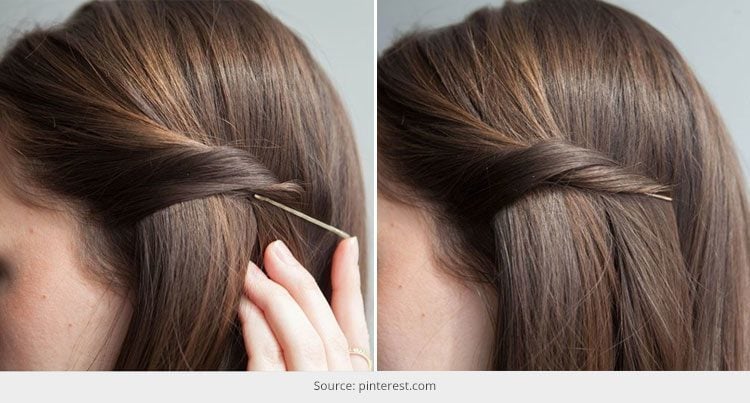 The humble bobby pin has come a long way, much more than just being a shabby black pin that tucks in the hair and helps flaunt fabulous buns and updos. While the fashion weeks across the world are up and about in full-swing, hairdressers clamber around, hunting for the trendiest of hair accessories to style their models hair with. One of them being the bobby pins, a must-have to hold fort on the crown; bobby pins now are available in a range of styles, shapes, designs and colours, and some are nude too. They help keep the hair safe in place and well-tucked, but also style up the lass, making her updos the talk of the town!
Bobby Pin Designs
Here are ten chic bobby pin designs to choose from, and if you check online, you would find a large range to pick, choose and use! We know these hair accessories for girls will make you swoon.
A Love Triangle Bobby Pin Design
Managing your home, work or the husbands' needs, a triangle you face every morning, day and night is enough to leave you drained. But then, you need to take time for yourself, which is why the triangle bobby pin designs helps keep your look in place, with hair safe and tucked where it should be. This is one triangle you'd love to flaunt!
Matching The Bride's Ensemble Bobby Pins
With all things glamorous and shimmery at a wedding, and should you want the minimalist of all accessories on your head, think of the cute and white pearly bobby pins. They are small and trendy to use, but very functional to keep the updo in place, all night long!
For The College Going Damsel – Studded Bobby Pins
Who has the time to deck up and rush to college, especially when the monsoons have thrown traffic out of gear, and road transport seems to be a nightmare? But with cute chunky bobby pins, safely tucking your hair in place, you'd have one problem solved and still look chic on a gloomy monsoon day. Aren't they just perfect hair accessories for college girls and teens.
Gemstone Bobby Pins
Colourful, trendy and very chunky, the gemstone bobby pins match any and every ensemble number you choose to wear. From formal clothing to chic street wear, flaunt these precious colourful beauties with simple to stylish updos, and make heads turn!
[Also Read: Different Ways to Use Bobby Pins]
Peacock Bobby Pins
Parties would be the right time to flaunt your haute couture and chic hairdos, no restrictions there. But the hairdos should be embellished with something traditional and trendy at the same time; the peacock bobby pins keep in line with the sentiments and the festivities, and match the ensembles you wear too!
The Vintage Touch – Bobby Pins as a Bookmark
Something antique and very vintage like, these beautiful classy bobby pins can be worn on any hairdo for formal occasions, cocktail events, and very special moments. The pins would match your sarees, anarkalis, salwars and lehengas for sure, but would go down well with indo-western fusions too!
Fancy a Wiccan look
Bobby pins can bring about a wiccan-indigo look to your personality, with the help of gemstone bobby pins in various colours, shades and hues. Match them with your themed coats for Halloween and spooky parties, and wait for the compliments to flow
[sc:mediad]
Candies For The Hair – Button Bobby Pins
Whoever would have thought that the bobby pins would emulate innocence and fun taste? When candy bobby pins are around, you could bring back the look of the sweet sixteen, and from a range of styles to choose from as well!
Fancy Buttons On Bobby Pins
Planning an accessory box for MIL? Impress her with statement jewellery which she can wear daily, but also throw in a couple of fancy bobby pins in the box. Cute and trendy as they look, she would have a pair to wear with her colourful sarees everyday, and you'd be remembered with love as well!
For Those Who Love Their Bling
Need we say more, take a look at this range and you'd be floored for sure!
Make your hairdos do the talking, and let the onlookers swoon over your simple beauty which now has a chic embellishment to flaunt! Have fun girls! Hope this article on bobby pins designs was helpful.