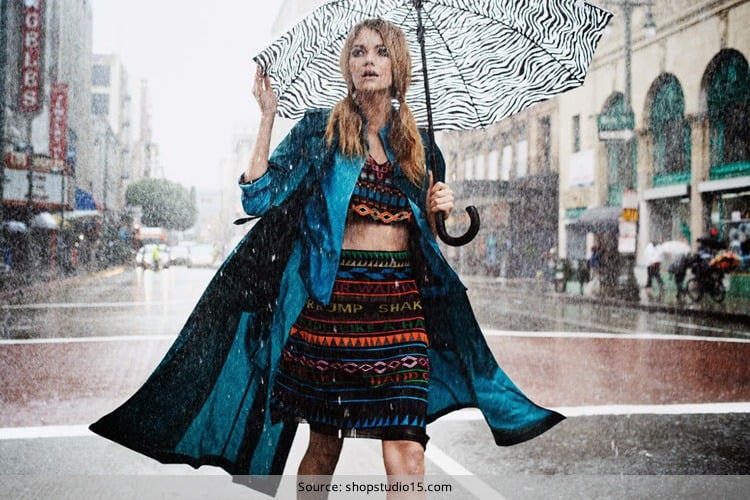 "I don't want to look like a diva" said no girl ever, and with that being said, monsoon fashion can be fun and lively, only if you care to choose the right styles and colors for the season. It is amazing to sit at home and watch the pitter-patter drops of rain falling all over. But what's more fun is to be out there, and to enjoy the rains. However, do that in style. And for that we would ask you to follow a few rules when dressing up in monsoon fashion. The first rule being of course, don't compromise on the color scheme.
[Also Read: Clothes To Avoid During Monsoon Season]
How To Keep Up With Monsoon Fashion
Monsoons are gloomy and gray, so bring in plenty of colors for the season and make the ambience around lively.
1. Keeping in mind the play of colors, we shall look at solid vibrant hues to beat the gloomy monsoons. One such pairing up for monsoon fashion would be a solid vibrant back bow skirt with a printed shirt. Perfect for an evening out or maybe to college, you cant go wrong in making the world a colorful place in such statements.
2. Play with stripes and polka dots this rainy season and make a retro look come through with a topknot hair bun, striped tee and polka dotted scarf. A powerful solid hued pair of pink shorts does wonders for the appeal to come through. Monsoon clothing with a touch of cool toned pinks, why not?
3. Printed long black dresses in tones so warm make a tantalizing statement for the monsoon cocktail parties. Why be the run of the mill lass in an updo with a formal ensemble flaunted, when you can add some wild fun with prints?
4. What we love with printed floral flimsy or sheer tops is that it can be worn with just about anything, and a chic look comes through. A neutral belt holds the shorts in place, while a statement leather sling bag makes a fashionable touch come through.
5. For more splashes of colors to hit the streets and the roads with, this monsoon wear tunic tops and kurtis in vibrant hues. Tie and dye to batik prints and more, pair them up with vibrant leggings, neutral toned pants or maybe patialas, and rock the monsoon scene around.
[Also Read: Rain Fashion – Rainbow Accessories for Monsoon]
6. Call it a fashion downpour or whatever, but we simply cannot stop praising the role of onesies in solid hues for the rainy season. The style is apt as a fashion statement to make, especially the pleated ones. And with minimal accessories to wear, the lime green onesie is a citric delight on a gloomy rainy day to flaunt.
7. Fashionable floral prints to zebra patterns in various bright hues and shades, this time for the monsoon evening dresses think out of the box and make a splash. Wear them to the official formal gatherings with a summer coat, chunky neckpieces and evening makeup, with heels for the feet, and all eyes would be on you for sure.
[sc:mediad]
8. Colorful embroidered salwars or tunic tops with ciggy pants, leggings or worked on pants in neutral tones can be amazing rainy day outfits to flaunt at various social do's. If the downpour out there is too much and you would still want the show to be full-on, cover up with transparent and cute rain jackets!
9. What about sarees? Amidst the talk of fashionable spring to rain outfits that we can wear this monsoon season, let's not forget that our B-Town lasses look ravishingly hot in monsoon inspired printed sarees. Pick one and pair it up with the right accessories for the evening parties.
10. A little more stylish in velvety touches without the fabric of course, or else you would melt in the humidity of monsoons- dark printed tunic skirts with boots for the feet and dark red lips with an elegant updo, perfect out of the box rain wear to flaunt!
Do write in and let us know about your fashion choices with rainy season clothes and don't forget to make a splash with these spring to monsoon fashion clothing ideas!