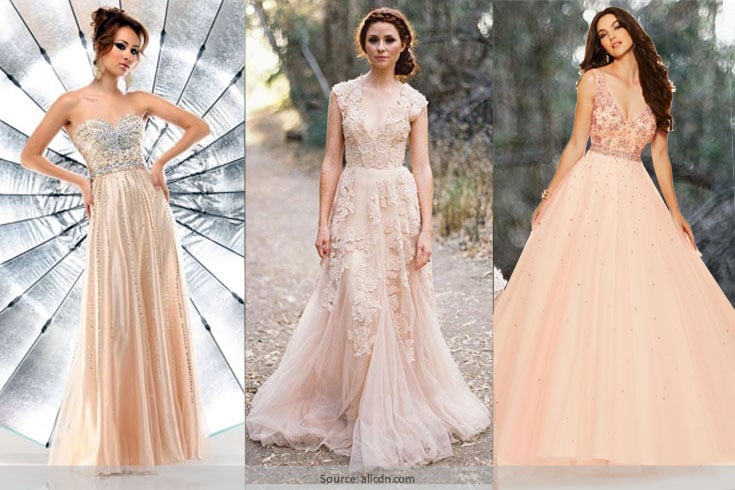 Whoever said it was the pink champagne dress that denoted the likes of the MEAN GIRLS, can take a hike. If you love the shade of pink champagne, we say, go ahead and flaunt the pink champagne dress, like there is no tomorrow. And the best part is, with a pink champagne dress to wear, there are plenty of hairdos and makeup ideas you could use, and chic accessories to wear too. So here are ten pink champagne dresses for you to try out, emulate and own- take a look dear hearts!
1. For a Cocktail Event
Imagine yourself being dressed different yet very feminine and soft from the rest of the girls attending your besties engagement or wedding. In a pink net and lace champagne dress, you could wear nude heels for the feet and lovely eye makeup, completing the look with a a low bun and looking like a fairy tale princess!
[Also Read: Cocktail Rings for the Celebration Hour]
2. For The Birthday Bash
To make a fashion statement at your own birthday and to steal the show, a short pink champagne dress does the magic much needed. Embellish the minimalism a bit with a chunky neutral toned waist belt and wear nude heels or chunky gold heels, to balance the look. Makeup wise go au naturale and let the hair be tied into a neat bun- you are ready!
3. For The Evening Gathering
To attend a formal event in a western number, is a chic thing to do. But a V neck embellished with crystal and stone embroidery on the bust line that sits pretty over a large flare skirt, is a haute statement in pink champagne to wear. Complete the look with curls for the hair that flow free and soft party makeup; nude heels for the feet are a must.
4. For An After Office Party
Not crossing the line here but sexy as ever, the off-shoulder pink champagne dress can make the boss happy and the colleagues jealous. So here's the deal. With an off shoulder pink champagne dress, you could wear a silver statement neckpiece and silver peep toed heels. Keep the hair in waves and flowy, and the makeup apt for the evening- not too loud, or else the look of the champagne pink dresses worn would go.
[sc:mediad]
5. For The Prom
Let's play with plenty of layers this time and wear it to the prom. One of the cutest and very feminine champagne pink prom dresses we've seen, the layers of net and lace that double up on the flare speaks of feminity and grace, and must we say, it is an elegant touch too. Wear this dress with loose hair in waves, soft party makeup and a chic neckpiece, and don't forget the open toed heels to make a statement with!
6. For The Elegant Dance Night
A little shine and shimmer with a sexy pink champagne number wouldn't kill anyone; haters would be put to rest with their opinions too. Flaunt those long legs in an open shinky champagne pink skirt, and wear your heels tall with the ensemble. Complete the look with shiny flowy hair and a clutch in hand to attend the dance party.
7. For a Ladies Dinner Gathering
To look like an elegant diva at the all-ladies night dinner gathering, you need to have an off shoulder strap on number; in champagne pink! Pair the look with peep toed heels and long flowing hair to make magic happen. Makeup should be minimal and the dress should have a satin waist belt for company.
8. For a Vintage Look
Dressing up in champagne pink for a retro vintage look would be the ultimate epic fashion statement to make. This is why a pleated long skirt with an hour glass shapely cut should be chosen. Hair should be pin curled or crimped to the front with a faux bouffant bob hairstyle done. Heels for the feet are a must, just as it was for the ladies back then!
[Also Read: Stunning Vintage Hairstyles For Weddings In Summer]
9. For The Night Out With The Girls
Having a night out with the girls is a fun thing to do, and to make it girlier, you could wear a net and lace or sheer champagne pink long dress, with a satin waist belt. Pair the look with nude makeup and flowing hair, a clutch in hand and a pair of pink champagne shoes for the feet.
10. For The Wedding
Break away from the whites for the wedding and think of this champagne pink wedding dress; need we say more?
Gorgeous, weren't they?