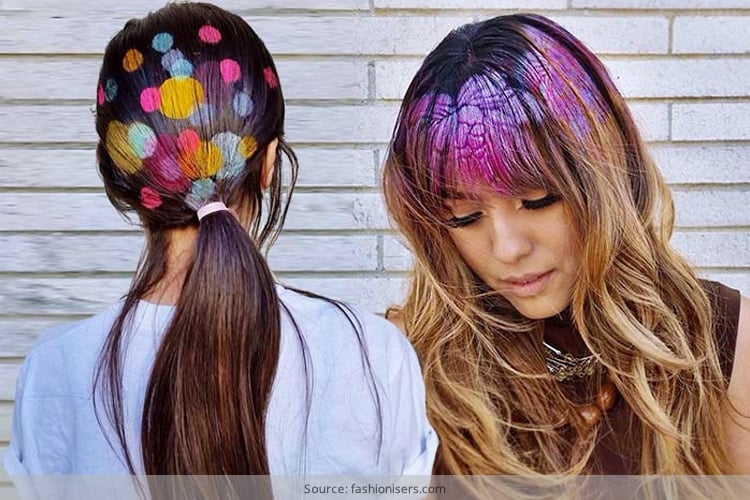 Ask any fashion groovy girl what she is going to wear on her night out and hair color might well be the topmost thing on her mind. But the latest find that is roving around in fashion circles, and could well become your subject of fantasy is Hair stenciling.
This hair art trend has been brought to life by California-based artist and hairstylist Janine Ker on Instagram. As a result of which there are around 300 hair stencil posts vying for your attention on Instagram itself.
[Also Read: Easy Updo Hairstyles]
All it needs is a stencil and hair dye of your choice so that you can colour a specific design onto your hair. From rainbow polka dots to elaborate looking floral designs, there is no end to the hair tattoo designs that can be produced and flaunted. Keep in mind that hair stencilling is more of an accessory, not a hairstyle technique. With the beautiful outcomes it has shown, you will love it all the more.
The Process Of Hair Stencilling
In doing so, Janine Ker uses colored pencils on paper. This helps her get an idea of the clients' wishes and fancies when it comes to the designs.
After that, she transfers the style to the hair locks of different women. In other words, she replicates on the clients' hair exactly what she draws on paper and makes it look like detailed works of art.
[sc:mediad]
There isn't any need to feel nervous doing hair art of this nature. You just have to use temporary colour which can wash out over the weekend.
Designs In Hair Stencilling You Will Love
If you have air brushing stencils and spray paint hair, then half your job of getting hair art design is done. Here are some designs in hair stencilling to spark your imagination.
1. Simple Heart Hair Stencilling
Imagine how cute little hearts on your lovely hair would look? I would say absolutely on-trend. Now this is one of those hair dye designs that are a hot in music fests. Moreover, it doesn't need you to dye all of your hair.
2. Flower Crown Stencilling
Now the hair stencilling idea used here is a magnified flower crown that has tropical looking flowers done up in the form of beautiful, iridescent purple.
3. Hidden Floral Hair Stencil
Any guesses how this hair stencil looks hidden? Because it looks visible when styled with a top bun, as in the picture shown below. Once that layer of hair is dropped, the color can be seen only in peeks. It means you wouldn't be able to make out the individual colors that have gone into it.
4. Bird Hair Stencil
The beauty of the bluebird is hard to go by in this hair art design. It's so cute. The border in the form of golden sketch adds a great deal of movement and depth to the overall look. Plus the flipped up hair looks like feathers in ways more than one.
5. Floral Scalp Stenciled Hairdo
As you can imagine, in creating this particular Hair stenciling impression, what's needed is a large scale hair stencil and braids. See how the hues of the stencil are intoxicating to look at, considering the lovely looking partial symmetry. This hairstyle would look great with a tight and low bun or other tightly pinned back hairstyles.
6. Butterfly Rainbow Stenciled Hair
The hair colouring in this example starts with pastel mermaid, and then merges into the lovely looking butterfly stencils.
7. Head In The Clouds Stenciled Hair
If you want a cute and quirky looking hair stencilling idea, then this simple hair designs in the form of white hair stencil is the best bet. Imagine the ethereal beauty of clouds and tiny hearts on your blue hair.
How did you find this rocking concept of Hair stencilling. Write in the comments. I would love to see your eagerness for it – the more, the merrier.