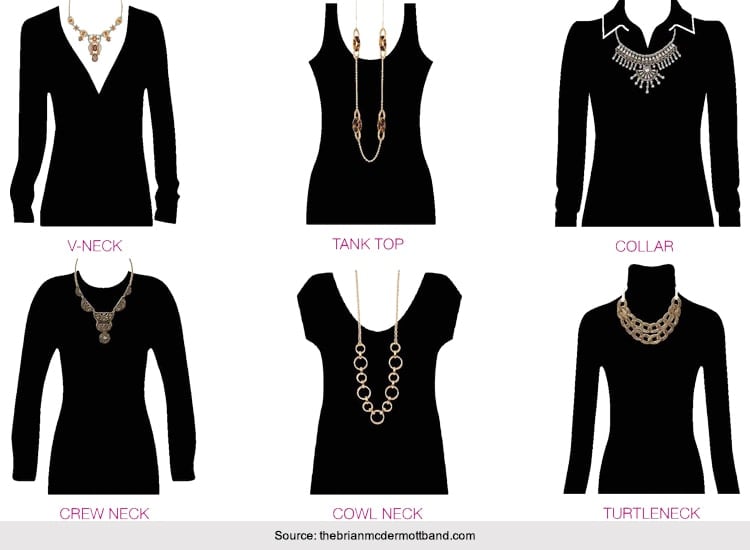 Choosing the right neckpiece for an important function is important, but even vital is pairing this necklace with the right neckline. If you are wearing a choker with a turtleneck, it really isn't going to look that great (Your necklace won't even be visible, right?). The key to having the right outfit is choosing necklaces for necklines that compliment each other.
In this article, we will elaborate on the different types of necklines and the best necklaces that go with these. Not only will you stand out with the right combination but you will also have a necklace neckline cheat sheet that you can refer anytime you are in a quandary.
Read on!
So before we delve into the intricacies of what necklace to wear with what neckline, it is important to understand the different kinds of necklace lengths available at your disposal. Let's start with the basics:
1. Chokers:
Chokers are the necklaces that are of the shortest length and are about 14-16 inches. They sit high on your neck and directly on it, and are never hanging loose. Chokers were once considered a vintage accessory but it's coming back in a big way now and celebs and a lot of models can be seen sporting this nifty accessory.
2. Princess:
Princess necklaces are a little loose than the chokers and sit comfortably on your collarbones. Most necklaces that are the princess length feature a delicate string with a diamond or a precious stone or sometimes may even come with a bold stone.
3. Matinee:
The length of a matinée necklace is usually around 20-24 inches and it is almost double the size of the choker's length. These necklaces are designed to be resting at your bust line.
4. Opera Necklaces:
Opera necklaces are mostly 24-32 inches long and most women are not too comfortable with wearing necklaces that long and may wrap it twice around the neck for a cozier look. These rest near the cleavage.
5. Rope Necklaces:
Any necklace that has a length that is more than 32 inches is considered a rope necklace. It might be a little tedious to be worn alone, so rope necklaces are often layered with different lengths of necklaces. They are mostly below the bust and sometimes might even reach the waist.
So these are some of the most common necklace lengths. Now let's understand the art of pairing the right necklace with the right neckline. Of course, it's not rocket science and you will need to let common sense prevail when making a choice, but keep this cheat sheet handy for choosing necklaces for necklines:
Strapless Tops and Chokers:
Take cues from our very own beauty queen Kangana as she flaunts a diamond and emerald studded choker necklace with a strapless gown:
The best combination for a choker is with a strapless top or dress. A strapless top highlights your neck and collarbones and having a blingy necklace can draw attention to that area and of course, make you stand out! Make sure you choose a sparkling piece for that extra razzmatazz.
Low Cut Dresses/Tops and Princess Length Necklaces:
When flaunting a low cut dress or a top, the best way to highlight your shoulders is to go for a princess length necklace. A good statement piece can make the audience focus more on the necklace than your dress (if that's what you want!). It can also make your neck look a little elongated if you are looking for that effect.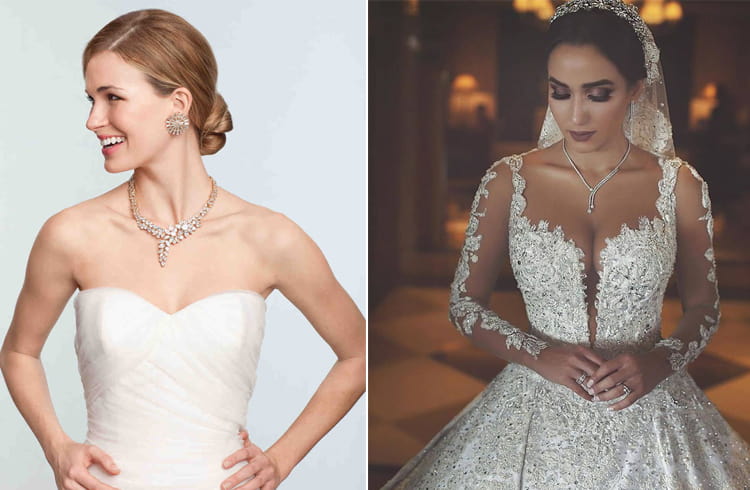 V-neck tops:
For V-neck tops or dresses, the best way to choose the necklace is to go with something that mimics the cut of the dress. So wearing something round or loopy might not look that great. Also, the length of the necklace should just end before your top begins – that enhances the look and makes your neck look a little elongated. Choose your necklace depending on the width of your V-neck.
[sc:mediad]
Halter Necklines:
Halter necklines are the most versatile ones and almost every necklace type suits it. The key thing to remember is that halters look great with statement chokers – so go with big chunky pieces or select a necklace that has a sharper end. Both the ways, it is quite hard to go wrong in this combination.
One Shoulder:
One shoulder is again a very versatile type of dress and a choker, a princess statement piece or even layered necklaces can look very good together. To choose the right necklace, make sure you know what the event is – once you determine that, it would be easier to make a more informed choice.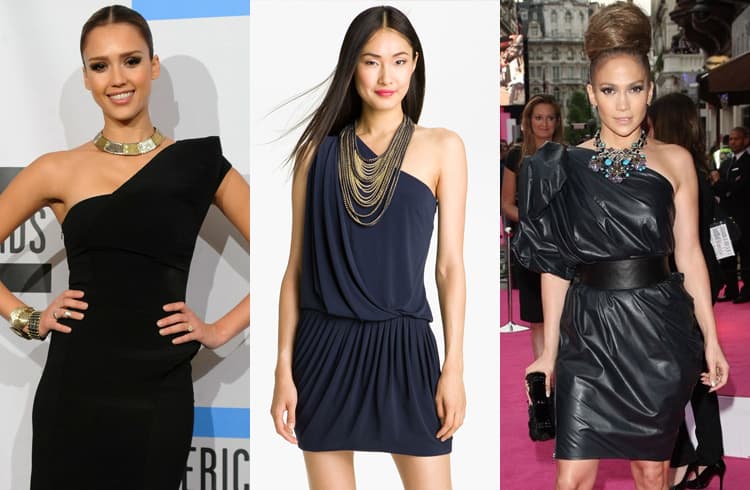 Turtlenecks:
Turtlenecks are a little tricky to accessorize because the chosen necklace has to compliment your look. The best choice for a turtleneck is to go for a princess necklace or a statement piece in that length. The statement piece makes it look like the necklace is a part of the t-shirt or dress and completes your ensemble. Remember, your neck is already covered and adding a choker would actually be overkill!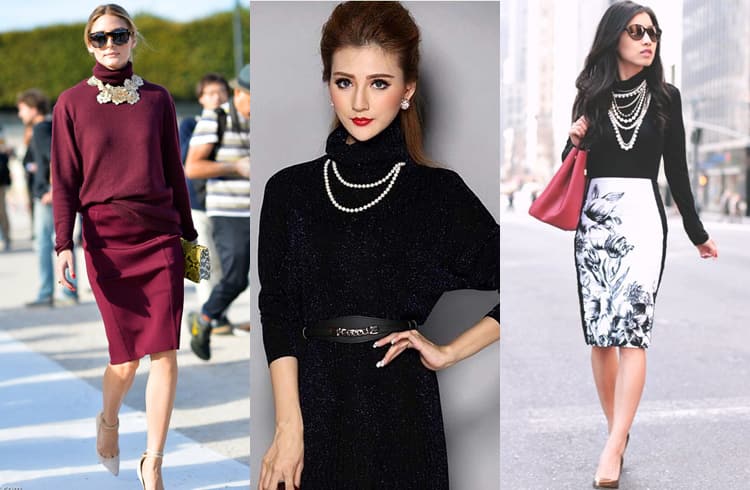 Cowl Necks:
Depending on the size of the cowl, you will either need something that just skims your neckline or you could choose an opera necklace goes beyond the cowl. Keep it simple here because a lot is already going on!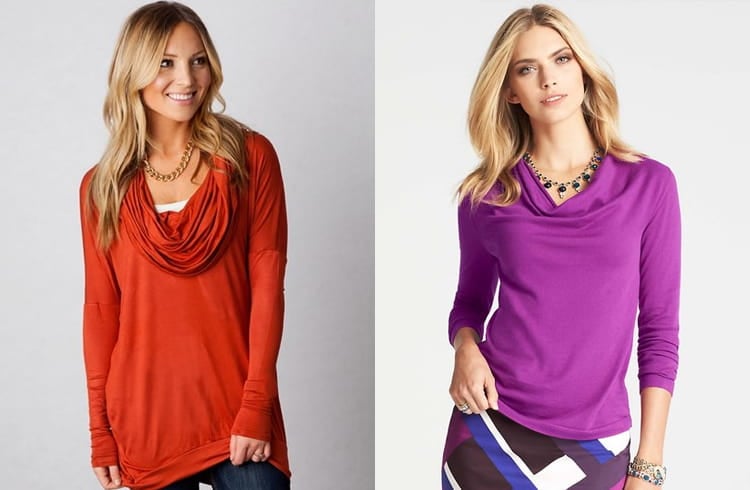 Collared T-shirts:
When it comes to collared and button-down shirts, one of the most common styles being followed by most bloggers or models is wearing a statement piece that goes above your collar like the ones demonstrated above. Another different way of wearing it is to open the top button of the t-shirt and wear a delicate necklace with a pendant that hangs just above this button. It not only looks very delicate but is a great office look too!
So here you go, your ready reckoner and cheat sheet on flaunting a great outfit and an even better style with your necklace. Remember, you can always experiment, and depending on the occasion, you can choose your neckline and of course, your necklace. Also, it is not always necessary to wear one. You could look equally good if you just wear a good pair of studded, chandelier earrings with a strapless dress or gown or top.