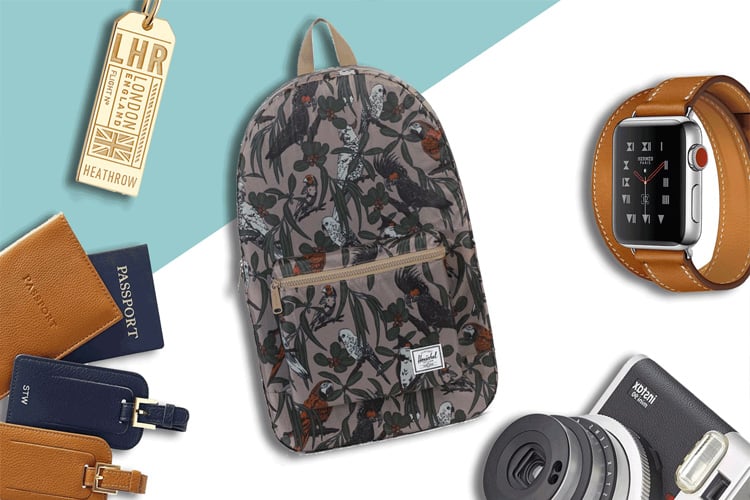 We all have those globe-trotting friends who live through endless adventures. While we cannot gift them a plane ticket for each of their exotic trips, there are certainly other gifts that are sure to delight their wanderlust traits. This Christmas season, surprise them with gifts they can easily take with them on their next trip-like Polaroid cameras, luggage tags, books, etc. Check out our pick of the top seven amazing gifts for the traveler in your life.
1. Travel Pillow
Surprise your globe-trotting friends with a luxurious travel pillow they can easily carry with them on their next adventure. This way they can get through the trip comfortably. You can look out for soft-fleece ones that provide sturdy neck support or those with inflatable memory foam in various shapes. Gift one that can be easily packed and is light-weight too.
2. Noise Canceling Headphones
You can gift one of the noise canceling headphones to your friends for use on long flights. A few of them also come with amazing sound features. This gift will ensure that your friend never suffers from boredom even while jet-hopping around the globe. Your friend will be ever thankful to you for this!
3. Warm Stole
A warm stole or wrap makes for a sensible buy for your friend. While on a flight, it is most likely that your friend will find herself shivering. This happens to everyone irrespective of the season. So gifting a super-soft stole makes complete sense and puts an end to chilly travels. Stoles can easily be layered over clothing and are enough to keep one warm and stylish while on the go.
4. Passport Holder
Your globetrotter friend will also appreciate passport holders in playful designs. You can also have it customized to suit the personality of the traveler in your life. Look up for covers that reflect your friend's taste. On a more practical note, these passport holders come with added pockets for holding credit cards and cash, making it simple to store all travel essentials in one fancy cover.
5. Books
While being on long-haul flights, books can be great companions. They can sit back and read to unwind and bid adieu to loneliness and boredom. There are few adventurous books like The Oregon Trail: A New American Journey by Rinker Buck, In a Sunburned Country by Bill Bryson, Unlikely Destinations: The LP Story, by Tony & Maureen Wheeler, Vagabonding by Rolf Potts, etc that are good reads, especially for travel-lovers.
6. Polaroid Cameras:
Polaroid cameras are again a great buy for a friend who travels a lot. This fun gift can allow your friend to get back frame-worthy memories from his excursions. Even though hopelessly retro, these instant film cameras are one of the best travel essentials ever. Instead of buying overcharged postcards at the souvenir shops, they can capture their own postcard-like photo with the camera.
7. Luggage Labels:
Luggage labels are under-utilized these days but that doesn't mean they are not great gifting options. In fact, it can make the perfect gift for your adventurous friend. If you look up online, you will find there are boxes of the assorted peel-and-stick luggage labels available that can make traveling even cooler. Your friend would be thrilled to get her hands on this vintage travel accessory for sure.
Every traveler needs a bundle of things to make her journey more comfortable and enjoyable. So why wait? Go ahead and take your pick from the above list as per your budget.
What did you buy for your travel buddy this Christmas? Share your gift ideas with us in the comments box below.