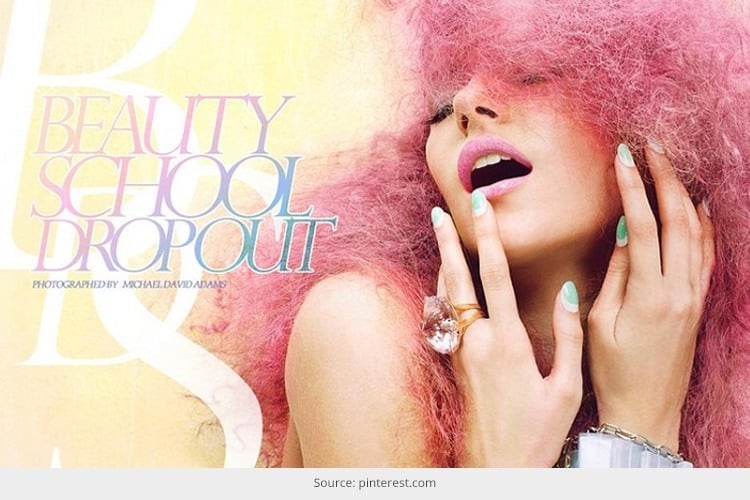 I have been asked several times by my clients if I went to any beauty school. They really love the way I give an edge to their look every time they visit my studio. I am still not sure if I am doing a great job, whether it's a regular make-up, party look or a bridal make-up, which requires some serious hands-on experience to give a girl the best look of her life.
I may not be a bad artist, but I'm not a great artist even. This is because when I go through the glossy beauty magazines and do a style check on various celebs, I just wonder how do these savvy make-up artists give such a dramatic make-over to someone.
That being said, end of the day I just feel glad when my clients thank me for making them look beautiful and glamorous.  While most of my clients continue to think I am an alumni of any top-notch beauty school, here's my confession – I have never gone to any school to take make-up lessons.
Deciding whether to get enrolled in a make-up school, especially when there was a hypothesis choosing a career path in engineering, medicine or software, was certainly a difficult decision to make in those days. While the fee was expensive, I was still not sure if I would end up being a professional in this field.
Unlike today, in those days there were not many beauty schools. You had to move to another city or state only to find out that school did not offer courses you're looking for.
There was even no certainty that you would be given the credentials you required for certain jobs, say movie sets. Although such schools helped students learn the basics in fashion and beauty, they were not for everyone.
I have never regretted for not going to such school, as it completely depends upon individual goals and drive.
In this edition, let me try weighing the pros and cons, which I believe help you decide if you're a beauty school bound!
[sc:mediad]
Before enrolling into any beauty school…
Always remember that make-up school is always different from esthetician/cosmetology school. So, before you take admission into any school, do your research well.
You will require a license for a cosmetologist job and let me tell you every state differs on the requirements. There are numerous schools out there, which offer make-up classes and focus on hair and skin care as well. So, make sure your school is a licensed organizations like Nahush and Lilac Make-up Training Schools.
And before picking-up a course, consider how the course is going to help you in setting your career goals in fields like couture looks, special effects make-up etc.
Pros
Learning smart technique – Schools, undoubtedly are the best testing grounds to try new things, as you'll have experienced teachers to guide you improve this craft. You are free from the worry of executing perfection and you're under practice all the time.
Techniques cover several things such as which brush to pick, creating different contours with liner and understanding the reason behind such doodads. Certain looks, such as high fashion, demand high-end skill. So, you should be well aware of 3 factors – when, why and how to contour.
Learning sanitation – Such professional schools always teach you how to keep your brush, make-up and work station sanitized. Since your tools are going to work on someone's eyes, lashes and lips, so it becomes highly necessary to take care of such minute yet important detailing.
Getting familiar with color theory – Nobody has a natural instinct to use a color wheel. This is extremely a vital skill which comes through practice.
In your career, you'll have to work with different skin and face profiles, so understanding complementary colors and geometry of faces becomes highly crucial in creating a cohesive look.
Managing make-up kit – A make-up is a must-have for every professional in this field, especially who freelance for wedding make-ups. Knowing what tools to carry can be a daunting task, as there will always be a myriad of products to choose from. The beauty schools help their students learn to create a kit for their future clients.
Cons
Fees – Such schools these days are quite expensive. Like I said before, it's never a nice idea to spend a fortune on something you're still not sure about. Although there are certain schools, which offer financial aids, you still have to consider other factors such as cost of living (because you may not be lucky enough to find a school in your city), buying supplies, transportation and so on.
Lack of experience – Let me tell you nothing replaces actual experience. Even if you pass out successfully from a school, you may have to work at numerous counters to get some 'real world' experience. Go online and go through biographies of successful artists and you'll know how they had to run from pillar to post to get a decent job in this field.
And when you finally end up at a counter, troubles just start unfolding as you'll come across some rigid clients, who would demand for foundations to be too light or too dark. Even if you're aware they would look like a jerk still you have to do it only to please them.
Moreover, you'll come across clients, who are in a time crunch. So, creating a good look while meeting their standards and within a short span can be really challenging.
So, this was a pretty lengthy yet useful piece from one of my dear friends, who is a professional make-up artist.
Stay tuned to read similar interesting stories!