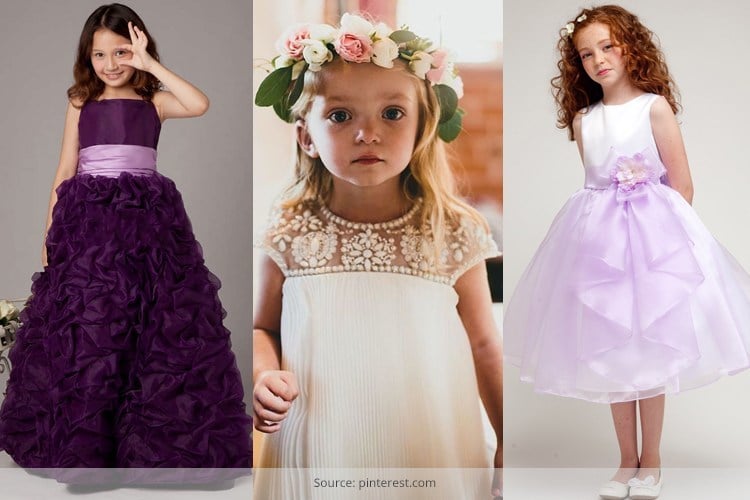 Ok, so we have spoken a lot about wedding dresses for the bride and have focused a lot on the bridesmaid and the mother-of-the-bride couture too, it is now time for the cute flower girls to dress up with a wide range of flower girl dresses for you to choose from.
Here Some flower girl dress patterns
Little Ones In Micro Fashion
Weddings are a fashionable event altogether and no one leaves a moment not to doll up and display their sense of style. With that being said, why should the little ones stay behind, not when they are flower girls that lay the carpet of love as the bride walks down the aisle, escorted by her father! Here are a few cutest of the lot, flower girl dresses for you to decide on!
Hail The Flower Girls
One of the cutest flower girl dresses seen so far, made from exquisite Fuchsia and White Sash- sheer net for layering, the little one is a fashionista in her own rights, quite nonchalant to the vows being spoken around!
[Also Read: Flower Girl Hairstyles]
Peplum Frocks
If big sister could sport peplum dresses and tops all her spinster life, do you think little sister wouldn't want to follow suit?
A Touch Of Lilac
Lilac for summer weddings are so in, and they are a vibrant hue that spells of luxe touches and micro fashion for the little ones too!
Pink Flower Gowns
Not to sound stereotypical, but pink surely is a colour most little girls love. With sheer net for the frock and a large pink satin bow sash, your little flower girl may just steal thunders!
Cute Scoop Neckline Sleeveless Floral Appliqués
The Cute Scoop Neckline Sleeveless Floral Appliqués with white large sashes makes for the cutest of all flower girl dress patterns; elegant and so beautiful for the flower girl her age to wear!
[sc:mediad]
[Also Read: Bohemian Wedding Flower Crown]
Princess Tutu Laying The Flowers
How cute is this little tutu frock cum gown? With flowers for the strap, her innocence shines forth and she may just woo the groom sooner than his wife to be can!
One Big Large Violet Bunch
Love the gowns on your little ones large and long, you then should choose a beautifully draped long gown in violet or purple, beige or mauve, which brings about an illusion of height to the body.
Spaghetti Straps Ruched Flower Girl Dress
The Spaghetti Straps Ruched Flower Girl Dress in icy cool blue tones makes a perfect wedding for the summer ensemble, keeping the little one happy and comfortable while everyone meets and greets the couple!
Chiffon Flower Girls Dresses
European touches to an Indian Christian wedding, why not? These flower girl dress ideas in chiffon and with plenty of floral waves on the sheer net, says it all!
Let It Be Traditional
Should you want to stick to the ways of tradition and do the same with the kids' flower girl dresses, your options are galore to choose from. Play with back bows or front bows, floral straps in satin or more, you cannot go wrong.
More From The Traditional Touch
There are many more styles and patterns for you to choose from, and picking flower girls dresses would now be as easy as baking an apple pie.
We hope you loved our collection on the cutest fancy and the very traditional flower girl dresses; the new age ones too! Do let us know about your choice on flower girl dresses as well, and most importantly click pictures of the little ones in them and send to us. We love sharing such wonderful moments!