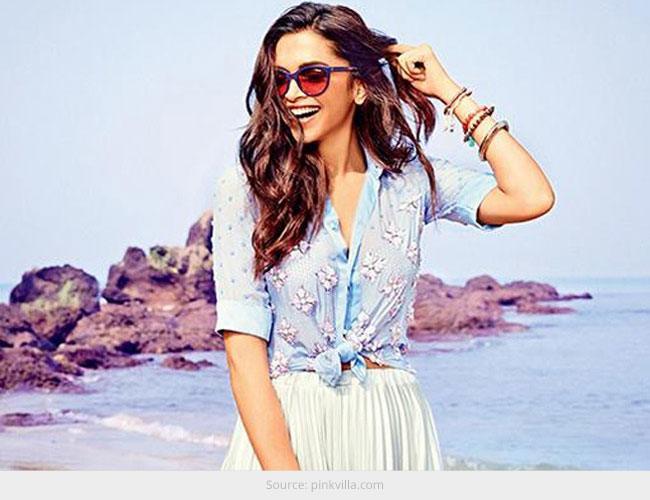 Some noble person once said, "The purpose of life is to lead a purposeful life". When you first read the quote, you go like, what? And then when you keep reading it, it hits you like a tornado. The meaning is crystal clear. You don't need anyone's validation to make your life a hit. Doing your thing is enough and when the time comes (when your life will flash by) you will be very happy.
If you are worried about following this rule, then just look at Deepika Padukone! If she had felt the need to get the world's approval, then today, she would be a brilliant badminton player. Thankfully, she went with her heart and now, she has everyone's heart in the palm of her dainty hand. She gave us a string of hits last year and this year is no less too.
What caught our attention this time are not her hit movies or her charitable work, but her flawless beauty. On the shoot for a popular eye brand that Ms Padukone endorses, she looked like she was having so much fun and was enjoying the early summer breeze. If you don't believe us, look for yourself!
[sc:mediad]
The shoot for 'Vogue' was photographed by Ellen Von Unwerth and Ms Padukone was styled by her favourite stylist – Anaita Shroff Adajania.
Talking about the shoot, Deepika says "I am very happy that I had an opportunity to work with Ellen today. I think everyone wants to work with her at some point in their career. It's a dream come true for us and it was so fun and I want to thank Vogue for putting this together. Out of all the shots that we have done I think the one that really sums up what I feel is the ice cream eating shot, because out of 24 hours for about 22 hours I am only thinking about food,". So true Deepika, even we think about food 24/7!
Here are Deepika Pudukone's Photoshoot pictures
[new_royalslider id="66″]
Are you guys jealous yet? We know we are! #sigh!