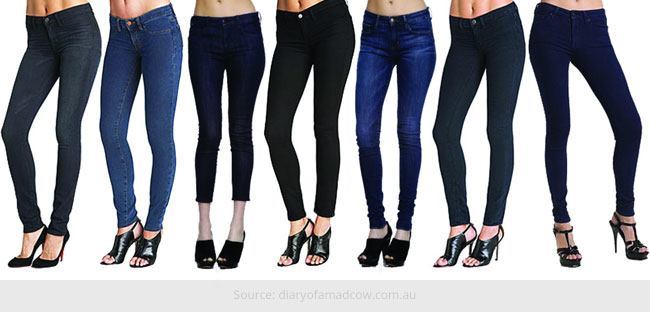 While what goes around comes around in the fashion world, it's also true that the old elements are in constant evolution flanked by innovative components to suit the new age requisites. Even leggings were experimented and thus jeggings and treggings were derived. However, there is a fine line between these body hugging bottoms. Let's go through the difference between leggings and jeggings to understand the intention behind such innovations. Do have a read and stay inspired!
Change in fashion world is sine qua non, just as in the case of bottoms especially for females, where we have seen a variation ranging from bell bottoms to mom jeans and low waist. As the main mantra of fashion is to change with time, designers have always worked towards creations adhering to new age preferences and requirements. And some of the garments are very strategically designed whose base design is same but completely looks different when worn, as in the case of leggings.
Difference between leggings and jeggings
Leggings are nothing but body hugging bottoms made of lycra, nylon, cotton and also polyester. These bottoms are also found in wool and silk fabrics and in varied colors and prints. While in European and American countries, women prefer to combine their tops and blouses with leggings, Indian women usually wear these bottoms with kurtis and suits. The new age leggings are made of Lycra, spandex, knit and Ponte materials.
Don't confuse tights with leggings. Tights are opaque hosiery that is more traditional and usually worn under pants, skirts and dresses so as not to show skin. They are available in black, skin and fall shades and in textured patterns as well. Leggings on the other hand are just thicker in material and do not fall under the hosiery group.
Jeggings, on the other hand, are leggings that are designed to look like skinny denims. Unlike leggings that are commonly used to refer to stretchable slacks, 'jeggings' is a patent name registered by Turkish textile company ISKO who are also original producers of jeggings.
[sc:mediad]
With the resurrection of skin-tight jeans in the past decade, the demand led to creation of even tighter pants that looked like jeans. Unlike leggings which are worn under the dress or skirt, jeggings can be worn like jeans or trousers as they are made of denim fabric. While some jeggings are stitched just like jeans with front pockets, zip and button, others come with an elastic waistband without any pockets. To give them jeans-like feel, designers add details including faux pockets, belt loops, cuffs etc. apart from a simple elastic waistband.
Jeggings are available in two types –
One that looks like denim with fake pockets and belt loops
Another type that is designed with both denim and legging material comes with the elasticity of a legging.
Hope the difference between leggings and jeggings gives you a clear picture about your requirements.