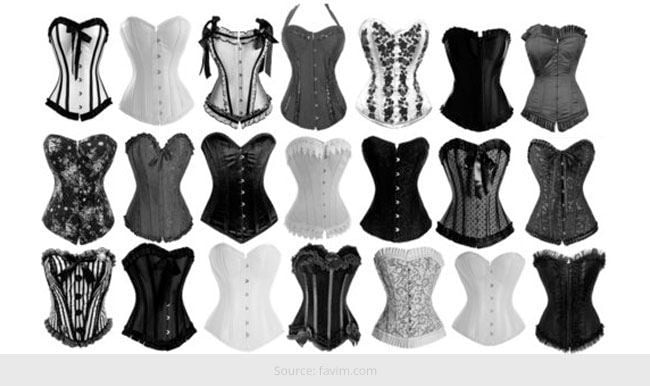 Victorian corsets were a death trap that constricted women's ribcage and made it difficult for them to even breathe properly. It is no wonder then that British women in the Victorian age were more prone to faints. But corsets today help us achieve a more flattering figure in certain outfits.
Let's now take a look at the different types of corsets that you can wear under different outfits.
Underbust Corsets
As the name suggests these corsets do not cover your breasts. You can wear them with a bra, just makes sure that your bra is super comfortable and does not dig into your skin when worn with an underbust corset. Underbust corsets are perfect to be worn under shirts and tops. They help define the waist and are perfect for beginners who are looking to start their waist training with corsets.
Underbust corsets can even be worn over your clothing for a vintage-inspired look that is quite stylish.
Overbust Corsets
Overbust corsets go up and over your breasts, covering and supporting them and thereby making a bra unnecessary. These corsets are best suited for dresses where your figure needs to look more shapely.
Short Line Corsets
A short-line corset is a wide belt-like corset that helps cinch your waist. It can be worn under or over your clothing to shape your waist and make it look more defined.
Long Line Corsets
This type of corset is not very popular simply because it is not very convenient. They come almost to the top of your hips. So while they offer the most coverage and are a great option for achieving a shapely torso, they make everything from walking to going to the toilet a big battle to be won. These corsets work well with figure hugging dresses and are quite popular amongst Hollywood celebrities.
[sc:mediad]
Light Lacing Corsets
These corsets are not too hard on you. They help shape your natural waist and lightly contour your figure. These are great everyday wear corsets that can be worn with tops, dresses, and even business suits.
Tight Lacing Corsets
These are not for everyone. They are only used by those opting for corset waist training. They are very constricting, offering around a 20 percent reduction in your waist size. They are the closest to the Victorian corsets and are not widely used due to health concerns.
Some Dos and Don'ts
While corsets help define your figure and give you a shapelier silhouette avoid wearing them on a daily basis as they can restructure your figure if worn continuously over a long period of time. And before you start thinking that would be an easy way to get in shape, let me clarify. The extra flab does not just disappear. More often than not it gets pushed down and ends up in your bottom. So while you may achieve a tiny waist you will end up with a disproportionately big bottom.
Always give your corsets for dry wash. Washing your corsets in water may result in the inner lining (of metal) rusting and getting ruined.
If you are wearing a lace-up corset, make sure your lace is of good quality. Use two laces to loop through the lace holes. Ideally, you must lace your corset in the middle rather than the top or bottom for the best support and shape.
I hope this quick guide on corsets has helped you gain a better understanding of the wonder garment and all that it has to offer.