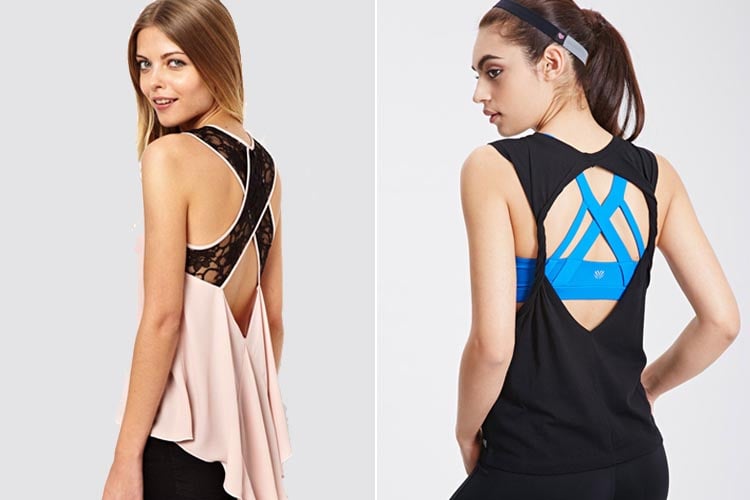 Suggestive and sexy, backless tops help strike a balance between dressing classy and showing some skin. Strappy, backless tops are trending again and they are a great way to flaunt a fit, toned body which makes them hard to resist.
They look very chic and sexy and are perfect for date night or a party. But that doesn't mean you can't wear them as a casual outfit, especially during the summer; all you need is confidence to pull them off. If you are a bold fashionista who doesn't mind experimenting, you should definitely try it!
[Also Read: Tips To Choose What Bra To Wear With Backless Dress]
Types Of Backless Tops
There are many different types of backless tops out there and you pick the one you find most flattering for you.
Open Back Top
Open back tops are hot favourites among all the backless tops for women. These garments have a high slit at the back leaving an open back.
These backless tops are available in many different materials such as chiffon, cotton and with lace details as well. Select the one which suits your body type and occasion best. You can opt to choose slit-style or more revealing kinds, however, don't forget to accessorise the look.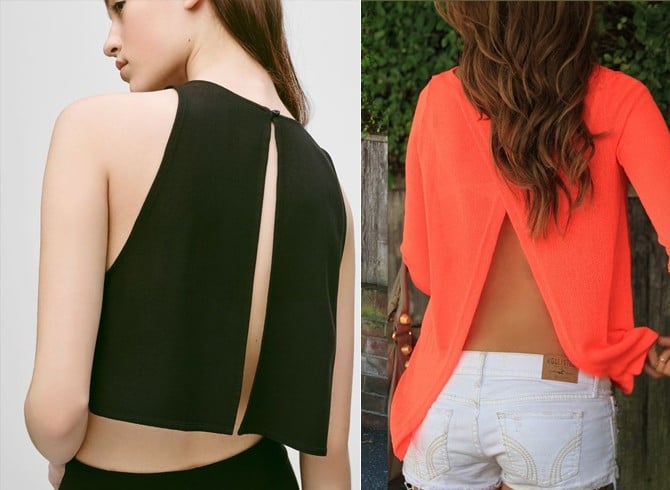 You can wear these split back tops as it is or tie the bottom ends into a knot for a less revealing look.
Twist Backless Top
Twist backless tops look very chic and uber cool. A refreshing change from classic backless tops, they offer a simple yet unique look.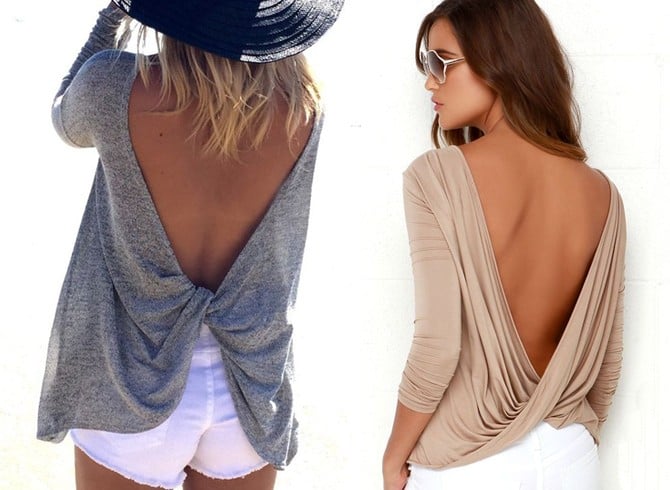 These draped tops look fun and breezy. They exude a very relaxed and casual vibe, so it is perfect to wear to the beach or for brunch with friends.
Deep V Back Top
Wrap V neck tops and deep V back tops look really classy and they can be dressed up or down by styling with the right accessories. They are a must in every woman's wardrobe.
There are many tops in flowy, silky fabrics that drape really well and feel very luxurious. The most common style is the one with a strap on the back.

Because of their sophisticated look, they are perfect for formal events when paired with a nice skirt and trousers or with jeans and leather pants for a high fashion statement.
[Also Read: Backless Blouse Designs For Raw Sensual Appeal]
Backless Drape Top
Backless drape tops are simple yet they look very feminine and elegant. You can pair them with jeans or a maxi skirt for a fun casual outing.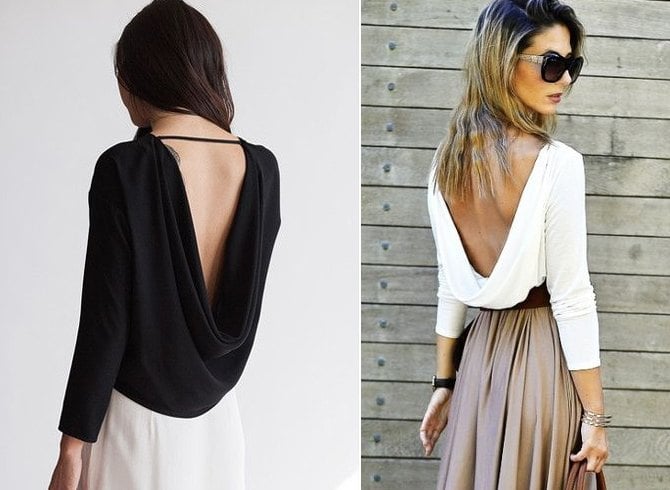 Or you can dress it up like this drape top with lace detailing that looks very beautiful.
[sc:mediad]
Cut Out Back Tops
Many tops have interesting cut outs of various shapes at the back that look very attractive.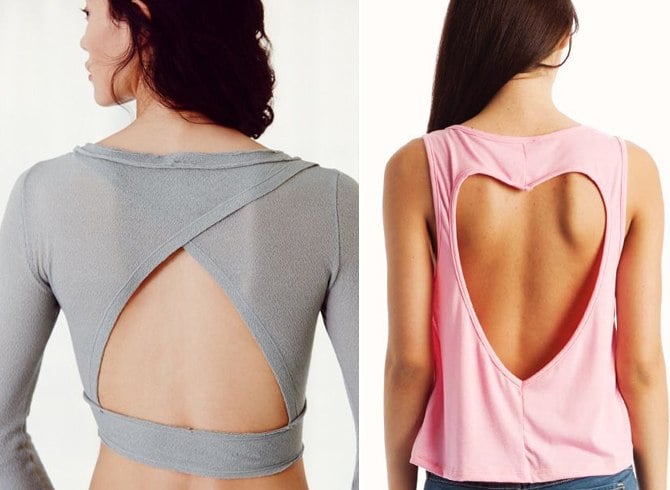 Women usually love such tops with such intricate, delicate patterns and cut outs that add a feminine touch to the outfit.
Backless Workout Top
Who says that gym-wear has to be boring? These days there are plenty of options such as backless workout tops. In fact, many women prefer them over normal tank tops because they are very comfortable and look stylish at the same time.
A strappy sports-bra with your backless workout top is perfect as it will give you support and make your backless top look even more sexy.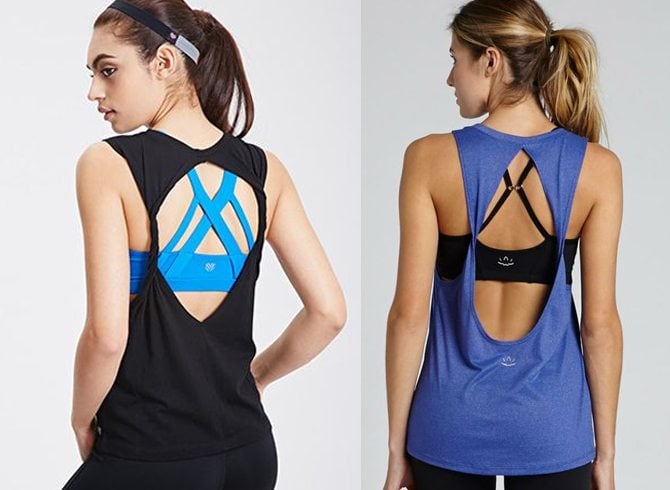 So the next time you hit the gym, try a backless workout top.
Backless Tank Top
A must have for your holiday wardrobe; backless tank tops are very practical and comfortable. They are great for beachwear and for some pool side fun.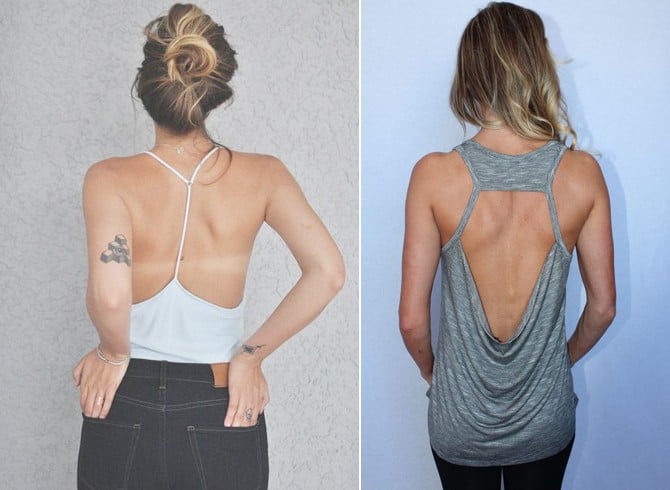 A nice twist to the classic tank tops that are too boring for some, they look effortlessly stylish and very hot. You can dress it up or dress it down, as you wish.
X Back Tops
The X back tops relieve pressure on neck and provide maximum support, allowing you to wear them all day long. They also look fabulous and work well for any occasion.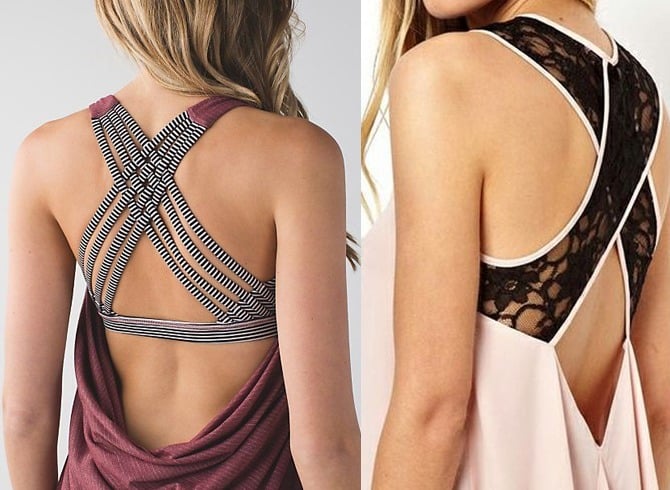 Backless Halter Top
Backless halter tops have been popular since the 60s and 70s. A wardrobe classic, these are a staple style of tops that never go out of fashion.
These tops are in vogue and especially halter crop tops are highly in demand. They look super cute and you can go for printed tops or the ones with embellishments.
If you do not want to show too much skin, long halter tops are the best and they flatter most body shapes as they can even hide those love handles.
[Also Read: Things to Keep In Mind When Wearing Backless Dresses]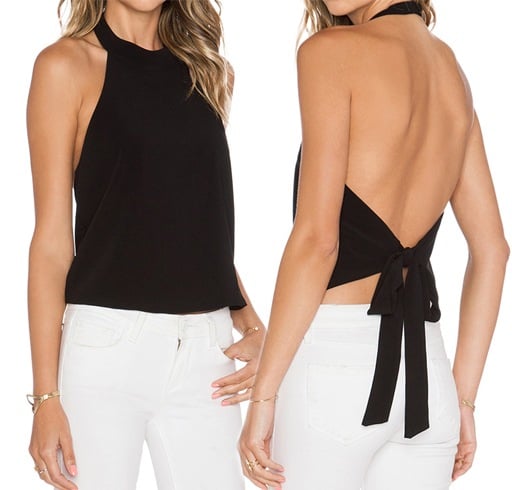 There are many different styles of backless tops that you can try and make a bold fashion statement. You will surely grab everyone's attention wherever you go, whatever be the occasion! So, don't shy away because as they say, if you have it, flaunt it.
Images Source: pinterest.com