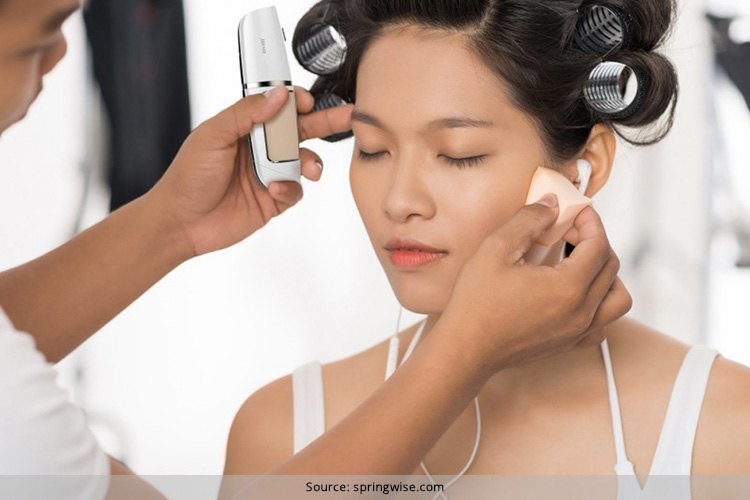 They say the future is here. From hi-tech makeup to clothes and shoes, every single thing is taking a turn towards digitalization. And the biggest thing is, it has become so much easier with this digitalization. Everything is on our fingertips and life has become really easy. One such wonder in the world of makeup is the digital makeup pen. Though it hasn't become a big hit yet, the digital makeup pen is actually going to revolutionize the way we look at makeup.
[Also Read: Easy Eye Makeup Coverage For Prominent Eyes]
Developed by a company called MINK and called the Mink Makeup pen, this revolutionary pen will give the users a chance to mix their own makeup and use it. You will not need any professional anymore. Simply follow the instructions and voila, you can do some really eye-catching and head-turning professional makeup.
What Is This Digital Makeup Pen?
Mink came up with this brilliant idea and launched its digital makeup pen in December. The makeup pen has a very simple step-by-step process and all you need to do is follow the whole process. You will actually be doing some serious makeup!
Before we get to all the amazing things that the digital makeup pen can do, here's a little overview about the company which makes it. Mink is the world's first printer that actually prints makeup (Take all my money; I don't need you anymore Sephora!). Simply put, it can take the picture of any image and instantly change it into a wearable color cosmetic. Your phone, camera or laptop thus turns into an endless beauty aisle in a jiffy! Now isn't that highly cool!
[sc:mediad]
How Does The Mink Digital Makeup Pen Work?
As we mentioned before, it is really very easy. The users will take a photo of the makeup color that they want and then load it onto the pen's iOS companion app. This app will then break down the colour into exact levels of cyan, magenta, and yellow. But here's a catch- You can't really create makeup from thin air right (If that was the case, then I would have been a millionaire for sure!) In addition to the pen, every user has makeup base powder. What you need to do is, pour out some powder, set the MINK pen to whatever color level you need for each, and then simply dye the base. That's it. But also you will need an extra "mixing medium" to turn the powder into lipstick, lip gloss, or blush!
The Mink Makeup Pen will give beauty enthusiasts a way to mix their own cosmetic products. The pen will allow all its consumers to select exactly the color that they want and then create the product in the comfort of their own home. They can experiment with different shades and even pigments. And you can take your own sweet time while doing it!
[Also Read: Mini Guide On Makeup Contouring For Different Face Shapes]
But you have to keep in mind that the pen is actually a digital device and it will only work when it is used in conjunction with its accompanying smartphone app. iOS and Android apps are available and you can use them to use the Mink Digital Makeup pen. The consumers can also upload their photo or any makeup color that they would want to recreate. After that, the app will replicate the color by breaking down the levels of yellow, magenta and cyan to create a base. What's great is that there is no dearth of things that you can make. For instance, you can come up with different liquid products or you can also create some powdered products like eye shadows, blushes, foundations, lipsticks and more.
So if you are a beauty blogger or a beauty junkie or for that matter a makeup maniac, this digital pen is just for you! Instead of investing in a permanent makeup pen, you can buy a digital makeup pen and use it for a myriad of purposes!