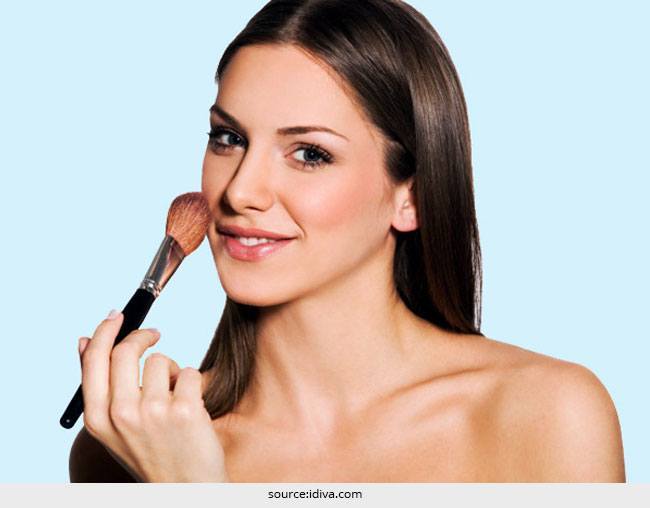 We all like a little makeup, don't we? But when it comes to our busy daily routine, it is simply restricted to an eyeliner, lip balm and sometimes a CC cream. That's all the time most of us have, before we put on some decent clothes, grab a quick bite and rush towards office or college. But guess what, a full-fledged natural makeup routine is no rocket science and you can make it all look natural too.
Before I tell you how to achieve makeup perfection in no time, let's get to the nitty-gritties. Busy girls got to multi-task and plan well in advance. Because, just a top coat of paint and powder won't last for a long time. Here's what you should do to get right every day. Follow these daily wear makeup tips.
Prep at night
If you are super busy and start early, you know the drill – lay out your clothes and pack your bags before you go to bed, the previous day. Do the same for make-up too. So, you need a moisturizer, sunscreen, eyeliner, lip balm and a concealer. Find these and lay them out on your dressing table. This will save your precious minutes in the morning. Moisturize and tone your skin well. Use a good night cream, so that your skin is fresh and well prepared for make-up in the morning.
Multi-task
Not just you – make your makeup multi-task too. Products that can deal with more than one area should be your top pick. That's why BB creams and now CC creams are everyone's first choice. One single cream can even your skin tone like a foundation, hide imperfections like a concealer and brighten up your face like a bronzer! You can also add a cream blush to your kitty – they can double up as light eyeshadows for the day to night look. Try Maybelline Master Glaze by FaceStudio for an all-in-one lipstick, eyeshadow and blush.
[Also Read: Wedding Makeup Looks]
Know your skin
[sc:mediad]
Randomly picking a makeup product just because you like the colour or texture is the biggest crime you can do to your skin. If you are busy with work, you know you don't have the luxury of spending time on skin care. Get products that suit your skin type and help you combat skin problems. If you have dry skin, go for creamy blushes and foundations. On the other hand if you have oily skin, stick to liquid or powder based products with matte finish. Acne-prone skin? Look for micro-exfoliating LHA and benzoyl peroxide in the ingredients.
Now, let's get your all natural no-makeup makeup look for everyday beauty.
Wondering how to get a natural makeup look? Here's what you need
1.Tinted Moisturizer – Remember multitasking makeup. Get one with SPF and you have sunscreen covered too.
2.Blush – Powder/cream in peachy pink shades. Pale pink or nude bronze shades for the perfect blend in for Indian skin.
3.Eye-shadow – No need for rainbow palettes here; just a simple brown shimmer would be perfect.
4.Mascara – Get the lengthening ones. Also, go for an inexpensive one because mascaras have shorter shelf lives – say 3 months, usually!
5.Tinted Lip balm – All natural no -makeup look and lipstick+gloss doesn't sound right. So a great lip balm with a hint of your favourite shade is just enough.
Now, Do-It-Yourself
1.Dab on a generous amount of your tinted moisturizer all over your face and neck. This can easily cover all the imperfections and even out your skin tone. It won't take more than a minute to blend it in. Just make sure you get one that compliments your skin tone. I like Lotus Herbals Nutraglow Daily Tinted Moisturiser with SPF 25, for a cheaper option I also use Classic Lacto Calamine.
2.Now sweep on some blush on to the apples of your cheeks. A good blush can make a lot of difference and give you instant radiance. Try out a few shades before you zero in on the one that can give you that perfect glow without going over-the-top. It's a little on the expensive side, but I like MAC Melba blush.
3.You really don't even need a brush to dab on some shimmer on your eyelid. Just use your finger and you have bright eyes. Look for brown shimmery shades from MAC or nude shades from Covergirl.
4.If you don't want a lot of drama, forget the eyeliner and stick to the mascara. It can help curl your lashes and open up tired eyes. You can give a light sweep of eyeliner on the lower lid to finish of the look. My favourite is Colossal from Maybelline.
5.Gloss is so sticky, lipsticks are so creamy – just keep it simple with a lip balm. Apply it as many time you want during the day and it's inexpensive too. I use Himalaya's Strawberry Red tinted lip balm and love it absolutely.
And trust me, it takes less than 5 minutes to get this done daily. With practice you can cut down on the time more. So, ahead and show off your no-makeup makeup look and get ready to look fresh and dewy all day long.