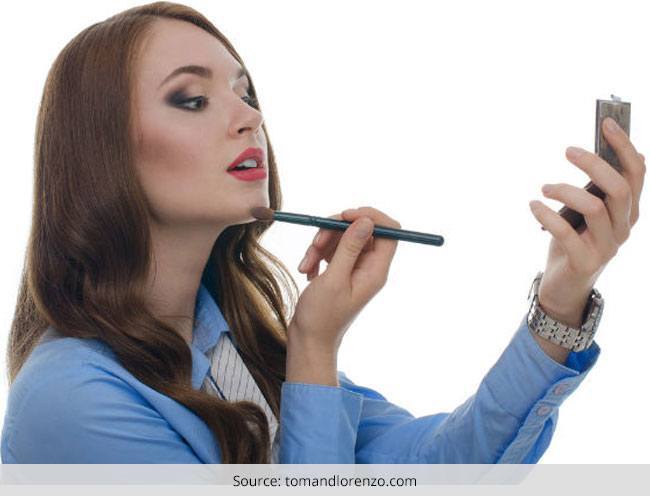 "Life is too short to not look cute all the time" said Marilyn Monroe, and being one of the sexiest women in history, she probably really was onto something! We all want to look our best all the time, but it's hard to carve out time to do so every day.
So here are a few quick and easy Daily wear makeup tips that will have heads turning in your direction, surely!
1. A good moisturizer is a must. Use one with SPF for added protection. Moisturizing helps concealer glide on better. However use concealer sparingly – use it only when needed. Dab on just a little bit to hide dark circles, blemishes, pimples, etc. Choose a shade that matches your skin tone perfectly, using a concealer that is a shade lighter is an absolute no-no. When concealing dark circles, apply the formula using a pointed concealer brush, in little stripes, and then blend in using your ring finger, as this is your weakest finger and wont tug on the delicate skin under the eyes.
Tip: To conceal fine lines, use the tip of your brush to apply the formula.
2. When in a pinch, use a foundation stick, instead of liquid foundation, for flawless skin. It's much easier to control, and makes precise application a breeze. Draw thick lines vertically on your cheekbones, on the sides of your nose, and above your brows and then bend in with your fingers. To get a more sun-kissed tan goddess look, use another stick that is a shade or two darker than your skin tone, in the same areas after your normal foundation, blend it in, and voila, you now have beautiful radiant skin! It is easier to apply with your finger as the heat from your fingers helps to warm the foundation, making it glide more smoothly.
Tip: If you are looking for more sheer coverage, rub a little bit of moisturizer on your hands before applying your foundation.
3. Go back in with concealer. If you still have an annoying pimple or dark spot still peeking through, apply concealer on top of it again. Use the same one that you used before, in the same method that you used before. Apply it right on top of the blemish and blend in using your ring finger.
Tip: To make the concealer last a long time, add some powder on top. This increases the staying power of the concealer so that the pesky doesn't pop up again during the day.
4. Cream blush is the way to go when running short on time, because using a brush and powder is too tedious. Using a cream blush really gives you that glow-from-within look. Apply the blush on the apple of your cheeks and then blend upwards towards your temples using your fingers. How do you find the apple of your cheeks? Just smile! Start of slowly, and gradually build the color.
[sc:mediad]
Tip: You have applied way too much blush and now kind-of resemble a clown. Now what? Just apply some foundation on top to diffuse the color, instead of wiping it and starting all over again.
5. For eye makeup that will put pros to shame, apply a sheer and shimmery cream eye shadow from your lash to brow lines using your index finger. Buy a palette extensive enough for you to choose the right shade for your skin tone. Also, shimmer helps to hide tiny eyebrow hairs, which is great if you didn't have time to tweeze your eyebrows. If you have fair skin, use a white silvery shade; as for medium to dark skin, use a champagne color instead. To achieve really bright looking eyes, dot some eyeshadow in the same color in the inner corner of your eyes. This helps in really opening them up. Celebrities use this trick all the time.
Tip: Use an eye primer to really bring out the eye shadow color and help it last a really long time. Vaseline also helps in keeping the eye makeup in place all day long. Just apply some evenly before you start working on the eye makeup.
6. Now to add more depth and definition to your eyes, use bronze and gold cream shadows. Apply the bronze shadow on your crease with the help of a flat eye shadow brush, and then use your fingers to smudge it over the eye lids; make sure you don't touch your brow bone. Blend till you eliminate all harsh stripes of color. Since the formulas are creamy, set with a powder shadow of the same color, or use a translucent powder on top. Then to make eyes look even bigger and brighter, pat a little bit of gold eye shadow on the centre of your lids, and extend it onto your lower lash line too using a small brush.
Tip: Golden eye shadow makes your eyes look luminous; however it can enhance dark circles when used on darker skin tones. Do not forget to read our article on makeup tips for dark skin tone beauties.
7. To add more intensity to your eyes, line your upper lash line with a brown pencil and smudge the line upwards using your shadow brush. Set the look using your translucent powder again. Finish the look with two coats of mascara on both your top and bottom lashes, focusing mainly on the outer lashes. Fill in your brows using a brow pencil or tinted eye brow gel.
Tip: For insanely curled lashes, use an eye lash curler before using mascara. Heat the curler a bit using a blow dryer and use it at a 45 degree angle.
8. Your whole look can be ruined by dry, chapped lips. Exfoliate and smoothen your lips and then apply lip balm. Blot any excess with a tissue paper. Now using a strawberry colored lipstick, directly from the tube, apply it right at the centre of your mouth, as this is where the color tends to wear off the fastest. The centre should be the most intensive and then work your way outwards. Pat the color with your finger tips to really make it last, and to give you the "fresh, just bitten" look. To change the look from day to night, you can just add a layer of gloss on top.
Tip: If you run an ice cube over your lips before using gloss, it will make the look stay longer and also prevent it from bleeding.
You are now done! Go out and stun the world with your beauty! Hope this post on daily wear makeup tips has helped you learn how to wear makeup to work.