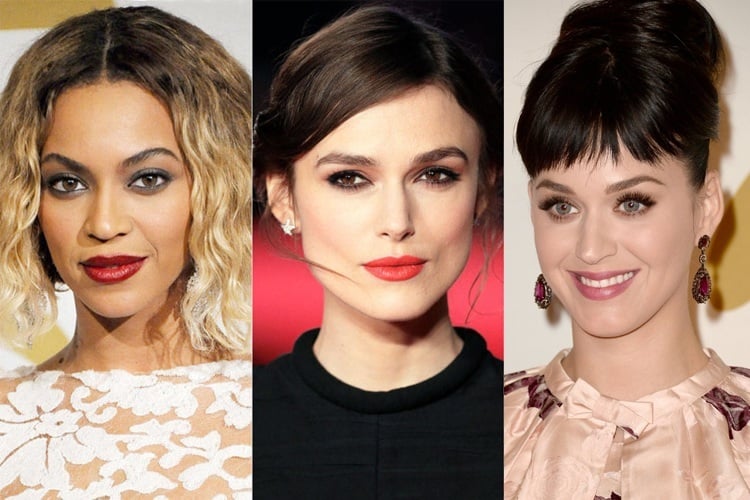 Just like there are different body shapes, did you know there are different eye shapes as well? Just as you wear dresses suiting your body type, the same you should consider while wearing eye makeup as well.
I have come up with some useful tips on different eye makeups that can help you understand your eye type and the appropriate makeup that complements your eyes. Do have a read!
#1 Eye Makeup Tutorial for Round Eyes
If you have round and big eyes just like Katy Perry then this eye makeup by Mia Silverio, makeup artist at the Paul Labrecque Salon and Spa can suit you.
Apply eyeliner at edges – You can start by applying eyeliner from the inner corners of your eyes and continue towards the outer areas making a small cat eye.
Highlight the inner areas – Now by using a light eye shadow, highlight the inner area of the brow bone along-with inner edges.
Use medium  shaded eye shadow –Now create some contrast between the highlighted areas with a medium eye shadow shade. Even apply light shade on your lid to add some edge to your look.
[Read More:Makeup Tutorial]
Now thick eye shadow –Finally apply a thick eye shadow in darker shade across the crease of your eyes. Make sure you do not overboard it.
Smudge the eye shadow – Blend the eye shadow that you've applied. Start from outside, slowly moving towards the center. This will give you fuller eyes.
Voila! And you're all set to woo the world with your beautiful eyes, doe-eye look à la Katy!
#2 Eye Makeup for Almond Shaped Eyes
Have you ever noticed closely Beyoncé's eyes. Her almond shaped eyes are her major beauty assets, which she makes sure to be focused first while wearing makeup.
Almond eyes if you knew, have the most symmetrical features, which makeup artists always try to create through makeup.
If you have got such lovely eyes then use round eye technique and try to copy the shape of the Mrs. Carter's eyes.
#3 Eye Makeup for Downturned Eyes
If you notice Camilla Belle's face, you will understand what downturned eyes mean. Such eyes always need a little bit of lift. For this, eyeliner plays the key player.
Follow this tutorial if you've got such eyes –
[Also Read: Easter Makeup Tutorial]
Highlights your lids – Start your eye makeup by highlight your lids with eye shadow. Just keep shading in the same way, which I have already mentioned for almond shaped eyes.
Draw a thick line – However, make sure you are drawing a thick line using your eyeliner instead of thin line which is used for the round and almond shaped eyes.
Start from the corners – After you've applied the shadow, now use eye liner and start from the corners, moving towards the outer edges.
The secret sauce behind this makeup is to create a slight curve at the end just as you create while drawing a smiley face (only if you wanted to give some dramatic effect).
#4 Eye Makeup for Deep Set Eyes
I just love Keira Knightley's eyes. They are so enigmatic!
If you have deep set eyes then follow the same tutorial which I have mentioned for round eyes. The only difference is apply the dark eye shadow very lightly.
If you want to create an illusion of round eyes then accentuate the highlighted areas, but make sure you do not overdo the dark shadow. It may spoil the look or else.
[sc:mediad]
#5 Eye Makeup for Close Set Eyes
Kristen Bell has got close set eyes, which appears to be wider apart. Even if you have noticed Aishwarya Rai Bachchan's eyes are set wider apart.
Start with brow bones – If you have also got similar set of eyes then you need to focus on brow bones first.
Highlight the underneath area – Start your makeup by highlighting the underneath area of your brow bone, including the inner lids.
Use a base shadow – Just create the same effect which I had mentioned for round eyes earlier in this post except for the difference in the base shadow you'll be using here.
Create a wide round shape – Pick a medium color and shade towards the outer area, slightly far from the actual width of your eyes. Create a wide round shape with the shadow to make your eyes look fuller.
Apply dark shadow on the crease – Now use a darker shade and apply it on the top of the crease. This will give contrast to your eyes.
Apply eyeliner – Start applying the eyeliner at the center and then move outwards creating a straight line. This will make your eyes look bigger.
#6 Eye Makeup for Hooded Eyes
Don't you like the flirtatious look Selena Gomez gives every time she appears before the camera? Well she can't help as her hooded eyes are naturally seducing. Since the 21 year old singer has got some extra skin underneath her brows, her crease looks bigger and lids smaller.
Such type of eyes do not require much highlighting. If your eyes are also hooded then follow this tutorial –
Use light eye shadow – Since such eyes don't need highlighting, you can apply a light shadow at the inner edges only.
Now use medium shade – Now apply a good amount of the medium shade on the hooded lids.
Thick coat of dark shadow – Use a thick coat of dark shadow around the crease. This will apparently make your eyes look round.
Apply eyeliner – Now extend the eyeliner further out to balance the look.
Voila! You now look like a Disney princess!
#7 Eye Makeup for Monolid Eyes
Monolid eyes are something which you see with the Asian people, especially Chinese, Korean and Japanese. Such eyes continue straight from the brows and they do not have crease unlike other eyes. The major aim behind this eye makeup is to make the eyes look bigger and open.
Exaggerate the highlighting – For this, you'll have to overdo the highlighting a bit at the inner edges of the eyes, whilst moving upwards and ending at the center.
Use a medium shade and use it above the crease and create a round shape while moving towards the outer area.
Even use the dark shade in the same manner. Give a thin coat till the center part. This will define the shape of your eyes.
Apply eyeliner – Now while applying eyeliner, make sure your hand is steady enough to create a very thin line. Start with a thin line and end it with a bit thicker coat at the outer edges.
#8 Eye Makeup for Protruding Eyes
Protruding eyes just like those of Nichole Richie should be handled cautiously. since they are already open and protruding do not highlight neither the bottom portion of the lids nor the inner corners.
Apply light shadow – All you need is to apply shadow lightly under the brow bone.
Now use a medium shade and cover the crease just as we did with hooded eyes. Not only above the crease but use the shade heavily underneath as well.
Now apply a thick coat of eyeliner unlike monolid eyes. Just a straight line will do. Do not be afraid of creating thick line, as your eyes are already big enough to balance this look.
The dark effect which you have created on the lid will minimize the protruding factor.
Hope this helps! Do let us know which eye type you have and we'll help you with the appropriate eye makeup!