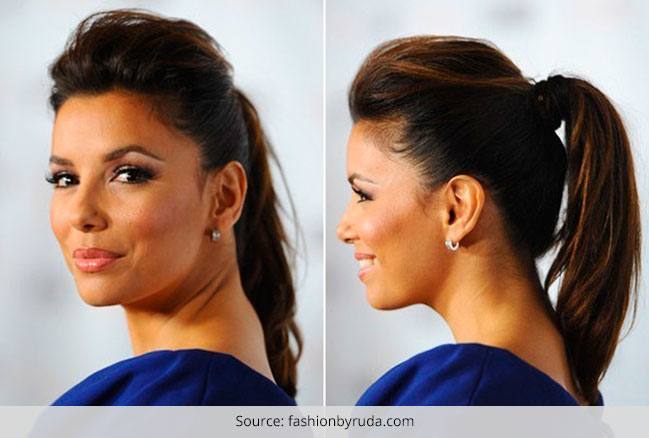 Experimenting with your hair can be one of the most exciting things you have done in a long time and when it comes to styling your ponytail, believe me you're not going to get punked. I offer you top 5 celebrity ponytails to take inspiration from. So have a look and stay inspired!
1. Cara Delevingne's high-rise ponytail
This Burberry supermodel, who is also a Victoria Secret's angel, is an inspiration to all the ladies out there especially teenagers. And a ponytail is any girl's favorite hairstyle for it's easy and chic.
Here is a super chic look flaunted by the supermodel at the annual Serpentine Summer Party in July 2014, when she just added more stars to her glamorous Mulberry gown with this high-rise ponytail. And her unique yet sensitive brows only make a glamorous addition.
[Also Read: Celebrity Hairstyles]
2. Angelia Jolie's brunette locks
When Angelina pulls any style, how could that not be shortlisted for the look of the week? Even though Angelina Jolie had saved this piece de resistance look inspired from her character Maleficent for the LA premiere of her Namesake movie. The 39 year old actress looked overtly gorgeous as she had paired her dramatic Versace strapless leather gown with her brunette back-swept ponytail and spiked gold accessories. This hairstyle is not only for serious business upfront look but can also be opted for glamorous events.
3. Naomi Watts' partly plaited and bouffant ponytail
Here is another innovative style you can go for. When Naomi Watts arrived at the 67th Cannes 2014 Red carpet to attend the premiere of the 'How To Train Your Dragon 2′, she was under the spotlight for her fabulous Marchesa gown.
[sc:mediad]
The Diana actress had paired her blue silk chiffon draped Grecian gown encrusted with black diamond embroidery with a serpent diamond necklace from Bulgari and had completed her look with partly plaited and bouffant ponytail that was smartly done to flaunt her snake-designed diamond place that she had flaunted on her back.
4. Poppy Delevingne's pretty high ponytail
If you're a petite woman then this hairstyle can best suit you. Well, this is no more any workout look, instead you can pull it off gracefully anywhere.
5. Michelle Dockery twisted ponytail
The actress just rocked this hairstyle with her J Mendel tuxedo-style dress at the 20th Annual Screen Actors Guild Awards. So if you've bob hairstyle then you can pick this style, which is nothing but a simple ponytail with short hair and twisted into a crown.
If you want this look then go through this quick 4-step tutorial –
Step 1 – Apply a good volume of foam to your damp hair
Step 2 – Blow dry your hair while flipping them back and forth
Step 3 – Now use hair spray and gather hair to create a low ponytail. And secure it with an elastic band and wrap it with a thin section of hair to hide the band
Step 4 – To add some texture, you can apply any defining cream and complete it with hair spray
[Also Read: How To Look Good In Stylish Ponytails]
Celebrity hairstyles are a rage these days. After their replica dresses, people want to mimic they styles with makeup and hairstyles too. Don't miss out on this trend. Choose your style and start flaunting it.