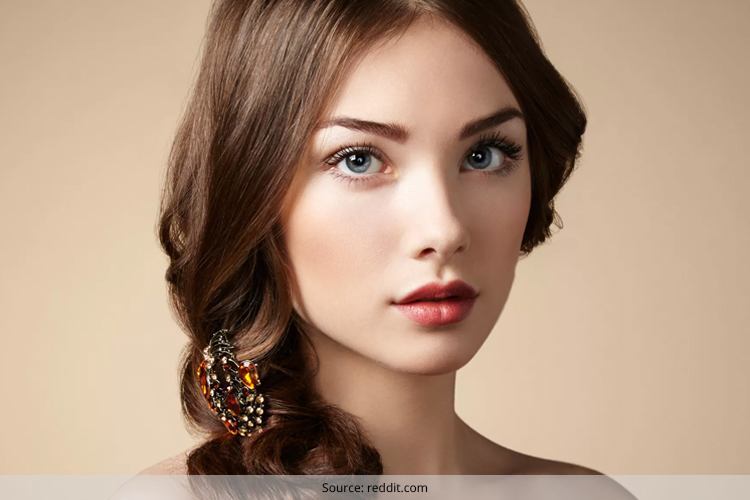 Have you ever come across women with flawless skin and glowing complexion? One way to become a natural beauty is by maintaining a healthy and regular beauty regime. But, we all have our bad days with breakouts, redness, dark-circles and puffy eyes. How do we deal with that? The trick to look naturally beautiful is artfully applying makeup which conceals the flaws effortlessly, blends into the face smoothly and enhances your best features.
Going natural with makeup is a timeless fashion trend and reflects true beauty. For the everyday look, avoid cakey foundation, dazzling glitter and dramatic eye-shadows. Follow this unique way of applying make-up to look natural, wholesome and be your beautiful self:
You can start the regime by washing your face with a cleanser and then exfoliating gently with a soft, fluffy towel.
1. Moisturize
Use a tinted lotion which offers a pearly and delicate sheen to the face. Its sheer texture will keep you from the headache of matching its color to the skin tone. This will offer an even skin tone to your face and can be applied as a normal moisturizer.
2. Conceal Flaws
If you have any prominent marks or battling dark circles, then its time to bring out a rich concealer. Instead of using generous amounts to apply on the whole face, take a small amount and use it to cover blemishes in thin layers. Dab concealer under the eyes and use your finger to blend it in.
If by then the skin has a shiny look, dab the brush in oil-absorbing, translucent powder and apply it in circular motion on your face.
3. Blush Naturally
While nothing can beat the naturally pretty pink tinge on the apple of your cheeks, there are ways to do it subtly! Select cream blushes in warm peach or pink shades to acquire a natural blush.
For a sun-kissed look, use a powdered bronzer to brush it on top of the nose, cheeks and forehead.
4. Enhancing Your Eyes
Do it in the natural lighting to understand the full effect of make-up applied. Choose an eye shadow color which is a tad darker than your skin tone. Opt for shades like earthy sands, browns and taupe. Brush it slowly on the creases and smoothly along the lower eyelashes. Save the dramatic and complex eye-shadow blends for an evening party or a special event.
Curl your eyelashes to add volume and enhance your eyes beautifully. You can avoid using eyeliner but definitely apply a single coat of mascara. Use brownish black or plain black and apply it gently to create longer, fuller lashes. Run a lash comb to avoid lumps on the eyelashes.
5. Pretty Lips
Firstly, exfoliate your lips with an old toothbrush to remove the old, dead skin.
Choose a lipstick shade which matches the color of your lips perfectly and won't be a mismatch with the skin tone. Instead of directly applying the lipstick from the tube, dab it on your lips using fingertips. Apply on the center first and then slowly blend it in smoothly on the lips.
For soft and satin smooth lips, use lip-toned gloss which will bring out your lips in full bloom and will not appear to be made-up. Also, using colored lip balms will moisturize and give a natural pop of color to your lips.
Beauty Regime To Follow
True beauty lies in glowing from within and radiating an inner calm. Why not walk towards a skin with no blemishes, sparkling eyes and natural blush on cheeks? We bring to you a beauty regime which you could incorporate to get the natural beauty which you desire and seek.
Body
It is imperative to keep your body skin healthy, glowing and even toned. Often due to tanning, pigmentation and blemishes, the skin looks patchy and rough. Maintain healthy skin by using homemade body scrubs and oil massages. Use traditonal body scrubs like Ubtan and Sunnipindi which work miracles for your skin by keeping it clear, hydrated and beautiful.
Coffee Body Scrub
Granular Sugar – Half Cup
Mix these ingredients well and add oil accordingly to get required consistency. Prepare this batter just before your bath and apply it before the application of soap/shampoo. Rub properly on stretch marks and cellulite dimples to observe a great change and do it no more than 3 times a week. Use only warm or room temperature water and pat yourself dray after bath.
Fruit Scrub
Half a cup of banana, mango or strawberries
Prepare a nice, thick puree of the fruit and add sugar to it which will melt away. Next add quality honey to the puree and mix it. The molten granular sugar will eliminate the dead cells and honey will bring a lovely sheen to the skin.
Eyes
Your eyes are the most precious possession – It is important to care for your eyes and avoid excessive strain. For sparkling and lively eyes, follow simple tips and make them the best feature of your face.
Soak a cotton pad in cup full of water overnight. In the morning, strain it and add a cup of plain water. Use this water to splash your eyes with.
If you are suffering from eye burns or boils near the eye, dip cotton pad in rose water and add some castor oil to it. Use it as eye pads and cover your eyes for 15-20 mins.
For Dark Circles
Grate 3 slices of Cucumber and extract its juice by pressing via a muslin cloth. Soak the cotton pads in this juice for few minutes and then place it over your dark circle areas. Now, relax and lie down for 15 minutes to get the best effect. Do it for 2-3 days continuously and feel the difference.
Mix a spoon of tomato pulp, a pinch of turmeric powder, half teaspoon of lime juice and a teaspoon of gram flour. Apply this paste on your eyelids and dark circle areas for 30 minutes. Remove the mixture with soft and moist cotton pads. Continue this procedure for a week's time.
For Sunken Eyes
Not been getting enough sleep? Stressed at work? We have 2 simple remedies to restore your sunken, tired eyes to its original beauty.
Mix a teaspoon of honey and half a teaspoon of almond oil. Apply this mixture on your eyes before going to bed and repeat it for a week.
Let the goodness of Almonds work its magic on your eyes – Soak 5 almonds on a an overnight basis. Next morning, peel these almonds and mix them in a glass of milk. Bite and chew the almonds well. Repeat this every morning for a period of 21 days and you will see the difference.
Puffy Eyes
Slice potatoes into circular pieces and keep them in the deep freezer. Keep 2 frozen potatoes slices
on your eyes and relax for 15-20 minutes.
Add some drops of Vitamin E oil into a bowl of chilled water and soak cotton pads for 5 mins in it. Relax for 20 mins and do this repeatedly for 2 weeks.
Face
Prepare your own, easy to use face scrubs at home which will help you get rid of dirt, tan, pollution and dead cells:
[sc:mediad]
For Softness: Make a powder of masoor dal (red lentil), chana daal ( bengal gram) and rice powder in equal proportions. Then add some glycerin and gulab jal (rose water) to make a nice, thick paste. Just apply this mixture on the face and neck. Leave it to dry and then wash it off with water. Apply moisturizer after washing the face and feel the satin smoothness of the skin.
For Rosy Glow: Make a paste of sandalwood powder (chandan), half a spoon of poppy seeds and a spoon of honey. Apply this mixture on your face to get a natural pink glow.
For Dry Skin: Mix 2 spoons of warm honey, 2 spoons of sweet almond oil and a spoon of rolled oats. This exfoliating mixture will act as an excellent scrub for dry skin and keeps it moisturized.
For Oily Skin: Make a mixture of sea salt and lemon juice in equal amounts. Use this mixture to massage your face to keep your skin healthy and oil-free.
For Tan Removal: Mix a tablespoon of sandalwood powder in a cup of raw milk and add a pinch of turmeric powder (haldi) to it.
Teeth
For a naturally gorgeous smile, keep your teeth clean, pearly white and stain free. Here are some ways to get lovely teeth:
Make a mixture of 6-7 crushed basil leaves and add 2 tsp of dried orange peel powder. Make a mixture and apply it on your teeth. Leave it for a period of 15 mins and then wash it away with water.
Use lemon juice for teeth whitening and keep them sparkling and clean.
Hair
Girls, the secret to looking naturally beautiful is having healthy, thick and lustrous locks:
Oil Massage
Use warm olive oil, coconut or almond oil to massage your hair and scalp gently in careful circular motions. Dip a towel in hot water, squeeze out the water and wrap the warm towel around your head to keep hair healthy and strong.
Methi or Fenugreek
Soak the seeds in water on an overnight basis and grind it in the morning. Make a thick paste and apply it on your hair. After half an hour, rinse it off with water and mild shampoo.
Curd
Mix curd with coconut oil, honey and lime juice and put it in a blender/mixer to get a nice, consistent paste. Apply this paste strand wise and leave it for half an hour. Then wash it off with mild shampoo.
Eggs
Beat egg yolks in a bowl and add 2 tsp of vinegar or lemon juice ( to avoid the stink). You can add coconut oil, castor or almond oil to the egg yolk mixture and apply it on your hair. Wash off with mild shampoo to get lustrous, thick and healthy hair.
Celebrities With Natural Makeup Look
Celebrities do get tired of their heavy duty make-up on shooting schedules and prefer to go for the natural make-up look. At casual public appearances, red pouts are being replaced by peach and pink glossed lips and all and clear flawless skin rules over rouged cheeks. These divas do love their time-out without the burden of fake lashes and loads of smokey eye make-up.
Bollywood Beauties: Going the natural way
Here is Sonam Kapoor who looks prettier and lovely without the heavy duty lip colors and loud eye make- up.
Here are 3 Bollywood celebs – Kareena Kapoor, Kalki Koechlin and Tisca Chopra who look lovely in pretty pink lip gloss and minimal eye make-up.
Hollywood Divas – Embrace the natural look
From Hollywood, we have the lovely Jessica Alba who looks graceful, elegant and pretty in the natural make-up look. She has let her flawless complexion convey her beauty and toned down her look. She has used a tinted moisturizer and then used concealer at places required. She has chosen a cream blush to get a dewy look and translucent powder to keep the make- up intact. With a lovely pale pink gloss, her lips look natural and pretty. She has used a thick coat of eyeliner and mascara to highlight her eyes.
Penelope Cruz looked like a classic beauty at the 84 th annual academy Awards. She used matte foundation, a touch of bronzer and pretty peachy lips to achieve her perfectly natural makeup look.
Hope you enjoyed this edition and various tips on looking beautiful with natural make-up. Remember a happy mind, inner calm and healthy glow is what it takes to look beautiful!
What are your thoughts on the natural make-up look – Do you prefer a full-fledged make-up regime or a lightly touched and natural look? Do let us know!