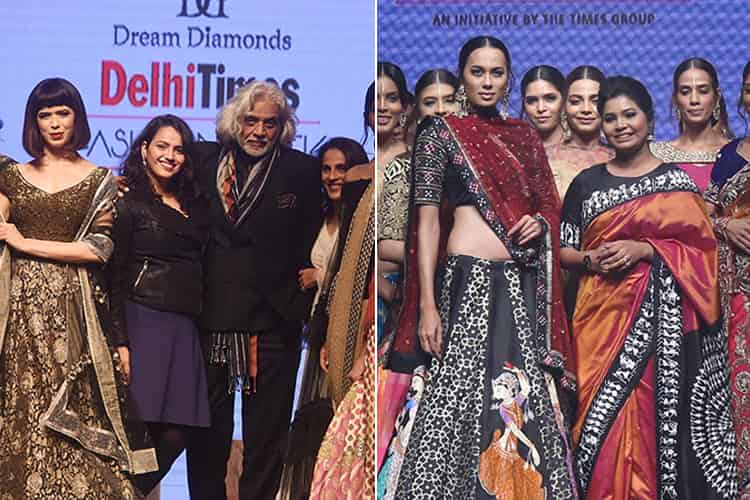 Last week was all about glitz, glamour and everything fashionable in Delhi. With the Capital playing host, the city witnessed a fashion spectacle at the Dream Diamnd Delhi Times Fashion Week.
The three day extravaganza put to display a myriad of collections from ace designers and to end things with absolute bang, the 3rd day saw design wizards from the Indian fashion industry taking the centrestage.
For the final showdown two designer duos, Rohit Gandhi + Rahul Khanna and Meera + Muzaffar Ali, had the models looking like pure vision. A collection that took the followers by much surprise on the final day was of nascent designer Nikita Nayak.
Scroll down to know everything about the finale of Delhi Times Fashion Week.
Rohit Gandhi and Rahul Khanna
Presenting a rather glamorous mood board, Rohit Gandhi and Rahul Khanna's festive collection was all about bling and structure. Playing high on the glam factor, the designers put together a attention seeking collection of cocktail gowns and dresses for women. Putting to use a whole lot of sequins, the models were spotted wearing bling short dresses and jumpsuits, chic pant suits and shiny tasseled gowns done right with showy high slits. For the men too they duo whipped up few glamorous options along with their staple structured and crisp tuxedos and jackets. Speaking of their collection and fashion week experience, Rahul told,"We showcased a festive collection, which had a lot of metallic and black. We have been doing fashion weeks for 20 years now, but putting up a show is still nerve-racking". The color palette was restricted to muted blacks and greys unlocked in their much sparkling versions. FBB Femina Miss India 2016, Priyadarshini Chatterjee played a fitting showstopper dressed up in a glittering gown.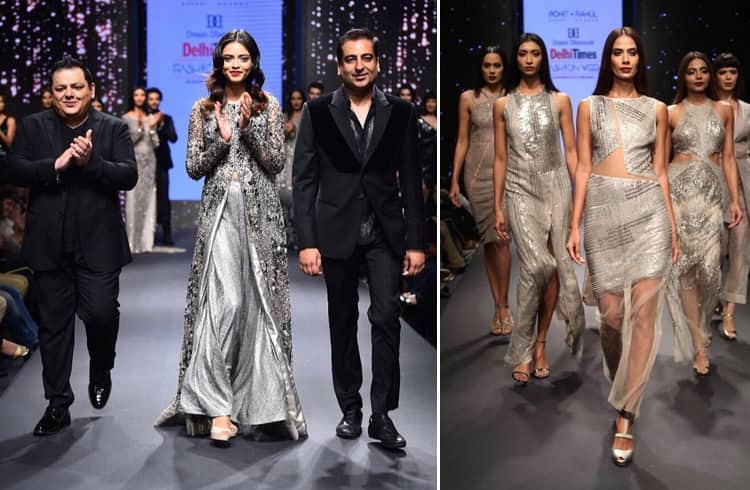 Meera and Muzaffar Ali
The moment the show began with singer Shivani Verma singing In Ankhon Ki Masti Mein, we were sure of the highness feels of the collection that was to be unveiled. As the song gave way to an evening done right with ghazals playing in the backdrop a regal collection with that signature style of the duo had us hooked. In benarsis especially handwoven from Benaras and Bhagalpur, the models sashayed wearing them in anarkalis, lehengas and not to forget the farshi pajamas. With every piece boasting of an identity of it's own, the collection was truely royal. Talking about her collection Meera Ali told, "We have been working on this for a long time since it takes a lot of time to put together so many looks and each one of them had its own story, its own detailing". With the color palette ranging from rustic Indian reds and oranges to ornamental black and gold the designers concluded the show with a heavy red lehenga adorned by their showstopper, Femina Miss India 2015, Vartika Singh. The designers took to the stage along with their daughter Sama, who is all set to take the legacy of her parents to all new highs.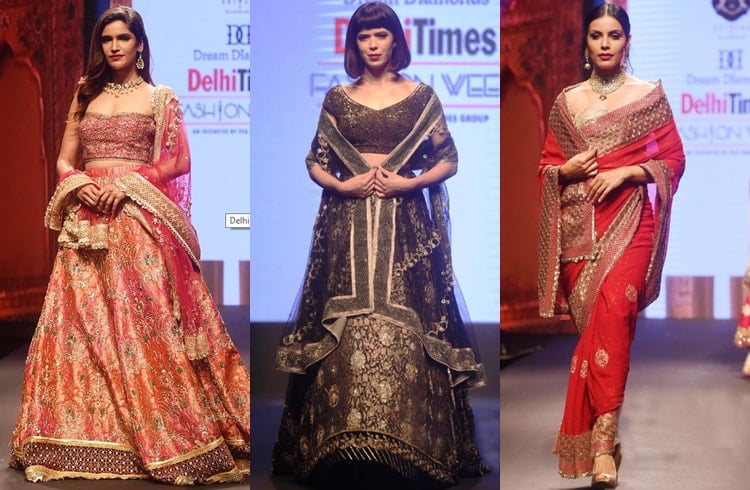 Nikita Nayak
Fusing fashion with art, this budding designer had her muses adorn beautiful bridal garments that boasted of hand painted patterns and detailings. On rich fabrics like banarasi, organza, and chiffons Nikita resorted to hand painted embroidery inspired from Pattachitra. A host of fusion lehengas, sarees and anarkalis done up in unconventional bridal colors became much of a talking point at the Delhi Times Fashion Week. The designer who presented her maiden collection at the fashion soiree told " "I was anxious as this was my first show, but everything was superbly organised.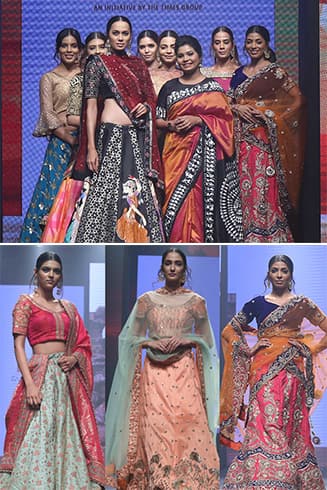 Sulakshana Monga
A contemporary bridal collection to complement the chic modern brides was Sulakshana's agenda for the Delhi Times Fashion Week. Restoring the traditional heritage feels, designer Sulakshana Monga swayed us with her varying drapes and pastel shades. The showcase started with more subtle hues like pale pinks and mustards moving onto traditional reds with embroideries inspired from rich mughal motifs and miniature paintings. The designer spoke of her collection saying, "There was heritage, tradition and art in this collection, but we did experiment with drapes to present the traditional in a new look. Mughal motifs and images from miniature paintings were used as an inspiration for this line."
Sulakshana had her showstopper, FBB Femina Miss United Continents India 2017, Sana Dua deck up in a heavy orange lehenga.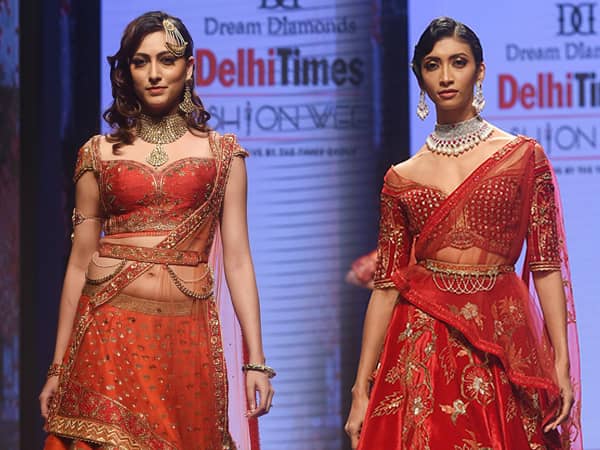 This was all the fashion dose, The Dream Diamond Delhi Times Fashion Week filled us with.
Images Source: timesofindia.indiatimes.com