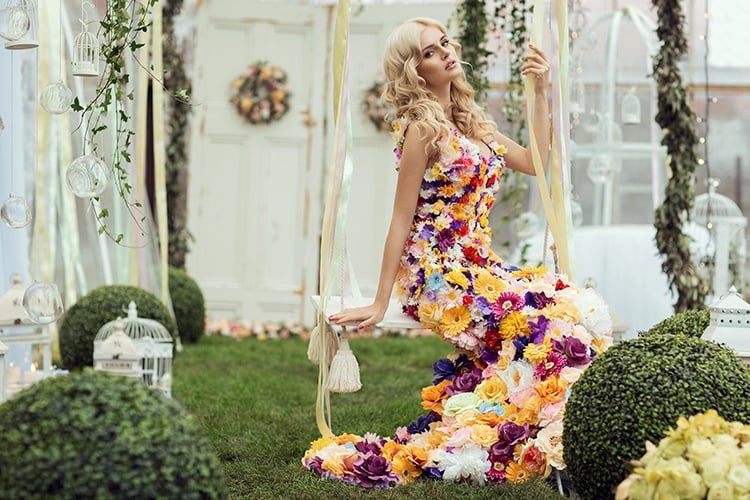 We, at FashionLady, bring to you some unique yet beautiful dresses made up of real flowers. Have a look and admire the masterly work-pieces!
This is a special dress by Asda. This Valentine's dress is made from 1,725 red roses.
Asda had partnered with  award-winning florist Joe Massie, to create a wedding dress made up of of 1,725 flowers;  15 Carmen roses, 200 chrysanthemums, 75 gerberas, 300 carnations, petals from 150 Purple Power roses and 1,000 Naomi red roses. The gown, involved over than 170 hours of labor and weighed just under two stone.
Although this dress was created by Preston Bailey 3 years back from real flowers, the impact of it is still awe-inspiring.  The dress is an inspiration from Monique Lhuillier. This is certainly a dress for the true floral enthusiast.
England-based florist Janet Hodgson of The Flower Gallery was approached by The Rock shopping mall in Bury to design a dress made completely of real flowers.
The dress was inspired by The Rock's logo, which is a woman in a flowery dress surrounded by gorgeous, bright blooms. After a lot of planning, Janet used flowers which wouldn't wither and die after a few days, so she went for hydrangeas, orchids, roses, germini, hanging amaranthus and a lot of leaves.
[sc:mediad]
This dress is made up of both real and fake flowers designed by  Alexander McQueen
A model poses in the same real floral dress made by Alexander McQueen
Some other collections from the designer
If you love all sorts of ruffles, flowers, complex textures and lush ball gowns, this 2012 collection of colored wedding dresses from Stella de Libero just will not leave you indifferent. These wedding dresses have come from the children's dreams; they are incredibly romantic and simply beautiful. There are an incredible number of colors in the collection: pink, red, blue, red, and black, purple, green. The most striking may be called a ball gown strapless representing a solid flower bunch. It looks very bright, but at the same time not pretentious. On the photograph these flowers blend in with the print on the dress. Direct neckline is perfectly complemented by equally colorful floral theme costume jewelry.
The unusual combination of a blue dress with a voluminous tea roses covering the neckline and scattered along the length of the dress is an absolute master-piece.
This wedding dress is a fusion of Eastern and Western fashion; while prints are in the oriental style, the deep-cut, heart-shaped neckline completes the grace.
Here is another great wedding dress
Penrith fashion designer Karl Bowman has apparently proved that roses can really grow you. His stunning catwalk creation, which was showcased in 2011 Runway Collection, is created from real fresh flowers.
The Flower Bank supplied had Karl with an array of suitable roses, such as Pink Piano, Pink O'Hara, Aphrodite and Snowflake which the designer had suggested. Besides, amaranthus and gypsophila were also added in for an extra floral flourish.
Now here is a similar accessory –
This flowery footwear proves that flower-constructed fashion can also extend to the shoe department. Presented at the Mercedes-Benz Fashion Week in Berlin, these towering transparent heels were decorated with fresh flower stems and the clear platforms sprinkled with pretty petals. Who thought lilies could make your legs look longer?
Hope you enjoyed!