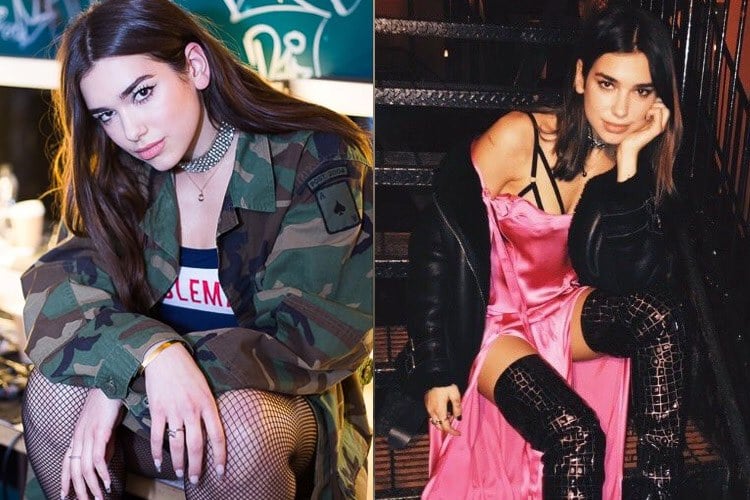 If you are familiar with Dua Lipa's music, you know that her lyrics are all-embracing women empowerment. Back in 2009, she was belting out YouTube covers and Lipa eventually branched out into original material. She landed herself a record deal and topped the charts with a self-titled debut album. To date, her entire catalog of musical recordings can be recapped around her personal life experiences. Her music is autobiographical and she writes lyrics revolving around incidents that have occurred in her life. The USP of her music is that it is all about people going through the same thing.
Where Does Dua Lipa Draw Her Style Inspiration From?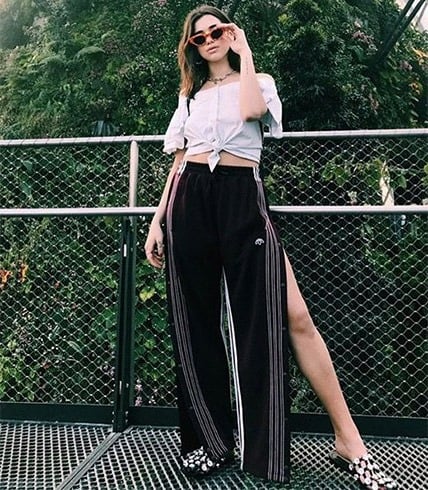 Sahil Nalluri
Dua Lipa's style inspiration seems to be drawn from the 90s pop icons. A self-confessed 90s fan, you can often spot Lipa in chokers, fishnet tights, and leather jackets. Similar to other female music icons like Madonna and Kylie Minogue, Dua Lipa also believes in liberating young women all over.
"Everyone is allowed to wear whatever…they want, and it's so important that they do," Lipa says. "This is the way we move forward in the world. We have to break the norms. If women wearing women's wear is deemed normal, women wearing menswear should also be normal, too. But normality is a tricky one. It's putting things in a box, and it shouldn't be like that. Because what is normal, anyway?"
Amusingly, the songstress' favorite pair of shoes is a Vetements boot, with flames crawling up from their chunky platform. This pair is already a hit on her Instagram page. "Obviously, I can't wear them every day, or as much as I want to. But my dream boots are always something I could never wear every day; just something I want to put in a glass box and keep forever."
Personally, she prefers shoes which allow her to move freely whilst performing on her more upbeat songs. In the hindsight, dua lipa outfits off-duty are more versatile, loud, and better.
Lipa maintains an open mind while experimenting and developing her personal style. She says, 'I always try to find designers that are up and coming, especially when I'm in a certain city. If I was in Berlin, for example, I'd try to wear designers from there. It's important to explore and try new things and grow with those designers that are up and coming since I'm an up-and-coming artist, too. This way, we can grow and change together.'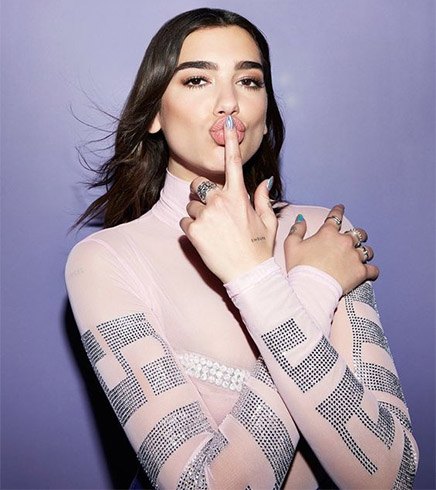 Christon Tarsis
The singer does not exclude luxury labels when embracing the current trend with 90s inspired streetwear style. Some of her favorite designers are Marc Jacobs, Calvin Klein, Loewe, J.W. Anderson, Alexander Wang, and others. With that being said, Lipa is also aware that several designers are interested in dressing up real women with real talent.
She admits, "More often than not, I'm not a sample size. So, sometimes, when you go to a short and you don't fit in the clothes, you're like, Damn it. But you can't really let it get to you. It's ridiculous to think everyone will fit into those sizes, really. And if it doesn't work for you, you just have to learn to get up and try something different and make it work for you so you feel comfortable. There've definitely been things that I've loved from the runway but then tried on myself and realized it wasn't going to work on me. You can't expect everything to work for your body type."
But Lipa has quite managed to bring her own style to the red carpet which remains her signature quirky look of pairing a bra and pants. Even on the most unlikely of days, Dua is spotted baring her midriff.
And yet she still maintains that her style is evolving. She does not want to put herself in a box and declare that she has found her style and these are her style staples. She is open to experimenting and playing around with styles. She knows that fashion cannot be forced and the artist should be the one wearing the clothes, and not the other way around.
Fashion for her is a creative outlet and an extension of who she is. And even though she is sometimes more extravagant than others-it's how she expresses herself. She has the confidence to have fun with style and is bold to embrace who she really is. Lipa is clear about what she wants to present to the world and not take orders from fashion critics.
"Occasionally, fashion can make you feel invincible. I don't know if it's ever saved me, but it's felt like a shield at times. I think it's been a tool to finding and expressing myself in a way that I could never do in words."
Dua Lipa's Famous Style Statements:
She basically wears the same clothing on stage as she would wear daily unless she is being lazy. Then she just ends up wearing her tracksuit. She jokes, that she can walk down Kilburn High Street in a leotard.
Her favorite designers include Mané, Acne, and No.21.
The dream designer to create a red carpet look for her is probably Givenchy.
Her style inspiration comes from the fashion icons of the 90s Drew Barrymore, Kate Moss, and Chloë Sevigny.
Lipa's go-to store when she is out shopping is Urban Outfitters. She feels she can find anything there, its' really fun. The singer ends up buying a lot of vinyl and camera film.
The last thing she bought for herself was a pair of black high-heeled boots from Vetements.
When she's not working, she sleeps a lot. She spends a lot of time in bed when she's off. But if she is feeling adventurous, she'll go to a gallery or an art exhibition to draw inspiration from them.
Images That Prove Dua Lipa Is The Ultimate Fashion And Style Icon:
Quite similar to her song Hotter than Hell, Dua Lipa's style is also ultra hot! This English singer has a fetish for the 90s fashion especially with chokers and lip gloss. The 22-year-old singer knows how to bring a style statement to red carpets, on stage, and off-duty. Whether it's her love for her high platform boots or lingerie revealing looks, Lipa brings about a way to add her personality into every outfit. Here are a few of the popular Dua Lipa wallpapers.
[sc:mediad]
1. Sassy In Sheer:
2. All-black With Fishnet Tights: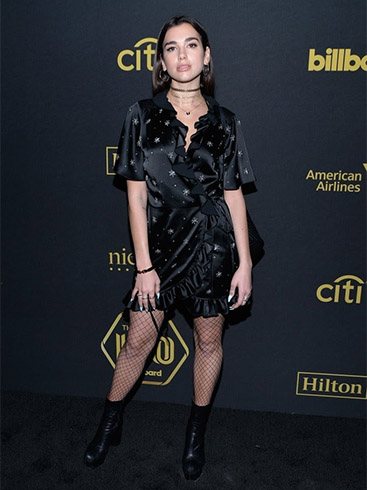 3. Signature Platform Boots:
4. Glam In Track wears: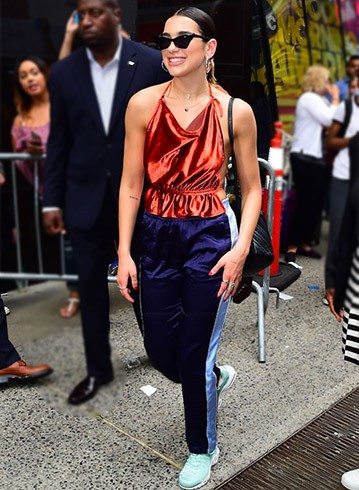 5. Dua Lipa New Outfit Rules -Cheeky Lingerie Reveal: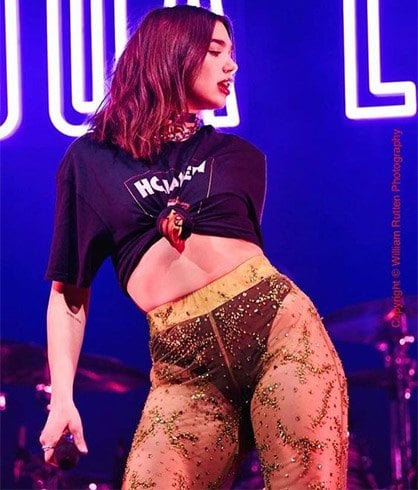 6. Red Carpet Style: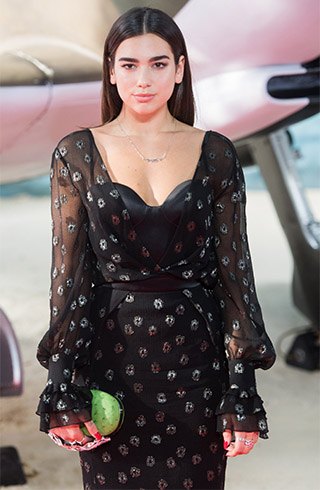 7. Pink Two-Piece Ensemble From Blumarine: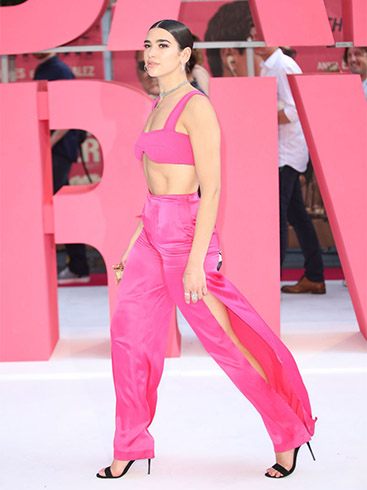 8. Stripes:
9. At The British GQ Summer Party: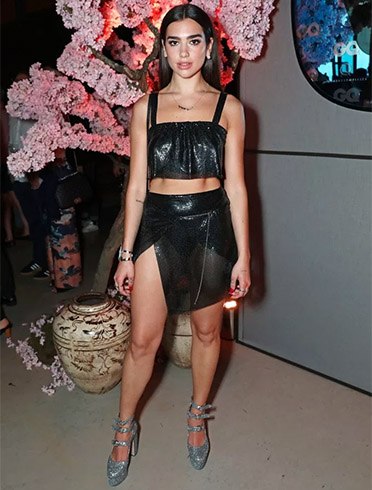 Now we have decoded the diva's style directory for you! What are you waiting for? Go ahead and try her style mantra to glam up! Choose your outfit and add oodles of confidence and you are ready to rock!