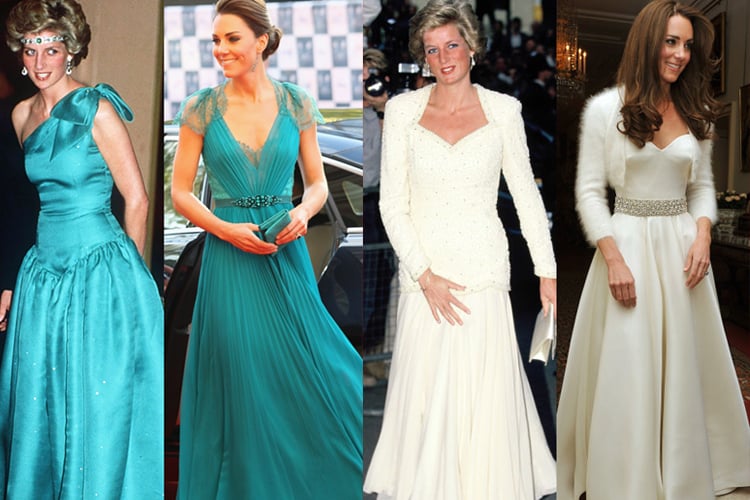 The Duchess Of Cambridge, Kate Middleton, has surely made it clear that you need not be a blue blood to be a part of the royalty. Although the Duchess comes from a common background, we have to admit the lady has completely adapted and accepted the royal ways with much elan, in a remarkably short span of time.
We heart the personal style of the Duchess which exudes a certain royal mannerism keeping intact the lady's casual chic upbringing.
But indeed there is something about her dress-up that constantly reminds us of her mother-in-law, the Late Princess of Wales, Princess Diana.
Princess Diana ruled the fashion game during her reign. Although she started slowly being more of a stereotype fairytale princess, Diana's fashion evolved over time and soon enough the lady was spotted taking risks and pushing the boundaries, ensuring every outfit she wore reflected her individuality. She was not the one to follow trends, but the one who inspired the runway fashion.
She not only left behind iconic moments for us to cherish but a legacy that redefined the ways royal women dressed up.
[Also Read: Royal Baubles Of The Duchess: Kate Middleton Jewels]
The Duchess seem to have followed in and embraced her mother-in-law's art to perfection, and for all those times she needs guidance, the lady replicates one of her mother-in-law's standout fashion moments.
Top 30 Moments When Kate Dressed Up Like Diana
1.For her appearance at the Victoria Barracks in Windsor to attend a medal parade honoring Irish guards, the Duchess of Cambridge got her inspiration from one of Diana's appearances and was spotted wearing a similar double breast navy Alexander McQueen coat.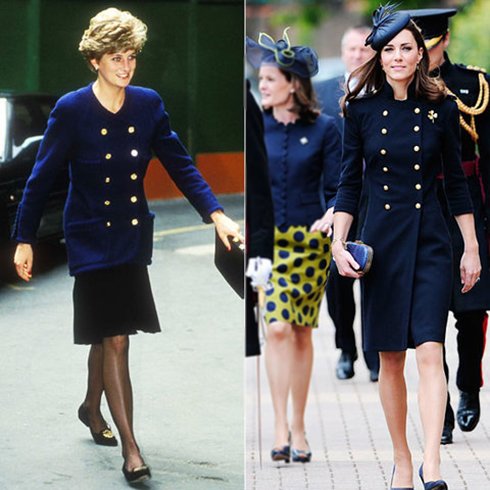 2. The moment Kate stepped out at the New Zealand airport, observers could connect the dots to late Princess Diana's Leicester visit outfit back in 1984. In a red coat, matching hat and black heels, the Duchess exactly replicated Diana's look.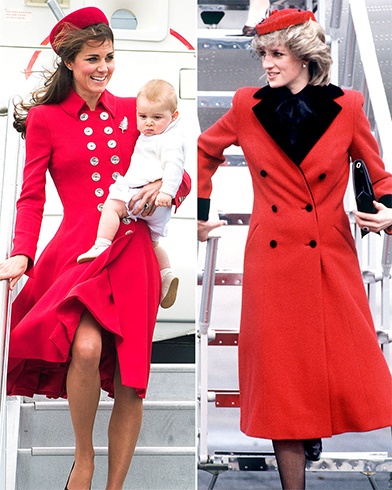 3. Kate Middleton's appearance at the Assyakirin Mosque in Malaysia in 2012 was an exact reminiscent of Diana's visit to the Shaukat Khanum Memorial Hospital in Pakistan in 1996.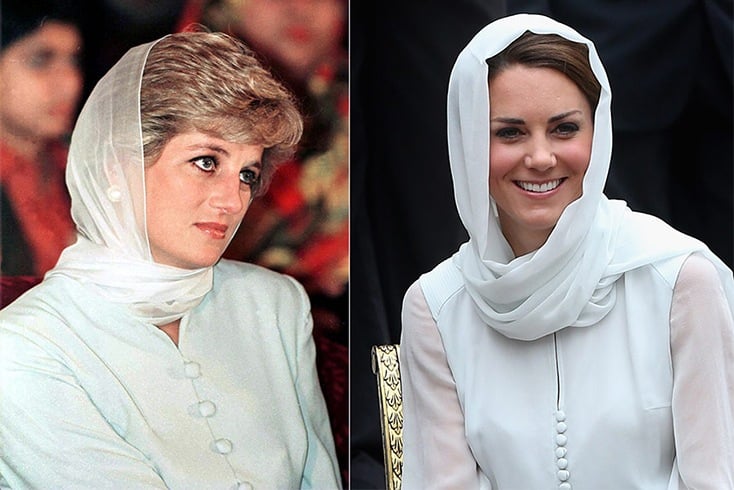 4. Now, what are the odds that both the royal women were dressed like twins for their skiing holiday? The Duchess is definitely capitalising on her mother-in-law's fashionista reputation.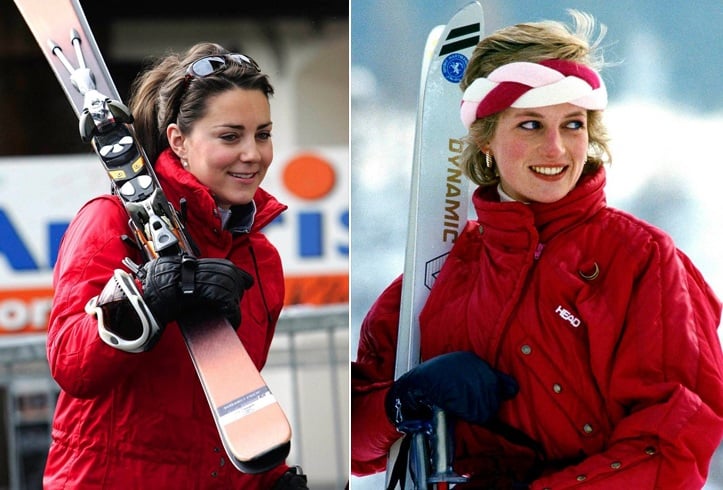 5. To announce her engagement in November 2010, Kate dressed just like Diana did years back in 1981 to announce her engagement. Seems like both the ladies donned a blue number to compliment their priceless sapphire engagement ring.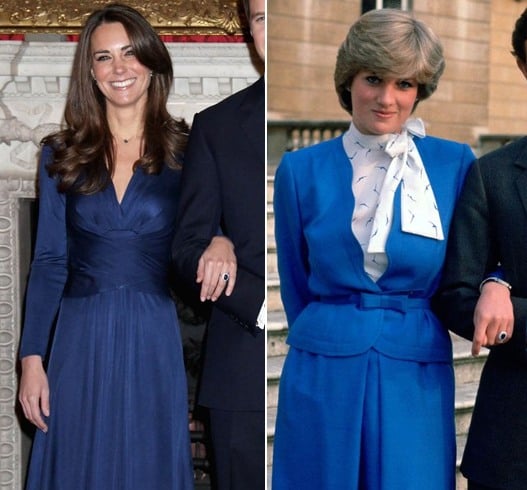 6. Kate attended the Sovereign parade at The Royal Military Academy, Berkshire, in a red coat, black hat, which looked quite similar to what Diana had worn for Christmas of 1993 in Sandringham.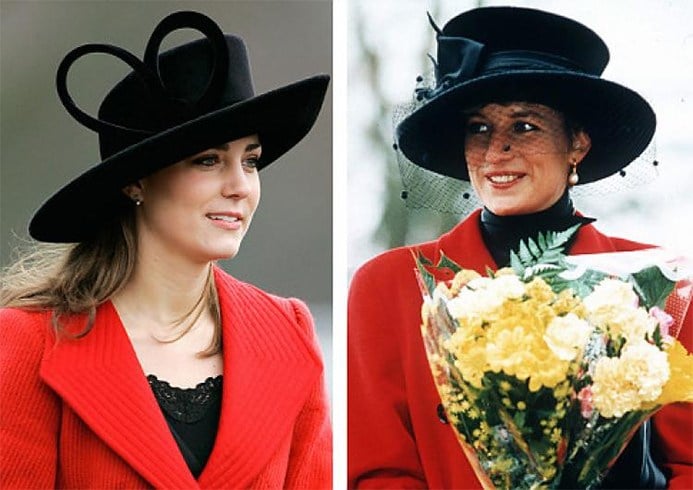 7. The pink overcoat the Duchess wore for her visit to Stephen Lawrence Center, London seemed to be cut out from the same fabric with which Diana's ensemble for her visit to Westminster was stitched.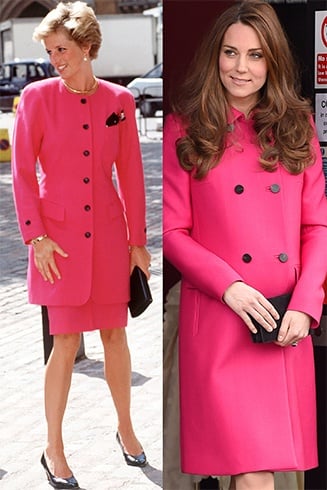 8. Kate Middleton was seen wearing plaids exactly like Diana had worn years back. Though Kate wore the Alexander McQueen dress to St Andrews school, her alma mater, Diana had worn it on her trip to Venice with Charles.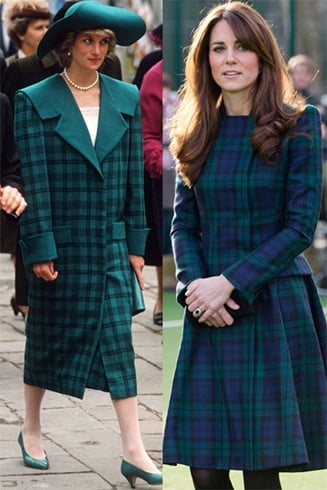 9. The pastel blue Mathew Williamson coat worn by the Duchess to Pembroke Refinery, 2014, reminded us of the dainty blue Catherine Walker coat worn by the late Princess Diana to the Easter services in 1987.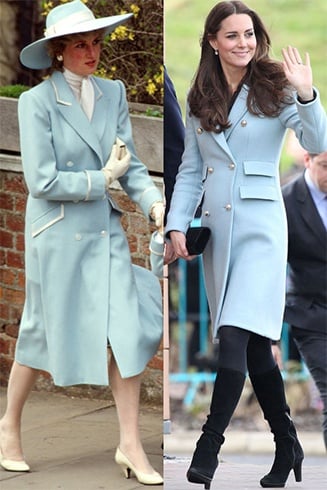 11. For her first public appearance with Prince Charles at the London Goldsmith's Hall in 1981, Diana had worn a gorgeous black ball gown. The Duchess, Kate Middleton replicated this look for her appearance at the Sun Military Awards in 2011.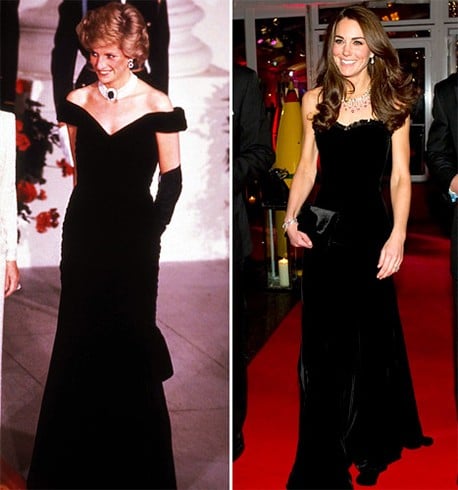 12. The beige outfit worn with a feather hat by Diana for her first official visit to Wales was a definite inspiration for Kate's appearance at the wedding of Laura Parker Bowles and Harry Lopes.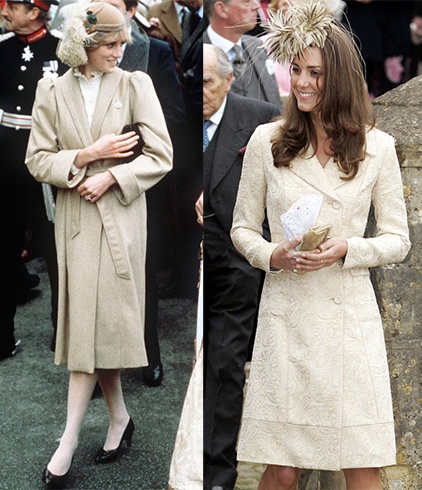 13. For presenting Prince George a day after his birth Kate wore a polka dotted dress which refreshed our memories of Diana's polka dotted dress, that the lady wore to present Prince William a day after his birth. This definitely wasn't a coincidence.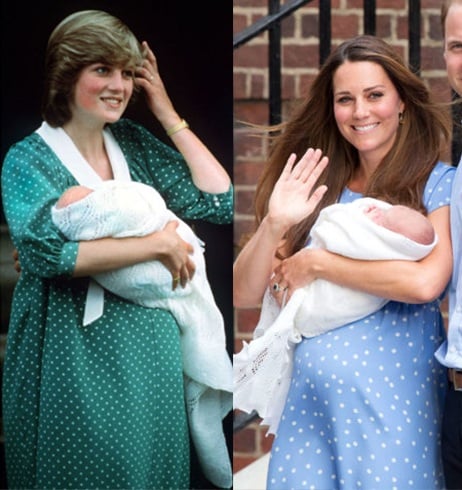 14. Both the ladies worked the emerald tone with equal panache. While Princess Diana wore an emerald Jasper Conran suit in 1983, Kate wore an emerald coat for the St.Patricks Day Parade in 2014.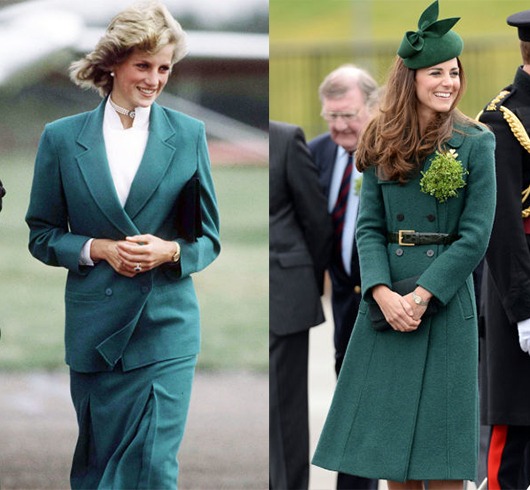 15. What Diana wore getting off a flight carrying William at the Aberdeen Airport, Scotland in 1985, the Duchess chose to wear something similar for boarding the flight carrying George, from Australia on their final day of the Royal Tour, Australia and New Zealand, 2014.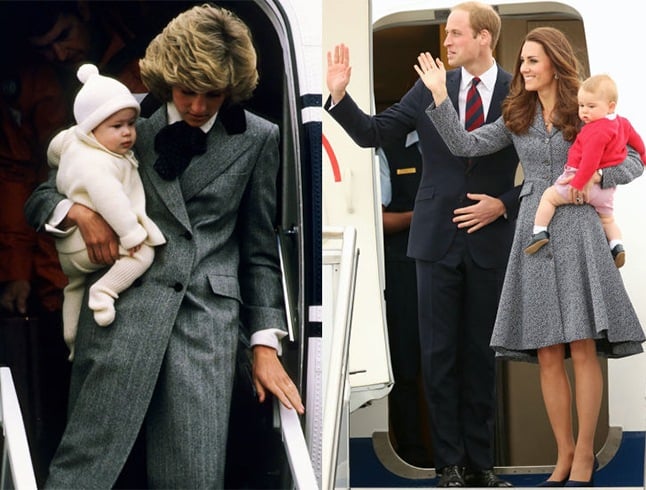 16. Kate Middleton's white and black polka dotted dress was an exact replica of one of Diana's dress. Though Diana wore it back in the year 1987, at Victor Edelstein to honour Prince Charles' polo manager, Kate wore it for Warner Bros Studio Tour in 2013.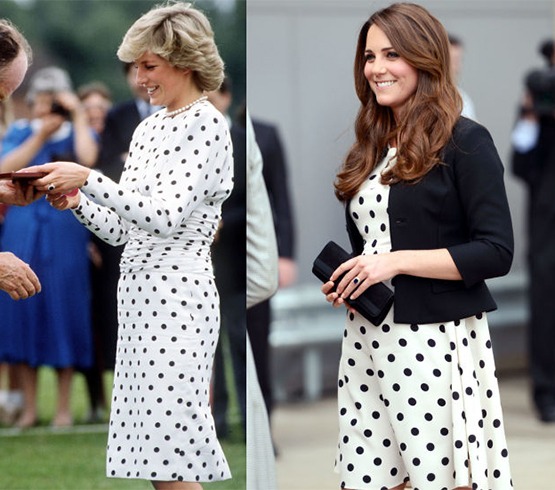 17. Both mother-in-law and daughter-in-law carried the navy collar with much confidence. While Princess Diana wore it back in the 80's at the Buckingham Palace, The Duchess of Cambridge wore it in Canada, on her Royal Tour of North America.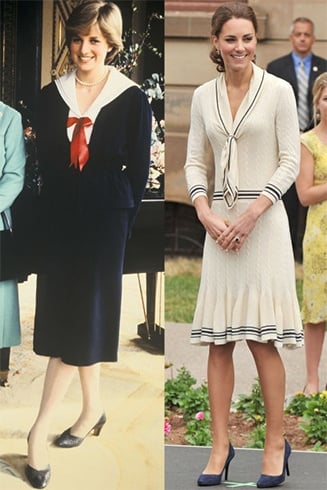 18. Princess Diana was spotted in a bright purple Versace gown at a dinner hosted at the Field Museum of History, Chicago in the summer of 1996. The Duchess experimented with a similar tone inspired by Lady Diana's look, for the Canada Day celebrations while on her Royal Tour of North America.
[sc:mediad]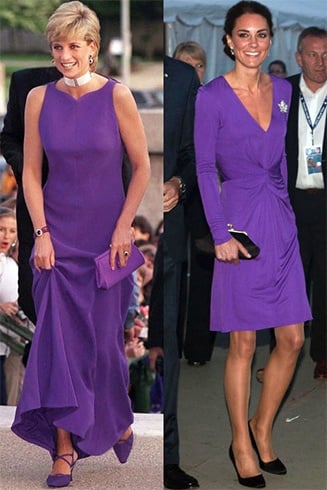 19. Kate Middleton looked angelic in a white ensemble from Alexander McQueen, for the christening of her daughter Princess Charlotte in July 2015. We traced back Kate's inspiration for this look to Diana's spotting at the Isle of Wight in May 1985. Princess Diana made a gorgeous all white appearance in Catherine Walker.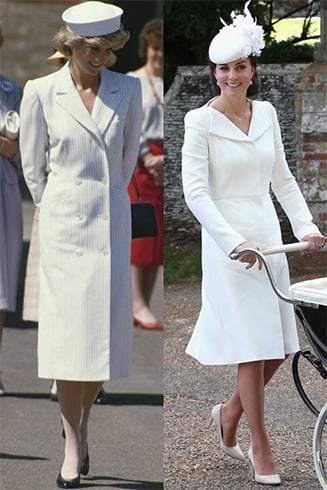 20. The Duchess Of Cambridge paid tribute to her late mother-in-law at the Remembrance Sunday Service, 2016, by donning an ensemble from Diane Von Furstenberg which had exact resemblance to Princess Diana's appearance at the same service in 1991.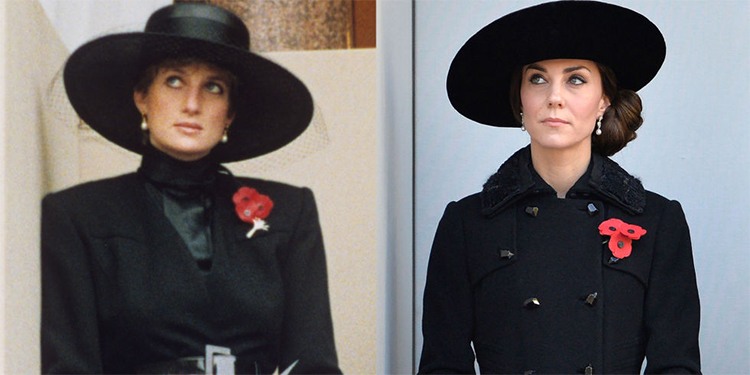 21. The two ladies of the Royal Family, Princess Diana, and Princess Kate were spotted working monochrome checks like identical twins. The only difference, Princess Diana carried this look back in October 1995 at the National Institute of Conductive Education, Birmingham, whereas Kate wore the look in the September of 2015 at the Anna Freud Centre in North London.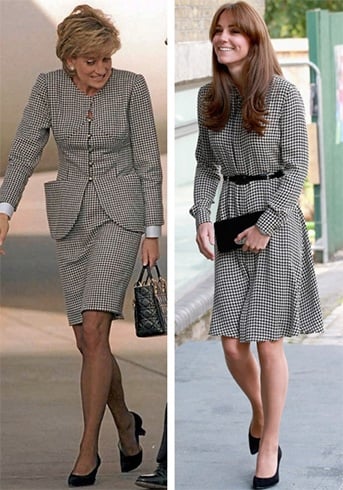 22. For visiting mosques at various cities, Diana ensured a conservative dress up in accordance with the beliefs of the Muslim clan. The Duchess seems to have continued the tradition wearing a look quite similar to Diana's for her visit to the Assyakirin mosque in Kuala Lumpur.
23. The Duchess of Cambridge surprised us in a wine color. Not soon enough we realised the source of her inspiration, Princess Diana, who in the past had worked a classy wine ensemble herself.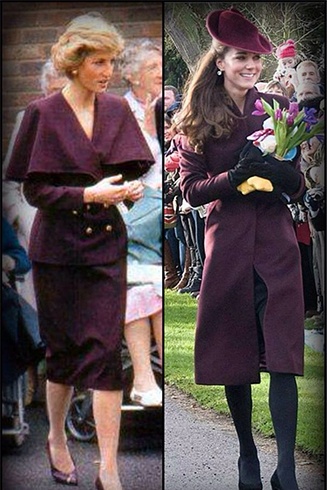 24. Kate's wardrobe boasted of yet another ensemble that reminds us of Princess Diana. Like mother-in-law, like daughter-in-law. Only Kate showed some deviation in terms of the color.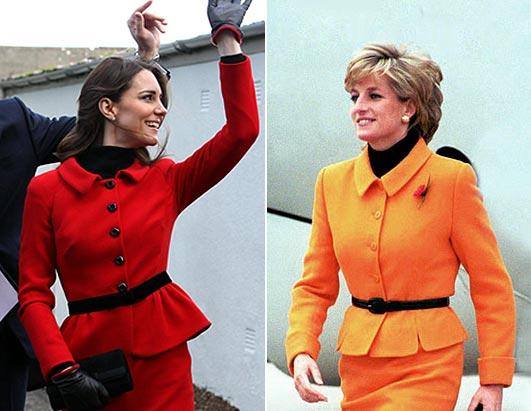 25. A monochrome dress is an evergreen one and we spotted both Princess Diana and the Duchess working a very similar monochrome dress with a clinched waist and plunging neckline.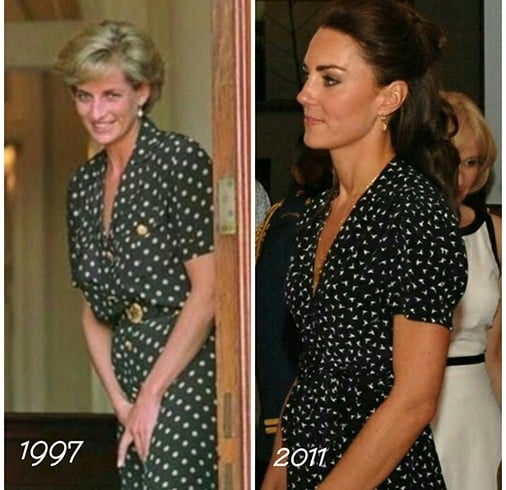 25. Silver was in then, and silver is back in vogue now. To rock the trending metallic hue, Kate took her fashion lesson from Princess Diana's one shoulder dress and made a statement at the National Memorial Arboretum Appeal, St James Palace, wearing the color in a similar one shoulder flowy number from Jenny Packham.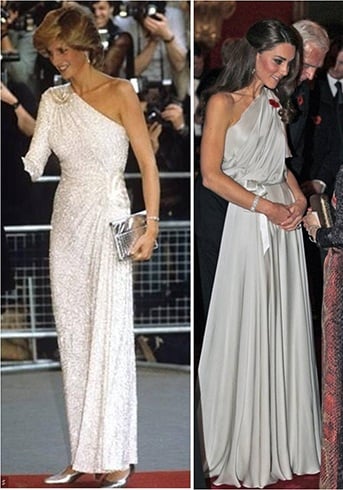 26. Kate's Reception look in a white floor length dress with a sweetheart neckline was a mirage of one of Diana's appearances in the 80's.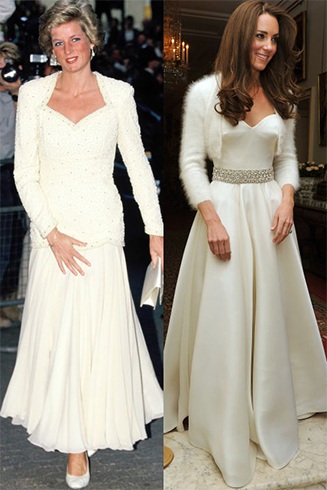 27. The vivacious teal color needs a complimenting persona. We have to admit both Princess Diana and Princess Kate worked the color with much confidence. They looked equally bold and beautiful. While Diana wore it at Melbourne in 1985, Kate wore it at the Royal Albert Hall in 2012.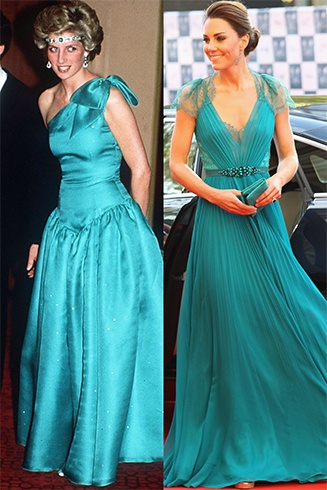 28. Diana worked a refreshing spring look donning a sunshine yellow during her Royal Tour of Australia and New Zealand. Kate was spotted working a tone from the yellow family inspired by her fashion forward predecessor, for her Royal Tour of North America.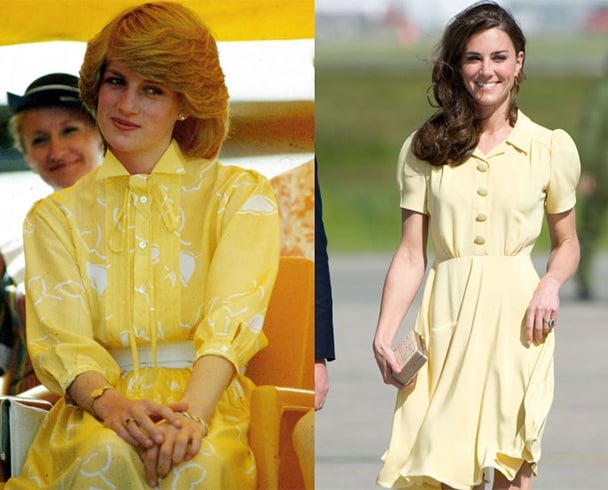 29. The two ladies worked the boss look just right. Pairing her denim and shirt with a blazer, Kate brought back memories of Diana's contrast suit up looks.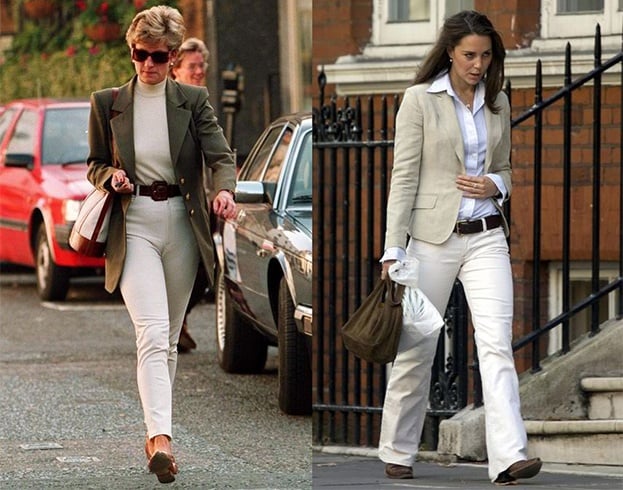 30. Kate seems to be drawn towards Diana's casual street style too. The Duchess was spotted pairing her sweater and denim with boots just like Princess Diana.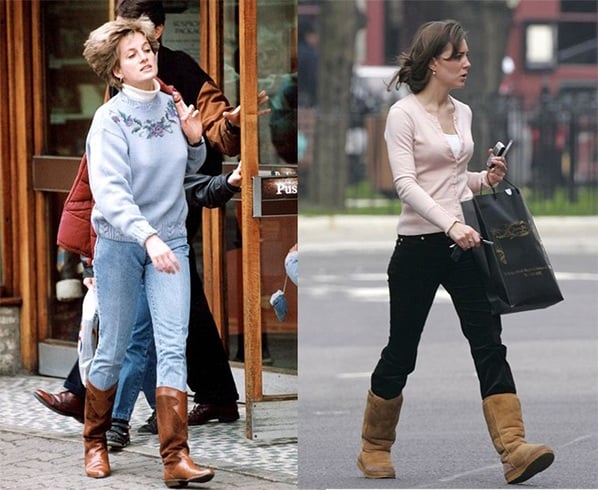 Although the Duchess has garnered a lot of appreciation for her personal style, we feel the lady still has to work up her way to reach the heights her mother-in-law once reached. Till then I believe we will keep getting Princess Diana inspired looks by the Duchess.
Images Source: pinterest, instyle