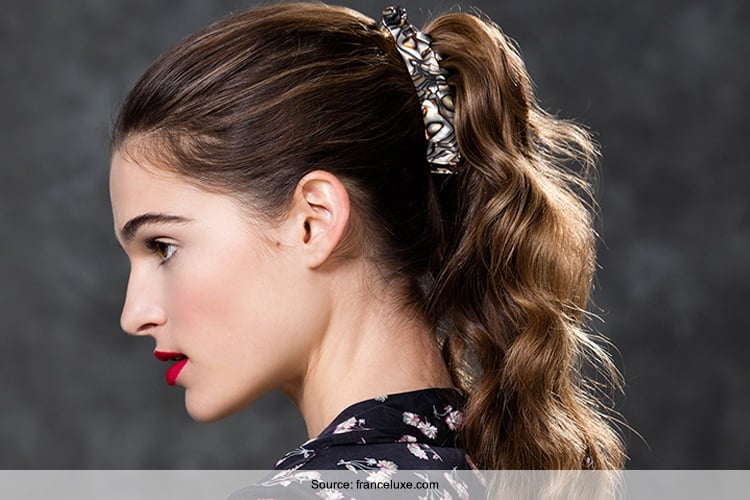 You are lucky if you are the owner of long, heavy and glossy manes like Rapunzel. But at times it can be quite a task to manage these wild manes. Now tell me what would you do if you are getting late for work or to pick your kid, or simply to catch up with your girlfriends, and you don't know what to do with your hair? We say grab your favorite clip and give a try to these super easy banana clip hairstyles.
1. French Twist With Banana Clip
First make a loose and basic ponytail and then twist it gently in a clockwise motion. Hold it up a little and fold the ponytail to half, turn it around again to make a twist. Now secure the hair with enough bobby pins. Slide your Banana Clip from the side of the twists and clip it.
2. Classic Updo With Banana Clip
Now girls with curly or wavy hair would love this Banana clip hair style for your long to medium manes. Just bring all the hair at the nape of your neck and slide the clip from the bottom. Spread the hair throughout the length of the clip and lock the clip at the top.
3. Braid Using A Banana Clip
Start with making a loose French braid by pulling in hair from the crown of your head and weave the braid till the nape of your neck. You don't need to secure it with a hair tie, instead just let it loose. Place the banana clip in a way that the jaws of the clip are dug into either sides of the braid. The rest of the braid should be resting above the hinge and stick out of the clip. Raising the braid a little, lock the clip.
4. Trendy Little Banana Clip Hairstyle
We have the tendency to wear the banana clip vertically. But we can also wear it horizontally and it creates an illusion of fuller hair. Gather all the hair at the back of our head and secure them with a banana clip. Instead of placing it vertically, wear it horizontally and it still looks effortlessly stylish and gives a neat look. This is the ideal banana clip hairstyles for short hair.
5. Side Ponytail
It's fun to play with ponytails, more so because they are super easy to make and take about 2 good minutes of your time. Grab all your hair and bring them to the lesser flattering side of your face – now everyone has a best profile and we want to highlight that. We would keep the flattering side free of hair and blur out the non-flattering one with a tail of gorgeous hair. Once you have your hair arranged at the side, secure them with a banana clip at a comfortable distance from your face so you don't poke yourself.
6. Braided Bun With A Banana Clip
Of all the banana clips hair styles, this one is the most gorgeous one. Well, this hairstyle might look a little tough but the end result is worth the hard work. The combination of a braid and a bun is a perfect for any celebration. To begin with, pull all your hair behind and secure them at the crown of your head with a banana clip. Now take different sections of your hair and weave them into braids. Wrap these braids around you're the banana clip in a way so it looks like a bun. Secure the ends of these braids with bobby pins.
7. Braided Ponytail With Banana Clip
This hairstyle particularly flatters women who have really thick hair to play with. Again, this is the one more suitable for festivities than a regular day at work or visiting grandmas. For the Braided ponytail you will need several hair ties and we suggest you match them with your dress. If you don't have these many matching hair ties, then pick a bunch of black ones. Secure your hair in a ponytail with a banana clip. Take sections of your hair and braid them finely. Secure the ends with the hair ties. Depending on the volume of your hair you may weave about 5-6 braids. They look amazing.
There is no one rule to go about the banana comb hairstyle. All you need is a creative mind that is passionate about hairstyle. You may twist and pin and curl your hair and dress your hair with your favorite hair accessory in prolific ways.