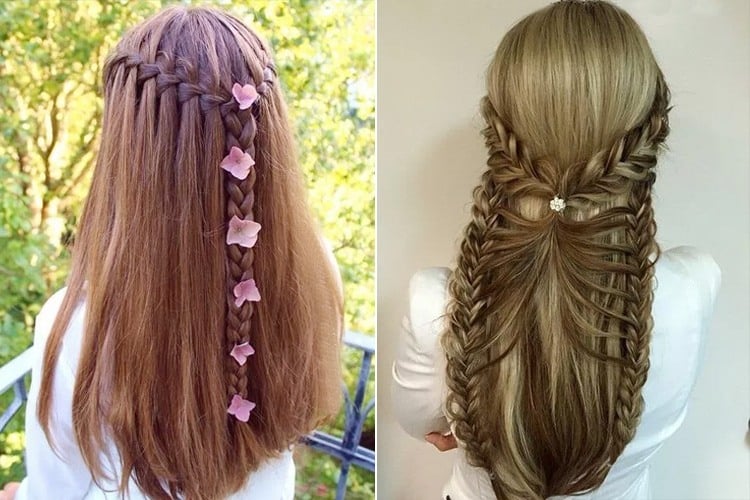 You have to look formal. At the same time, you wanna look fancy. It's a Half up Half down situation. Why not try out Easy Half up Half down Hairstyles Collection? It's good for everyday wear and even posh occasions, like prom. The best part is, the cute half up half down is great for all hair types and length. That's why they are such a popular hairstyle choice.
Get ready to receive compliments when you pick any of this inspiring half up half down hairstyles.
1. Mermaid Updo
If you are a Mermaid super-fan, this charming choice is for you. Gives a relaxed summer vibe. It also gives a sophisticated finishing touch to an LBD or an office ensemble.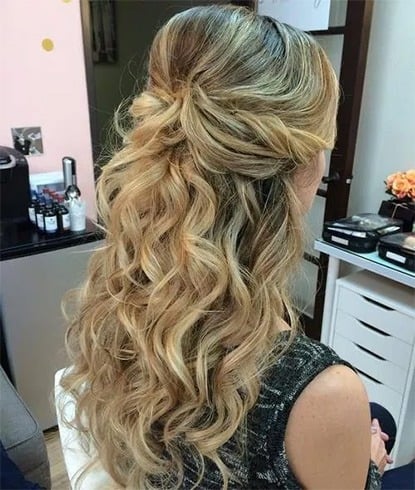 2. Half Updo With Loose Lace Braid
Not always do French and boxer braids rule. A loose lace braid can be a stylish highlight of your half up half down hairstyle. This choice is indeed ladylike considering the soft wave you get when you undo that pretty plait. This half updo style looks great when enhanced with some highlights.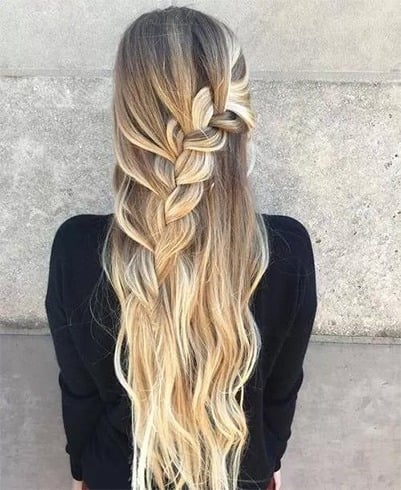 3. Twisted Half Up
Heard the Beatles hit song of 1963 "Twist and Shout"? Well, this half-up hairstyle for medium length hair will make you obsessed with Beatles number. This half updo is an easy way to get some pizzazz to a basic hairstyle.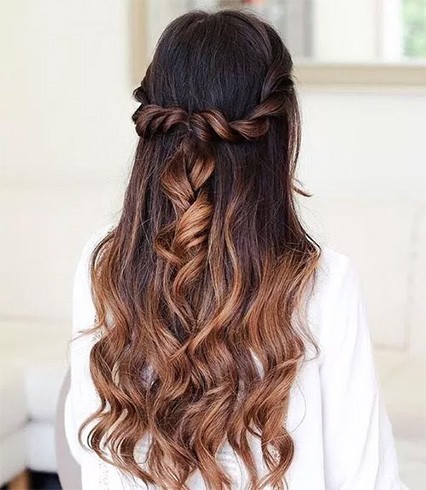 4. Half Down With Crown Braid
The age of simple braids is gone. Go for a style which is complicated, yet girly at the same time. For instance, try wrapping a lacy braid around your head. That way you will keep those stray strands away from your face and look good for both casual and formal occasions.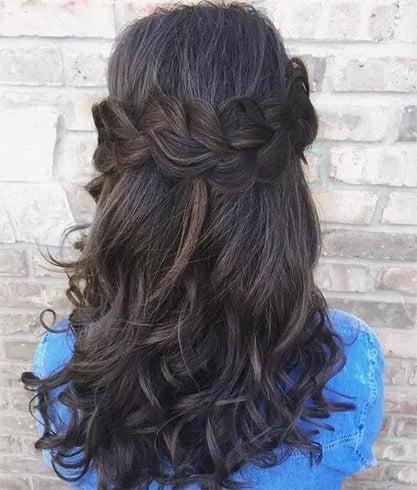 5. Braid Variations
Fun to wear and observe! This half updo combines thick, thin and medium braids into one style which is memorable for sure. Will keep you feeling lovely, apart from making you one.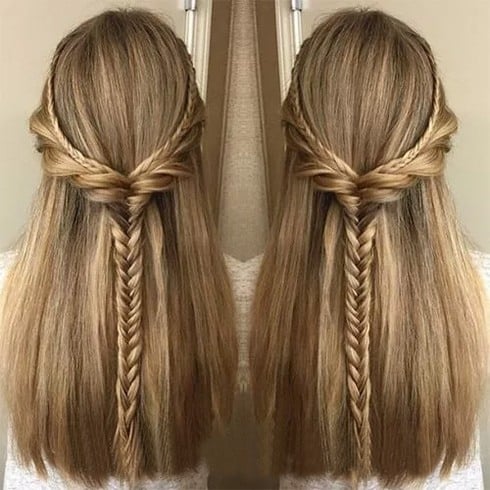 6. Waves Gone Wild
Keep this half up half down curly hairstyles simple by curling your hair with an iron or hot rollers. Then gather a few crown locks to pull back. Put some hair pins and secure it for the day.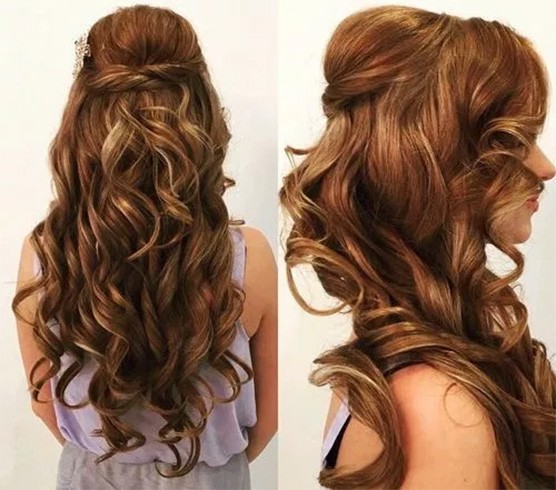 7. Half Up Royal Approved
Don't you wish you had princess-like hair? Here's your opportunity. Sport long locks and smooth curls that can enhance your hair's natural highlights.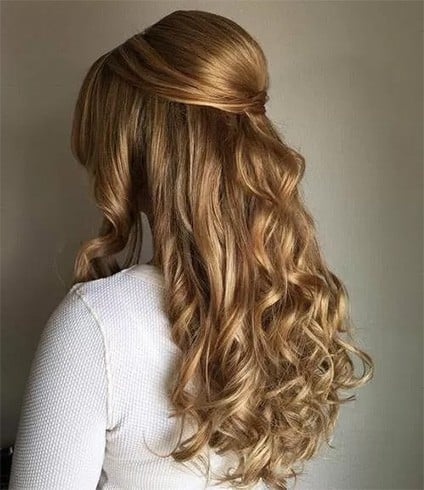 8. Anti-Basic Half Down
If you want a more traditional hairstyle, but want a bit of drama, go in for this whirl. From the front, this hairstyle might look an average, but at the back, it is the textured bun which adds the spice to this updo. To get this look, make a small ponytail with the top layer of your hair, then twist the end, wrap it loosely and keep the twisted tale in place.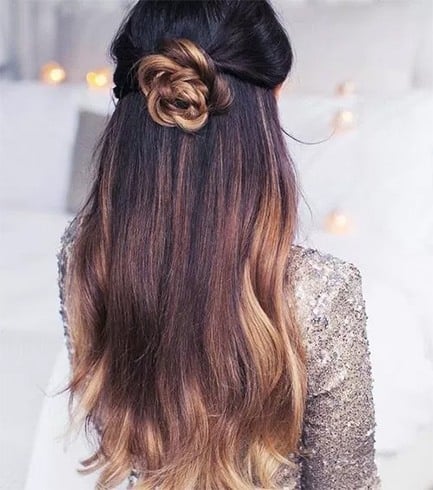 9. Lazy Half-Up
Sometimes your best style moments happen when you put in minimal effort. For instance, this hairdo half up. It's a mix of a half up style and a messy bun. With it, you can lounge around casually in the house or grab some drinks with your bunch of GFs. Add some texturizing spray for a finishing touch.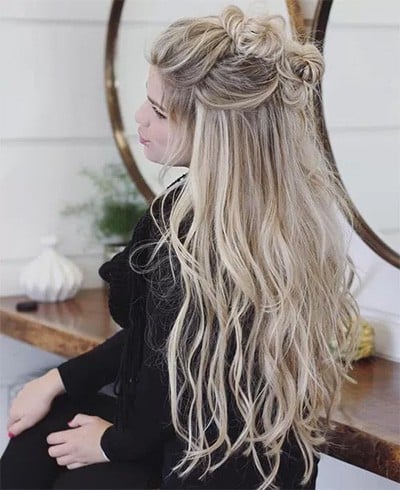 10. Easy Boho Half Up
In this hairdo half up, join two waterfall braids at the back of your head. Then add a dainty element to this easy style by making loose bouncy curls at the ends of your long locks.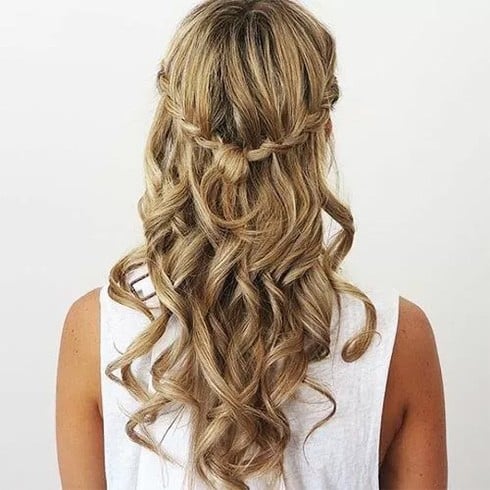 11. Braided Half-Up Hair
If half up half down prom hair is your eagerness, then go for whimsical curls and a half- up braid to tie the look together. This perfectly curly hairstyle is proof of the fact that neatly done updos aren't everything.
12. Messy Braids And Waves
Half Up Half Down Hairstyles are great to show off your personality. Example, this silvery mane which uses a braid factor in adorning platinum tresses.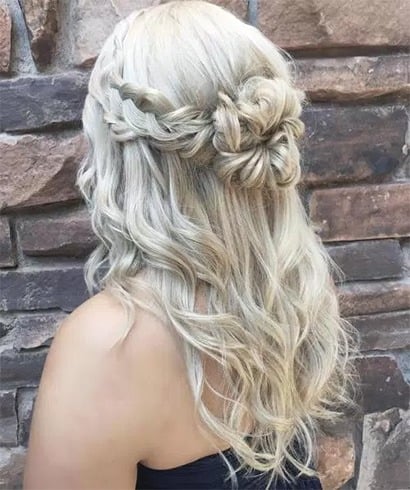 13. Half Down With Fishtail Braid
These loose fishtail braids make quite an impact considering their minimalist style. Imagine the mesmerising effect of straight platinum highlights doing a soft cascade from the updo.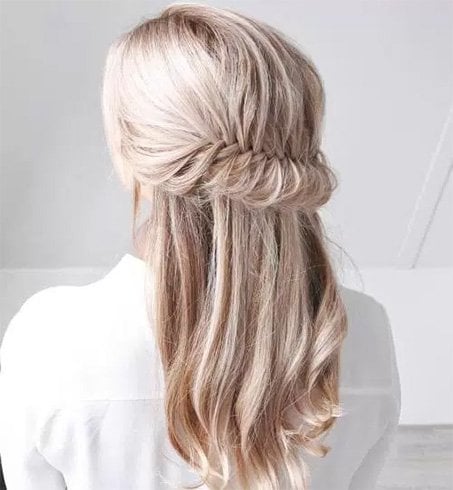 14. Voluminous Bouffant Half-Updo
For long hairs, in particular, half-up hairstyles are a chic looking alternative. So a fancy half updo is stylish and easy to maintain.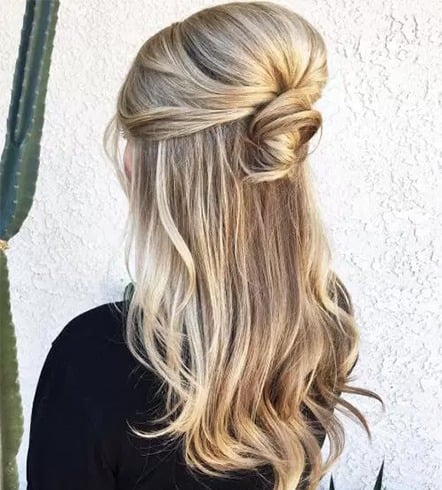 15. Bob And Fishtail Braid
Want to add texture to your straight tresses? Liven up your locks with few of fishtail braids. Having your hair pulled back, as shown, virtually acts like a headband. This half up hairstyles for short hair also helps you keep flyaways out of your face on one of those busy days.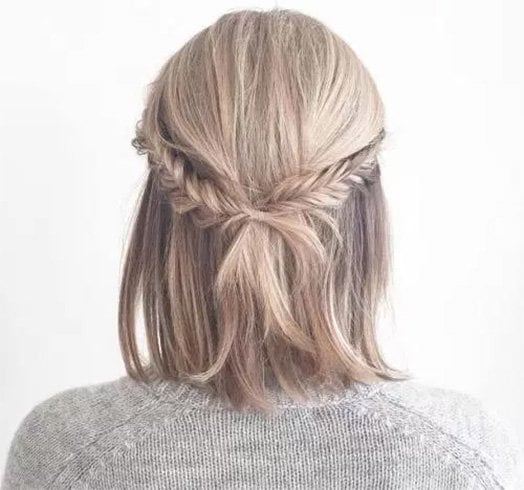 16. French And Fishtail Braids
How about looking creative with your half updos? All you need to do is mix regular braids with fishtails. It will get you intrigue and texture. This hairstyle is a work of art because you get to play with proportions. Put the focus on the loose curls to enhance the allure.
[sc:mrdiad]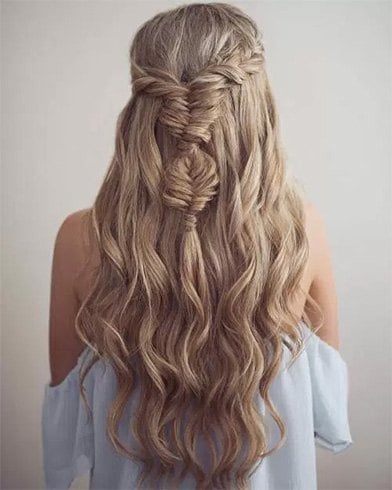 17. Sweet Half Up Bow
Aww….so cute looking this sweet girly style is. All you need is an equally cute hair bow (but 100 times more impressive). Pair it with curls and the total package is good-to-go for a semi-formal look.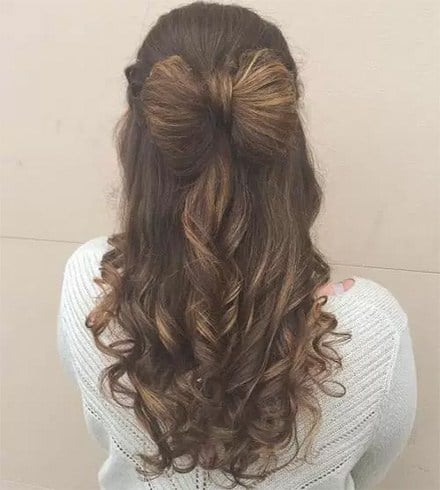 18. Blonde Half Updo
For one of those big events, go in for ringlets and a partial updo. It's nice to have the twisted bun popping against the golden blonde tresses.
19. Half Up Hairdo Not-So-Messy
Breeze in this yet another half-up hairstyles for short hair. Shoulder-skimming length and cute ringlets perk up this Easy Half up Half down Hairstyles Collection. Perfect combo of sweet style and sophistication it is for a bridesmaid or a gala-going girl.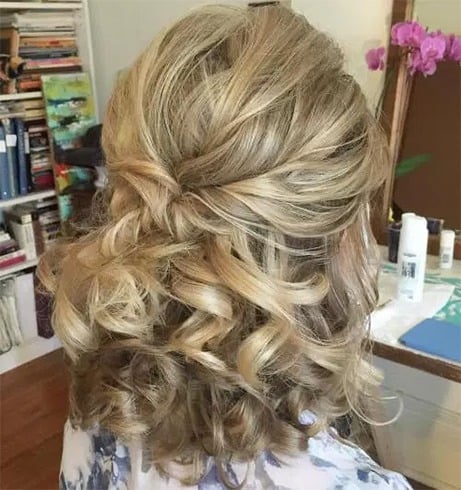 20. Loose Braids And Lovely
Want a perfect ladylike look? Frame loose curls with even looser braids. To get the look, roll the ends of your braids and pin them up. This will help create a textured bun. You have got to have straight hair to get the beautiful hair drape on you.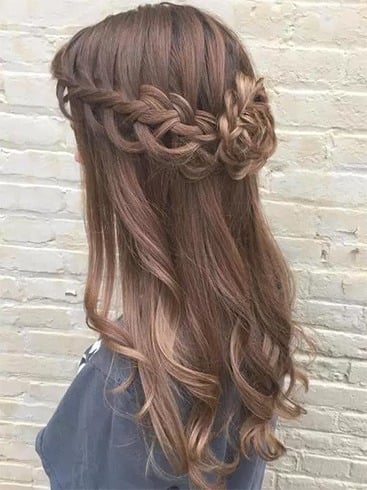 21. Half Down Locks With Crown Braid
If you think your locks are a little flat, add some texture to it with a chunky-looking hairdo half up.
It's easy to do – you just have to fan out the sections of the plait once you are through making it. This hairstyle gives you the illusion of thickness, and beautifully so.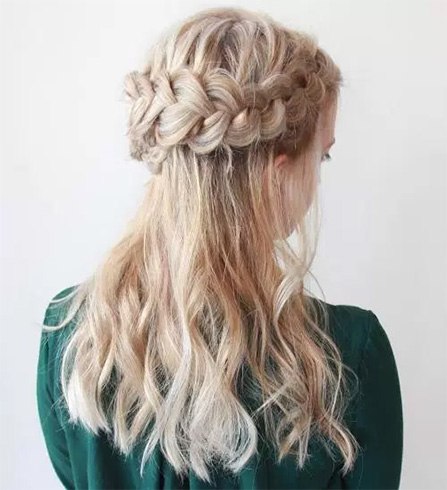 22. Straight Half Down Hairstyle
Straight hair can be a pain because they fall out of the ponytails so easily. So put your hair locks in a braid. And this applies to any hair texture. Just bring two fishtails together at the back of your head and pin them down. This is a mod style which stays in place the whole day.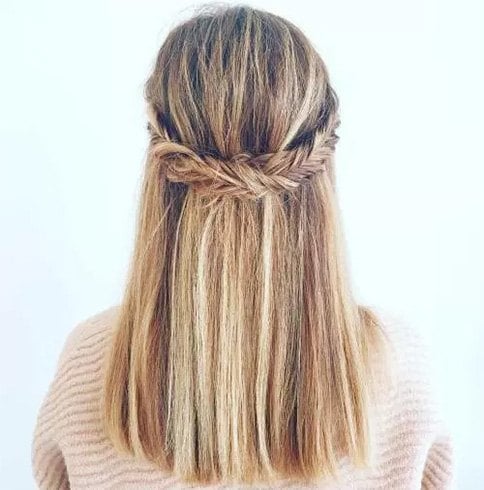 23. Curly Half Down Tresses
Hair is always more fun with more volume. This soft chocolate and caramel mane done up in a bevy of bouncy curls makes this half-up hairstyles for medium length hair night ready.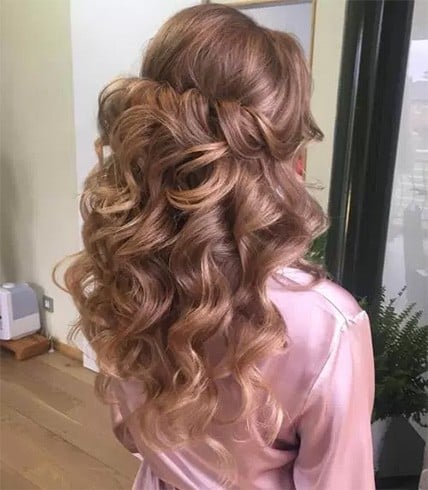 24. Spiraled Updo
The half updo is not always a hottie for formal events. But this hairstyle could look smashing as a mix of spiral twist and a French braid along the top.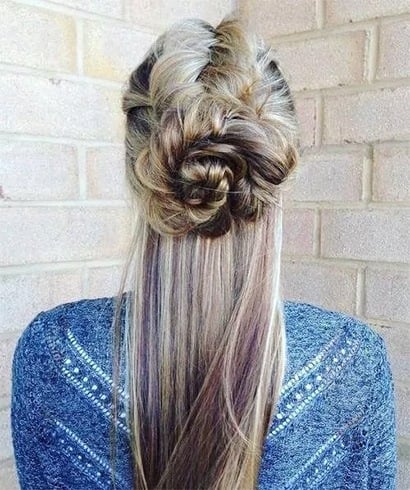 25. Street Style Approved Half Updo
A top knot is one of the edgiest hairstyles going at the moment (low-maintenance too). Make this your favourite with this handpicked hairdo from Easy Half up Half down Hairstyles Collection. It looks awesome with simple t-shirt and jeans.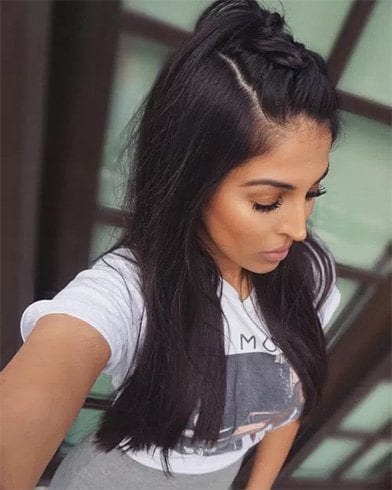 So baby which cute half up half down or hairdo half up are you planning to wear on Valentine's Day. Write your comments below.
Images Source: therighthairstyles.com