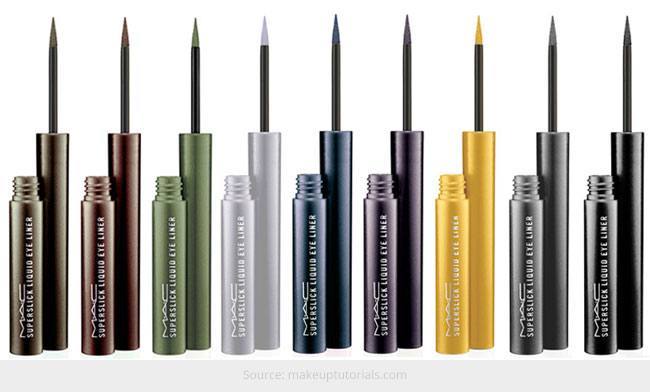 "Eyes are the windows to the soul", goes the famous saying. Needless to say, eyes are the most important part of any woman's makeup regime. Dress your eye and instantly transform your look. Easy as it may sound, makeup for your eyes is actually pretty hard. You need to know the right tricks to not look like a raccoon. But before that, you should also know what type of eye makeup is best suited for you.
While some women find it easy to use their eyeliner pencils, others may swear by their liquid eyeliner. The trick is to find out what works best for you. This article will give you eye makeup hacks with both eyeliner pencils and liquid eyeliners. Try both and see which catches your fancy!
How to Apply Liquid Eyeliner:
Liquid eyeliner is really magical. It glides on effortlessly and gives your tired eyes a completely new look. Liquid eyeliner can really transform your look. This is how you should apply liquid eyeliner:
1. For the Top lash line: This is the simplest of all eyeliner tips. You can't go wrong with this. This look is also suitable for everyday wear and you can add some glitter to it for a special occasion.
Start from the inner rim of your eye to the outer edges. To make a firm line, close your eye and pull taut the lid. This will ensure that your liner comes out in a single line.
Make the line thicker if you wish to give more volume to your eyes.
For a more glam look, dab some glitter on top of your eyelid and you are good to go!
The image below shows how simple eyeliner can create a beautiful look
2. Liquid Eyeliner for an Office Look: Professional-looking eyeliner is very important for working women. You cannot look raccoon-eyed when you are in office. The key here is to keep it simple, yet beautiful enough to catch someone's eye. For this look, draw a simple line above your top lash line. Prevent any kind of cat eyes.
Pro-tip: Use a darker undertone or a brown colour eye shadow on your lower lash line for a more somber look.
3. Party-time Look: The glam look is easiest to carry out with liquid eyeliner because it can create a dramatic flair. You can go a little creative with the eye makeup if you are going for a party.The smoky eye is a perfect ingredient of a party if done the right way. You can create the smoky eye look with the following steps:
[sc:mediad]
Create a dramatic line on your upper lash line. You can give your lines wings for a more glam look.
With a flat-angled brush, smudge the eye shadow around the eye until you get the desired level of smokiness.
Pro-Tip: Use a spoon to create the cat eye for a more precise look
How to Apply Pencil Eyeliner:
The classic pencil eyeliner is not as long-lasting as the liquid one, but it gives you more versatility to dress your eyes. There are several tips and tricks to achieve the right look. Read on to know more!
1. For that office look: The mantra for the office look is to keep it simple. Instead of liquid eyeliner, you can use the pencil for a quick and easy look. Just line the upper and lower lash line with the desired colour and smudge it a little towards the edges. This will give a softer look which is perfect for office.
2. For a casual day out: If you don't want to be too dramatic, you can simply line the top lash line. If you have wide set eyes, you can line the entire upper lid and create an illusion of the eyes being closer. In case you have close-set eyes, line only two-thirds of the lash line.
3. For an evening out: This is a more intense look and more for a night out. After lining both your inner and outer lids, dab some light colored shimmery shadow on the upper half of the eye. Smudge the lines on both the lids for a more classier and intense look.
Using eyeliner, whether it's the pencil or the liquid form, is not difficult. All you need to do is have some tricks up your sleeve and you are good to go!