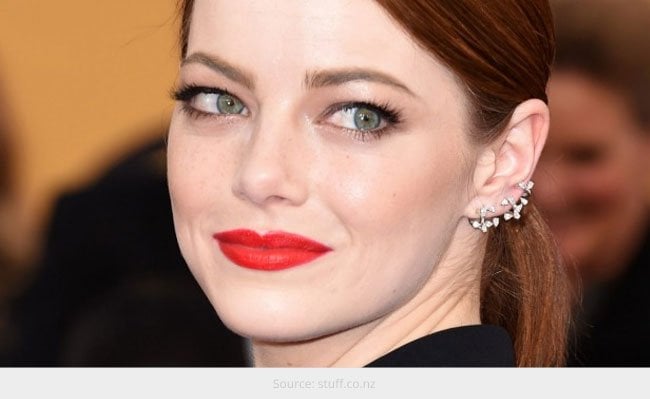 After watching the latest L'Oreal Red Lipstick commercial and Emma Stone's red lips at the SAG Awards, I realized that red is very much in, this season. While it's true that when in doubt wear red; it's not an easy game to play with. In order to help you pull off red safely, I share with you an exclusive post on how to keep your red lipstick from smudging. Do have a read!
[Also Read: Tips For Long Lasting Lipstick]
Before we go through the tips on how to prevent lips from bleedings, let's go through some mind boggling facts about lips –
Our lips are 100 times more sensitive than our fingers
Around 40% of women wish they had softer lips
Guerlain was the first to have invented lipstick in a tube in 1870. It was called as "Ne m'oubliez pas," or "Forget Me Not" in French
The most sale for lipsticks occurs in Miami, Portland, Ore., and Atlanta
There has been a 50% increase in "nude lipstick" searches on Amazon this month
You must be wondering how celebrities always mange to have their lipstick last for such a longer time period. Even though they do their touch ups, they sure follow some other makeup tricks as well that ensure their lipsticks do not get smudged. Fashionlady has managed to grab those glamor industry's best kept secrets, so that the trending red does not easily fade away from your pouts.
[sc:mediad]
How to keep your red lipstick from smudging
Prep your pouts – Take this as a thumb rule. Do not ever apply lipstick directly over dried or chapped lips. Your painted lips will look awful when you'll find colored flakes coming out. Always try maintaining soft lips by rubbing sugar scrubs at least once a week to prevent chapped lips.
Moisturize your lips – Only sugar scrub is not sufficient in obtaining supple lips. You'll have to apply ample amount of lip balm so as to keep them moisturized. However, make sure you have removed all of the balm before wearing lipstick. If the balm is still left, you can dab some powder over your lips. This will give a good grip for the lipstick to adhere to.
Save yourself from lipstick faux pas – This is one of the most embarrassing situations when lipstick transfers from your pouts to the teeth. Here is a simple trick – after applying lipstick, run your index finger inside your lips. This way you can remove the extra color from the innermost part of your lips, thereby keeping your pearly white teeth from getting colored.
Setting powder – This is one of the most effective tricks, especially when you are wearing a highly pigmented gloss. After wearing your gloss, you need to do blotting with a tissue paper. Now take some invisible setting powder on a fluffy brush and gently dab on the tissue, while keeping it over the lips. The powder will absorb the excess moisture content from the gloss, thereby saving your lips from bleeding.
So those were my top picks on how to keep your red lipstick from smudging. Hope this helps!