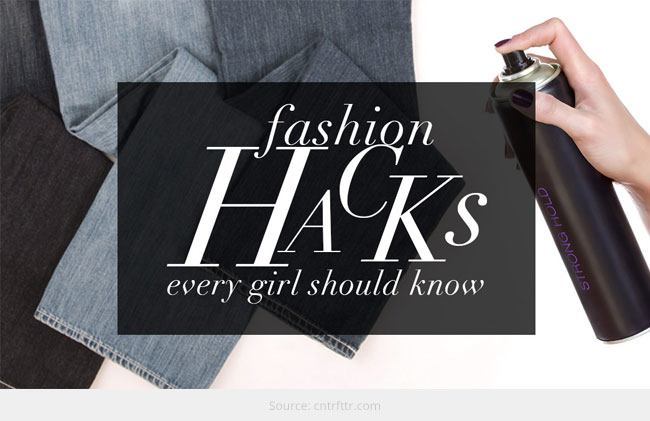 While you would have already gone through a number of beauty tips and tried a couple of them too; I offer you top 5 fashion hacks you may mind considering. These hacks are not only easy but worth practicing, as they can make our lifestyle simplified.
"Simplicity is complex. It's never simple to keep things simple. Simple solutions require the most advanced thinking."
When it comes to organizing things, my friends call me a pro. While some of these tips are self improvised, others are inspirations. Here are minimalist top 5 fashion and beauty hacks you may mind considering that are simple and worth trying to see a difference in your lifestyle –
1. Folding Your T-shirt
If you too have the habit of stacking your drawer with balled up T-shirts then you might have experienced how everything comes out altogether while pulling out a single item. The rolled up tees also get wrinkled that leads us to another job of ironing the T-shirt before wearing it. By folding up our clothes neatly, we not only save our time but also maintain the quality of our outfits, thereby increasing their lifespan. Plus, this habit also saves us from wardrobe mess.
This is one of the typical folding techniques. You can follow the steps shown in the image.
[Also Read: Fashion Hacks]
2. Use Dryer Sheets To Remove Deodorant Stains
Now this is one of the most frustrating things in the morning. The black or blue stain appearing on my blouse/shirt after spraying on deodorant or perfume can be embarrassing, especially when we have a meeting or presentation to give in the first half of the day. You can use dryer sheet to remove the stain and this trick actually works by help preventing a white film developing on the shirt.
3. Use Cards To Hang Skirts/Dresses
Every time I would take out my skirt from the closet, I wondered from where these dents came from, until one day I found out the hanger to be guilty. In order to save your dresses from dents, you can use playing cards just under the clamps before hanging your clothes.
[sc:mediad]
4. Tie The Strings Of Your Trousers/Hoodies Before Washing
This is another frustrating situation I always used to face every time I put my clothes into the washing machine. The strings not only came out of the pajamas/salwars but also got tangled with other clothes in the machine. And it would take me couple of minutes to untangle them and free the string. So, here is one must-remember trick – always tie the strings of your clothes before washing them.
[Also Read: How to Cut a T-Shirt]
5. Use A Razor To Remove Bobbling On Clothes
Many years ago I had purchased a handy machine from Delhi that claimed to remove sweater knots at ease. While the initial few sessions were impressive, the machine broke down and I couldn't then fetch another.
The bobbling on clothes is quite common, especially in woolen items and you might have always wanted to pill them off every time you wore your sweater/jacket. While many suggest rubbing pumice stone or sandpaper over clothes, I don't find that much effective. You can instead run a razor gently over your clothes to remove the bobbling completely.
So those were the following top 5 fashion hacks you might mind considering. Hope you enjoyed this post!