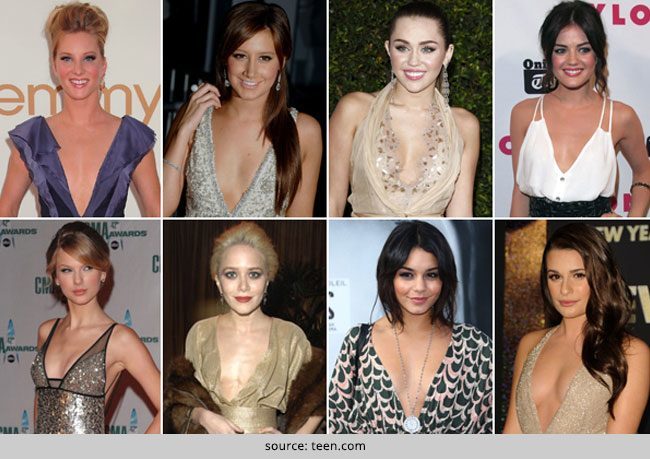 While large breasts are a sign of good health, fertility and utmost feminity (almost and not pondering on stereotypes); as perceived by society, it could be a 'burden' or a 'curse' to say so for women who are heavy chested!
Prepare for an overhaul of your wardrobe
Most women with a heavy chest look at their situation as a 'fashion foe'. Blame it on designers who make clothes for mannequin-look-alikes, our big girls feel left out. The OMG curves on our busty honey-bunnies need pampering too, and if you are proud of the body you are blessed with, here are a few fashion tips for women on how to dress for large breasts!
[Also Read: Fashion Tips for Hour Glass Body Shape]
Stay away from:
1. Halter-necks
2. Baby doll clothing
3. Empire designs
4. Horizontally stripes
5. Velvet
6. Satin
7. Silk
Those lovely dresses
For the heavy-chested-girls, while shopping for skirts and dresses; if you aren't comfortable with V-necks, here are your choices:
1. A high-cut dress for a seductive look
2. A narrow cut dress to accentuate your figure
3. Asymmetric cut dresses with one strap for an elegant touch
4. Dresses that have loose fitting sweaters (not oversized) for a feminine yet rustic touch
The aim is to enhance and skim the bust line, and not add more to the rest of the body!
Choosing your blouses
Block colours should be played around with, and they should be tailor-fit but not too tight. You could even try:
1. Sky-high neckline blouses that help minimise the largeness of the chest,
2. Blouses that have minimal embellishments and designs
3. Styles of the blouses should be simple sans elaborate flounces and ruffles
4. The first button of the blouse should be left open to form a V-Neck pattern; so sexy!
The aim here is to streamline the body shape you are blessed with, and to draw attention to the overall persona you present, and not just the bust line!
[Also Read: Ways to Increase Breast Size Naturally]
Let's talk tops
[sc:mediad]
1. Body-hugging cuts which are a little loose around the bust
2. V-Necks are better than round necks
Choosing Jumpsuits
1. Choose dark colours only
2. Choose jumpsuits with V-Necks that are narrow
3. To hide your arms, choose long sleeves (check the climes)
4. Nude shaded high-heels with jumpsuits are hot statements to flaunt
Jackets and coats
Single-breasted and low-cut jackets or coats, instead of the double-breasted ones for the evening! The former wouldn't bulk the heavy chest saga any further, the latter would.
For the beach
Black isn't the only safe option per se for the girl with a heavy chest running on the beach. Try violet, blues, navy and other shades dark that would help make the bust line look small.
1. Pick designs that enhance the body shape
2. Choose swimwear with extra-support for the breasts
3. Wide-strap bikinis are good to wear for support and comfort
4. Moulded cups and underwire tops should help support the breasts
5. Deep necklines and V-Neck bikini tops would help define the chest and the waist
6. Steer clear from bandeau tops and strapless beachwear
7. Use a loose and large scarf to cover up and for elegance
8. Choose fabrics such as cashmere, cotton or jersey
9. Stay away from very bright colours- neon's, whites, pinks etc
10. A one-piece black bikini suit should be avoided- do not be boring!
Accessories and shoes
1. Long necklaces that pass down the bust line and provide an elongating effect
2. Heels always- your choice (as per the occasion)
3. Statement earrings and necklaces that shimmer and shine for sure.
Dressing up especially can be a challenge for our busty beauties; deciding on what to choose to flaunt those curves, without being too suggestive can be a hurdle to overcome each day.
So these were some of the useful fashion tips for women with large breasts. The aim is to love and respect the body you are born in and live with. There is nothing more beautiful than to see a woman in all her confidence, walk the street with her head held high, and fashionably chic!