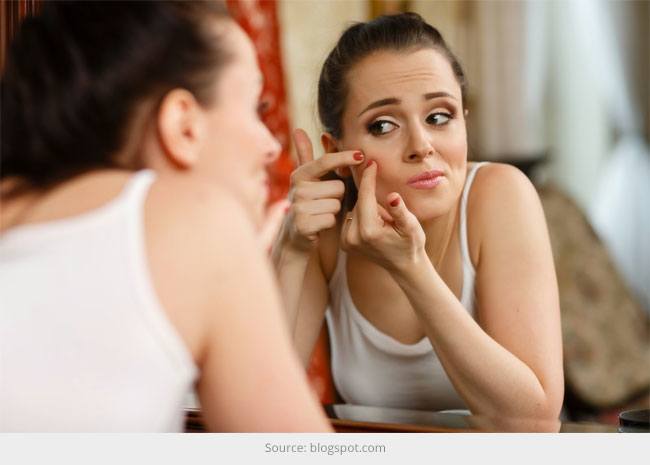 The common thing we girls face during the monthly periods is acne. Is it something to do with fluctuating hormones that tend to flare up around the time of our periods? Or is it something to do with our diet comprising of greasy/fatty foods or cleaning regime? Health experts believe that the main reason is the change in hormone levels leading up to your period that makes your skin go crazy. The skin starts to get oilier and the little pores get clogged up causing acne. This is a major reason to worry but every problem does have its solutions.
[Also Read: How To Prepone or Postpone Periods]
Preventing Menstrual Acne
Here are some effective ways that can help you do away with your menstruation acne:
Try and keep your face and hands clean most of the time. Keep washing your hands at regular intervals so as to prevent accumulation of impurities that might clog the skin pores and thereby cause acne breakouts.
At times, dry skin happens to trigger acne. Use a mild cleanser therefore to clean your face.
See to it that your skin is well nourished and smooth. For this, keep a good moisturizer handy and keep using it.
Watch out your meals intake particularly during menstruation. Make sure to eat protein rich diet as well as soy products. Having an omega rich diet such as fish as well as flax seeds helps most. Take a break from eating spicy foods. If you find your skin getting irritated by any ingredient, you'll find tiny whiteheads or blemishes around your chin or mouth.
Reduce your stress levels as this is one of the main reasons of acne during menstruation. Perform yoga or meditation to get rid of anxiety.
Take multivitamin supplements. This will help repair the damaged skin cells.
Increase your water intake on a daily basis because water helps to flush out the toxins and keep your skin clean from within.
If you are an avid smoker, stop smoking because that might lead to acne flares.
Include Vitamin A, E and C in diet during your monthly cycle. Vitamin A contains retinoids which helps in preventing hormonal acne, it also has beta-carotene which is a compound known to prevent acne inducing bacteria from occurring. Vitamin E helps in regulating the retinol levels while Vitamin C helps in removing the skin impurities and keeps your skin clean.
Check out that all the skin care products you're using are labeled "noncomedogenic". It means your makeup or skin care has been specially formulated not to clog your pores.
[sc:mediad]
Home Remedies to treat Menstrual Acne
For acne closely related to your period, you may need to do something hormonally to intervene. Visit to a gynae can help. However, relax as there are several treatment options available at home:
Tip 1: Take a bowl and add to it 1 tbsp of castor oil, 1tbsp of olive oil and ½ tbsp of rose essential oil. Mix all these oils and apply on the pimples by gently massaging with your fingers. Now take a piece of cotton cloth and dip it in warm water. Now apply it on the affected skin. Leave it for 10 minutes on your face and then remove. This oil cleansing method extracts all the skin impurities as well as acne causing bacteria from the skin.
Tip 2: Want to remove dead and damaged skin cells from your face naturally? In a bowl, add 1 tbsp of baking soda and 1 tbsp of water. Mix the two well to make a fine paste. Now wet your skin and apply this paste on your face and gently massage. Baking soda is known to be one of the best natural exfoliants. After few minutes just wash off using lukewarm water.
Tip 3: Often women complain of their skin becoming loose, sagging and dull during monthly cycle. Take an empty spray bottle and add to it 8 ounces of lemon juice and 10 drops of pure tree oil. Once you have mixed them well, spray this on your face at least three times a day. It serves as one of the best antimicrobial facial toner.
These are simple tips which you can try out once you see acne flaring up during your monthly periods.