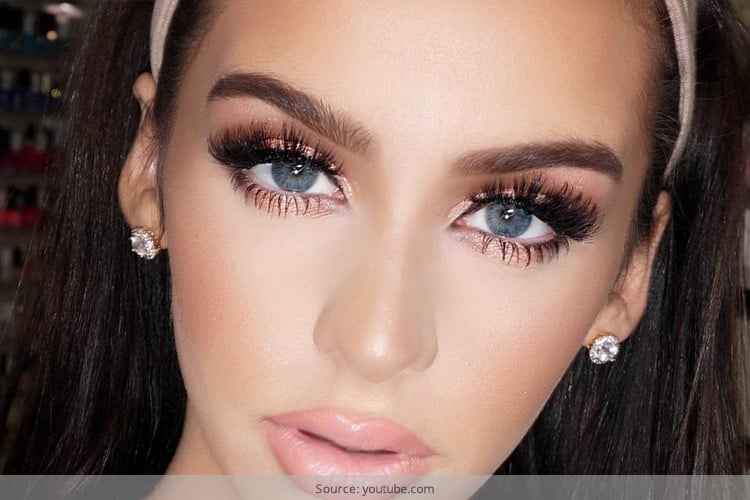 If you are one of those shy girls eager to create a jaw-dropping impression, you have hit the right page.
Now that doesn't mean I will ask you to attempt something risky….only indulge in the trendy and go-to makeup for prom. To take it further, live and breathe prom hair and makeup is what I am hinting at.
How does one do that, you might ask? I will make it simpler for you. Once you have chosen the perfect dress, the next thing you need to decide is how to wear your hair and makeup. This is the time when most of us run short of ideas. Not to worry, as I have rounded up a slew of gorgeous prom looks that will leave you inspired.
[Also Read: Easy Updo Hairstyles For Prom]
Prom Makeup Ideas
In the United States, United Kingdom and Canada, prom (short form for promenade) is a semi-formal or black tie dance or gathering involving high school students. To cut it short, prom is the night meant to amp up the drama. Between bouncy curls, glam waves, luminous skin and shaggy pixies, there is nothing more edgy than prom.
The following things form the essence of prom business – makeup looks for prom (which means makeup styles for prom and makeup tips for prom), prom hairstyle ideas, plus what makeup looks best with your prom dress.
Before we crack down on how to do makeup for prom in details, it is important to have answers to the following things first:
What is the color of your dress?
The shape of your eyes and face?
Whether you are used to wearing makeup?
I know it might sound a bit tough to link up the answers to the above questions to prom hair and makeup in reality. But makeup is all about tricks and experiments so here are some makeup ideas for prom that will show their impact.
Pastel Wings
As a part of prom makeup tips, play up the classic bold looks by drawing a thick line of powder blue eyeliner starting from the inner corner of your eye. To get a super dramatic look, bring the wing out to under your eyebrow.
Metallic Eyelids
Be prepared for some real action in prom makeup ideas via high pigment metallic eyeshadow to cover your entire eyelid. If you want to step up the dramatic look, deploy the shadow to line your lower eyelashes as well.
Emerald Eyes
Smudge a green shadow on your lids below your eyelashes. In fact, the crème eyeshadow would give you a super pigmented look for a super bold look.
Peach Glow
If you are keen on a bright-eyed effect, first line your lower eyelashes with a white eyeliner pencil. Then shade your eyelids with a neutral apricot shadow. Apply peach blush on the roundest part of your cheek. Now using a soft neutral lip colour, dust it with translucent powder to get a fabulous matte finish.
Polka Dot Liner
Put on a matte eye shadow across your eyelids, in order to make your eyeliner pop. Now get hold of a felt-tip eyeliner and draw a thin edgy line along your lashline. Make sure to keep the look winged out at the corner of your eyes. With the help of the eyeliner, put tiny polka dots in three rows.
[Also Read: What to Wear at The Prom]
Gloss Eyes
In order to get a high gloss look for your eyes, apply a base shadow color first. Then top it off with a glossy product, for example, Josie Maran Coconut Watercolor Cheek Gelee' to get a long and durable shiny shadow.
Cat Eye
After you are done applying your smoky eye, go ahead in doing makeup ideas for prom by adding a burgundy eyeshadow in the center to grab mega intensity in prom makeup ideas.
So now say babe, game to do makeup for prom? Tell us what you feel on prom hair and makeup shared with you. Prom ideas welcome for sure!