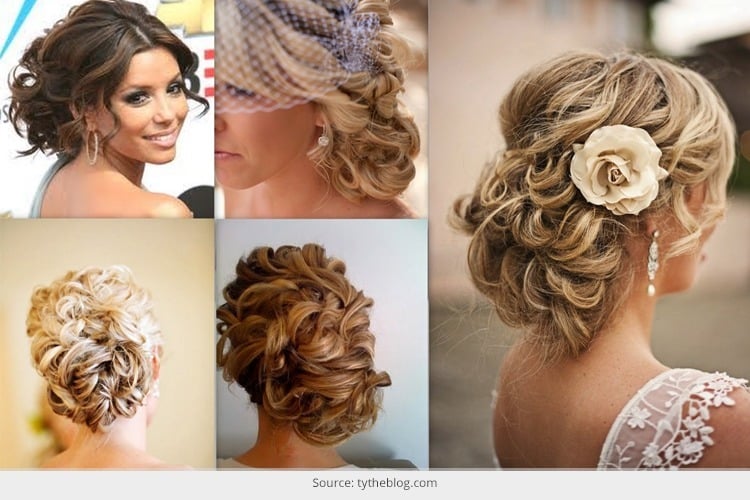 Every woman has different hair, and styling it in different ways is quite the challenge if your hair is not that mainstream. You can say the same about frizzy hair. Frizzy hair is very moody and with the prom season coming up, it is even tougher to think of Updo hairstyles for prom which will look amazing.
[Also Read: What to Wear at The Prom]
Easy Updo Hairstyles
Easy updo hairstyles and their tutorials are all over the internet, but the problem is, most of them are specifically for straight hair and hair which does not really have a mind of its own, unlike frizzy hair! That is why we have picked up some updo prom hairstyles which are very specific for frizzy hair. Read on to know more and look smashing on your prom!
1. Step-by-Step Romantic Updo for Long Frizzy Hair
This one is for the ladies who have naturally long hair. It is even more difficult to work with this kind of hair because of the extreme frizz. But once you can get it sorted out, it would be much easier to deal with this kind of hair. You just need some oil to flatten out all the flyaway hair and use duckbill clips to fasten your hair in an updo.
Check out the step-by-step tutorial below:
2. The Swoop-Me-Pretty
This one is as easy as it can be! You simply sweep all your curls and frizz to one side of your face and pin it up with some fancy flowers or any pins. This one is an easy and very chic hairstyle. It is also very versatile. So if you want to channel your inner hippie, put some flowers and if you want to look elegant and classy, pin your locks up with beautiful pins. Tada!
3. The Soft Bun
No, it is definitely not a food item. Sock bun is popular in all its styles, but this one is a much easier version and looks elegant as well. Secure your hair in a high ponytail and separate them into two sections-top and bottom. With the bottom section wrap it around to create a bun shape.
[sc:mediad]
4. The Messy Bun
Now this one's a personal favourite too! It's an elegant stunner and really does not need any extra accessory to make it look good. Just add a few hair accessories to make this look even more trendy and gorgeous.
5. Curly/Frizzy Twist
This one is the hairstyle to make the most of your frizzy hair. There's nothing much to do except the fact that you are tying up your hair in twists! Make three sections of your hair and tie them one above the other. The whole point of this look is to give out a very messy but equally elegant look.
[Also Read: Hairstyles For Frizzy Hair]
6. Lush Waves
This can be your let-it-go hairstyle. Define your curls using a hair tong and let the curls set. Use a mousse if you want to give more volume to your curls. Brush back the front part of your hair to give it a sleek look. You are good to go!
[Also Read: Selena Gomez Hairstyles]
7. The Chic Chignon
Whether you are having a bad hair day or a particularly crazy day, this hairstyle can really come to your rescue and actually save the day! It's actually an easy updo and if you want, you can even give it a little braid. Add some accessories to your chignon and you are party ready in a jiffy!
Now that you have seen these updo prom hairstyles, aren't you excited to try one! Let us know how it goes!