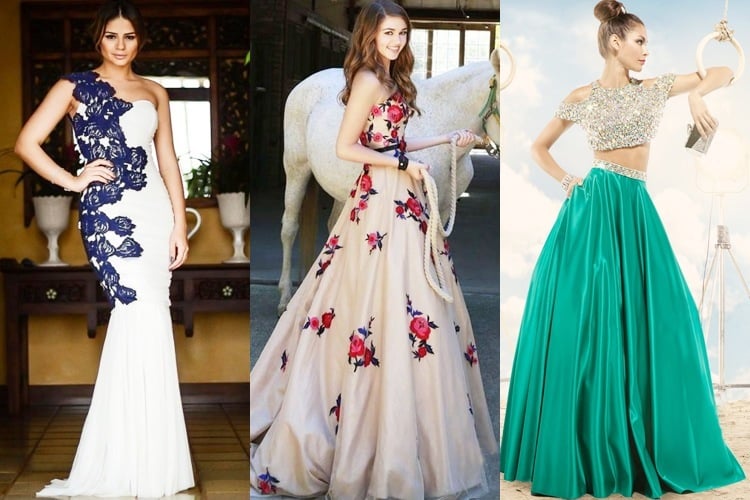 The way to a man's heart is through his stomach, let's break that myth shall we! If the men want food, they can go to the buffet and serve themselves a storm, but we girls shall have our fun no doubt and in our own ways at the prom.
[Also Read: Chic Mesh Panel Cocktail Dresses]
The first most important night of your life
A prom party isn't about singles from high-school, meeting and greeting one another at a social dance. For many generations and so shall it be ahead, proms are a place for fun and frolic, good food, music, a little romance and of course, FASHION.
Here are 10 chic trends for the princes to choose from!
Style #1
An elegant sleeveless chiffon long flowing gown in peaces and pinks, with the bust embellished in rhinestones and necklaces.
Style #2
Should the prom venue be at the beach, you still need to look hot! An A-Line long flowing gown, with a high neck lace bodice embossed in an all-whitish-ivory hue in chiffon for the length is what you need!
[Also Read: Summer Street Style]
Style #3
For the teenage diva who knows her walk from her talk, and can make heads turn wherever she goes. A turquoise blue lace dress embellished with sequins to shine through the night, and in his eyes, why not?
Style #4
Fall in love with this dress at first sight, and grab it too! A princess prom tale in the making is what the green lace and satin bodied gown with a chunky waistband is all about!
[Also Read: Different ways to Flaunt Your Off-Shoulder Tops And Dresses]
Style #5
Paint the town red by being the LADY IN RED at the prom! A lace and chiffon red flowing gown with an off-shoulder twist, should be your avatar at the prom party!
Style #6
While most girls opt for the shine and shimmer, you can stand apart with an off-shoulder mermaid gown, waist hugging wrap and chic black embroidery to accentuate the contours of your body!
[sc:mediad]
Style #7
A-Line and in brown, beaded and a totally off-shoulder gown, the prom dress here speaks of elegance and class, of dignity and royal touches!
Style #8
A dash of burlesque with a rustic looking corset and a mid-length ivory steampunk style gown for the prom shall turn many heads! Get ready for the beeline offers to a dance this evening!
Style #9
Large floral patterns is the trend for 2015, and wearing them on an off-shoulder lace and sheer gown with lining for the bust and the corset, makes you look like a queen from yonder land!
Style #10
Dress to impress like a millionaire with tons of oomph hotness and style. While dressing is the main aspect of a prom party, dolling up as a millionaire with a gown so chic is a must.
Here were ten of the very trendy prom dresses that PYTs are going gaga over. If you have a creative design for the prom gown in your mind, send us your notes and we shall share it with the world. Get ready for the prom night girls, your bag should be chic, your makeup perfect, the hairdo stunning and most importantly your heels should be pointed! Have fun!