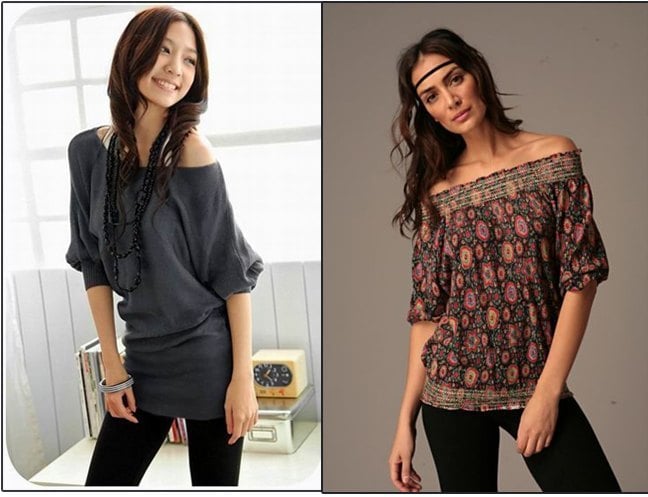 Exposing your shoulders in off-shoulder tops and dresses is sophisticatedly sexy. Unlike wearing miniskirts which could be construed as skimpy, off-shoulder tops create a classy vision, tantalizing one with delicate collar bones and slender necks. It is about celebrating the grace of a woman and showing off her femininity.
[Also Read: How To Wear A Silk Tunic Top]
So how can you flaunt your off-shoulder tops and dresses without looking like you're trying too hard? One great way to flaunt it with finesse is to balance out your outfit. Since your shoulders are going to be exposed, try covering up your legs to make up for it. Showing too much skin can look tacky so know how much is okay and learn to balance it out.
How to Balance the look?
Put up your hair in a bun or a side braid to show off your shoulders. Take out some strands to soften the look and make it look endearing.
Accessorize!
Use jewellery to accentuate and draw attention to your neck and shoulders. Wear either a dainty necklace or a bold statement neckpiece; both the looks help to frame the neck and show off the delicate bone structure.
Choose the perfect lingerie
If you don't want to expose your bra straps then opt for a strapless bra. But make sure your bra offers full support and keeps your breasts in place. You don't want your breasts to sag and negate the whole point of wearing an off-shoulder top. Your bra should fit you perfectly or you'll end up tugging and adjusting your top all the time, giving the impression that you are highly uncomfortable in that outfit.
Use proper Makeup to cover blemishes
[sc:mediad]
Make sure your bare shoulder and neck area is smooth and blemish-free. Cover up any marks or spots with concealer. You can also use a highlighting powder to add some sheen to your collar bones, making them look more prominent. Check out Keira Knightley's well-defined collar bone.
Body Art
You can also keep things interesting by getting a temporary tattoo or mehendi art done on the exposed skin. This can look super cool.
Statement Jewellery
Necklaces are not the only adornment that will help you to show off your off-shoulder dress, you can also wear huge dangler earrings that sweep the top of your shoulders.
Use Scarves
Cover it up with a scarf. Just because you wore an off-shoulder top does not mean you have to bare your shoulders for the whole world. Cover it up strategically with a scarf or stole. This will add intrigue and make it look like you've achieved a very stylish look without much effort at all.
Be Bold
You can be cheeky and wear your off shoulder top with the bra straps showing. There's something so laidback about this look and what's more, you don't have to fish out a strapless bra. Just make sure your bra is in a relatively good condition with nice straps. Showing off worn out, frayed straps is just tasteless. Check out how Heidi Klum rocks the look in a see through off shoulder top with her bra straps showing.
If you are top heavy, then you might want to go in for solid colours in dark shades to tone down your figure on top and make it look more balanced. Off shoulder tops are a fun way to explore different looks. Depending on how you make them work, off shoulder tops and dresses can either look feminine and cute or look cool and trendy.