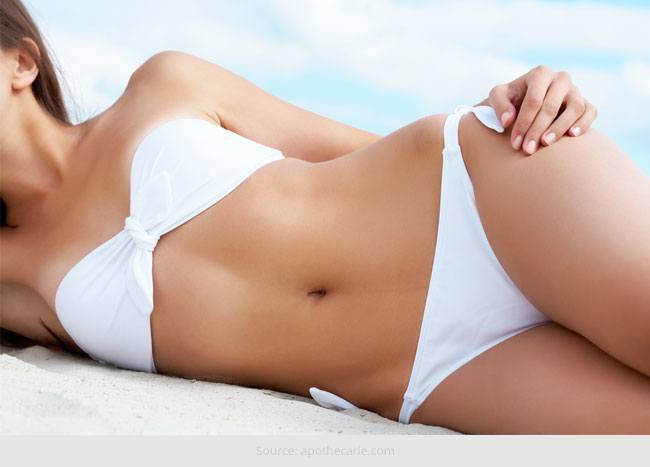 A dark bikini area could be a major turn off. Caused primarily due to excessive sweating and chaffing in the region, a dark bikini area is something most women think cannot be changed and resign themselves to living with it. But there are some effective home remedies that you can try out to lighten the darkened skin. The only thing with home remedies is that they require patience as the results are only visible after continued usage over a long period of time.
Let's first take a quick look at what causes the bikini area to darken. The first most common culprit is sweating. Wearing polyester clothing that does not allow the skin to breathe could make the situation worse. Another reason is chafing caused by wearing tight clothing. To avoid both these scenarios, wear breathable cotton clothing that are loose and comfortable. Using hair removal creams and even scented feminine hygiene products could also contribute to the darkening of the skin. So avoiding these as much as possible will also go a long way in helping you keep your bikini area from darkening too much. And last but not the least, shaving can also cause irritation and lead to darkening of the skin. If you must shave, then using a good quality razor and shaving in the direction of the hair growth in gentle movements will help minimise damage.
Here are some home remedies that you can try to get rid of the dark bikini area:
Lemon Scrub
Cut up a lemon and apply it to the affected area. Gently exfoliate the skin by rubbing the lemon wedge all over it for two minutes. Wash it off with lukewarm water. While the lemon will act as a bleach and help lighten the darkened area, it is also effective in removing dead skin cells and keeping the skin fresh. Just avoid this treatment immediately after shaving your bikini area or if you have any open wounds or rashes in the area as the lemon can irritate the skin and make the situation worse.
Almond Scrub
Soak a few almonds overnight. Peel and grind them, adding a few drops of milk to form a thick paste. Apply this all over the affected area and leave it on for an hour or so and wash it off with warm water. Apart from gently exfoliating the skin, the almond and the milk will also soften and lighten the skin if used regularly over a period of time.
Papaya Mask
Mash up a piece of ripe papaya and apply it generously to the bikini region. Leave it on for half an hour and wash it off; doing this regularly will result in a drastic change in a few weeks' time.
[sc:mediad]
Olive Oil Treatment
Massage the affected area with some extra virgin olive oil every night, just before going to bed. The olive oil will work its magic overnight, making the skin softer and eventually lightening the darkened region.
Orange Peel and Yogurt Mask
Grind some dried orange peel to make a fine powder. Add yogurt to this to create a thick paste and apply it onto the bikini area. Allow it to dry for half an hour and then wash it off thoroughly with lukewarm water.
Tomato Mask
Blend a tomato and apply the pulp to the affected area. Leave it on for half an hour and wash it off. Doing this regularly twice or thrice a week will help lighten the darkened skin.
Try these home remedies regularly and you will soon notice that there is a definite improvement in the texture and tone of the skin in your bikini area.
Note: Home remedies take a while to show results. So being patient and sticking with the remedy for a long period of time is the best way to obtain optimum results.