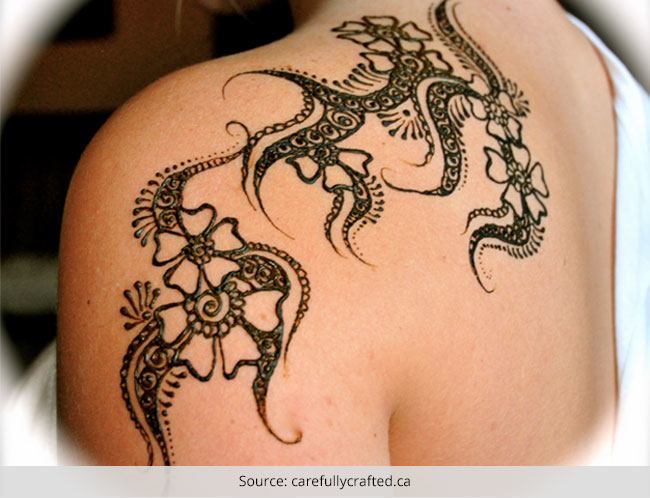 Who says henna tattoos are only for your hands and feet? Get creative and get some awe-inspiring henna tattoos done on your shoulders. Choose a design that enhances your delicate collarbone or let loose with a highly-detailed design covering all your back. Since henna tattoos are not permanent, you can experiment and push your limits, getting as creative and crazy as you want.
Henna designs have gone beyond the traditional to designs that are individualistic, designs that reflect a person's sense of style and attitude. And no more are henna designs restricted to being done on specific parts of the body. You can see people sporting henna tattoos on their shoulders, their upper arms and even on their waist and hips. Shoulder tattoos are more popular as the henna artist has a vast expanse of skin to showcase his masterpiece.
Henna tattoos on the shoulders can be anything from traditional floral motifs and mandalas to intricate sceneries and authentic looking tattoo patterns.
Factors to be Considered When Getting a Henna Shoulder Tattoo
Firstly, let the artist have a look at your shoulders. Some people have prominent shoulder blades and certain designs may look distorted on them. In such instances, the tattoo artist may suggest the design that will do you justice and where it should be placed to be displayed to its best advantage.
Visibility of the Tattoo – Clothes to be Considered
Another seemingly inconsequential factor is visibility. Getting a shoulder henna tattoo is all well and good. But if you are not the kind of person who wears sleeveless tank tops and backless tops that bare your shoulders, then the whole point of the tattoo is lost. Remember that henna tattoos are not permanent. They last only a few weeks. So while the stain is still bright and noticeable, you need to flaunt your tattoo as much as you can. If you're going to be wearing long sleeved tops and clothes that cover up the tattoo most of the time, then you should consider getting it done at some other part of your body where it'll be more visible.
Skin Color
Secondly, depending upon the colour of your skin and the colour you want the tattoo to take on, the artist must decide upon the proportion of the henna mix. If you have dusky skin, the henna mix needs to be potent enough to show up against your skin. Also, depending on how dark you want the stain to be, the artist will need to make the necessary adjustments to the henna mixture to get the desired results.
[Also Read: Watercolor Tattoo]
You Should Get a Shoulder Henna Tattoo if:
You are adventurous and love trying out new things
You want to be unique and don't want just a traditional henna design on your hands and feet
You have nice shoulders with smooth, unblemished skin that you can't wait to flaunt
You Should Avoid Getting a Shoulder Henna Tattoo if:
You are uncomfortable being the centre of attention amongst friends and family (which is bound to happen as everyone will want to ogle at your cool tattoo)
Your shoulders are not at their optimum, what with pockmarks, stretch marks, or unwarranted hair (making you feel overly conscious).
Keep in mind that these are all just opinions and suggestions that I offer. There are no hard and fast rules when it comes to being creativity and exploring new avenues. All it takes is the right attitude, with a dollop of confidence, to make it work for you. And if you like the result, you can keep getting new designs every few months! And it's nowhere near as expensive as permanent tattoos.
Note: Always remember to do an allergy test to see how your skin reacts to the henna mixture. You can also ask your henna artist to go au naturel—with all organic ingredients.