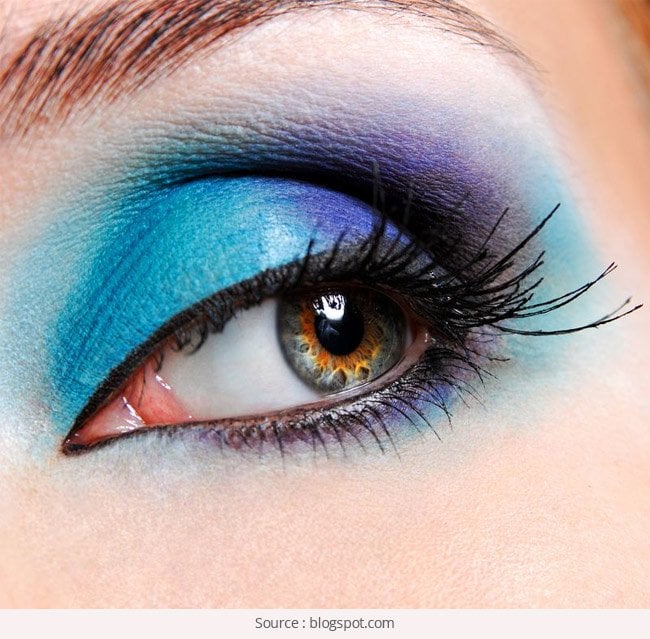 They say the eyes are the windows to the soul and that if you look deep within, you can see the person's sincerity and truth!
Can you think of anything classic and more sophisticated than the dramatic Smokey Eye Look? Sure, there isn't!
There was a time when only dark colours worked for the smokey eye look. Today as the young women are getting experimental about their looks, they select any colour they want for their smokey eye makeup. It is a good way to use up all the eye shadows that would have never been applied on the eyes otherwise.
In one of fashion blogs, makeup artist Mickey Contractor quoted –
Smokey doesn't always mean black. You can do it with any colour and no, it doesn't have to match your dress. It can be a striking contrast too – use your imagination.
We often get motivated from our Bollywood celebrities for carrying their smokey eye look with much charisma and it's not difficult to get those beautiful and sultry smokey eyes. Apart from brown, blue, black, pastel and purple smokey eyes, there are different and unique styles of applying make up for smokey eyes.
[Also Read: Smokey Brow Trend]
Learn about five unique styles for smokey eye look.
1. The Gradient Effect
The easiest and the most worn eye make up for smokey effects. One can easily apply smokey eye makeup with the gradient effect by herself. To achieve the gradient effect, you would need to choose one colour and then go from light to dark shade from the inside corner of the eye out. This gradient effect looks gorgeous and attractive.
2. The Cut Crease
If you can apply the cut crease make up effect on eyes, then voila! You can consider yourself a pro!  As the cut crease make-up effect is the most advanced style of smokey eye make-up and as much difficult too. As the name says it all, the cut crease means to cut the crease of your eyes with a contrasting eye shadow colour for a really dramatic effect. The makeup is angular in shape and a dramatic sharp liner would glamourize the smokey eye look.
How to apply by Colleen Runne, a professional makeup artist, published in Makeup.com
1. Apply a medium toned shadow on the eyelid from the lash line to the crease and along the lower lash line.
2. Create a sharp crease using a precision brush and the darkest shade. Follow the shape of your natural crease making a single line of colour ending just before your upper lash line.   
3. Blend the line upward toward your eyebrow–blending and diffusing, but maintain the weight of the line in the crease.
4. Highlight just under the brow bone using the lightest shade and line both the upper and lower lash line with the dark crease shadow.
5. For more intensity, dampen the brush slightly. Finish with a few generous coats of mascara.
3. The Graphic Shape
Those who love some punk and adventure in their style and makeup would love the graphic shapes in the smokey eye makeup effect. It looks really fun. In this style of smokey eye makeup, the focus is kept more on the shape, which is purposefully given a pronounced cut for dramatic effect. One can achieve this graphic shaped smokey eye makeup effect by the combination of a sharply drawn eye shadow (Single shaded) and eyeliner.  However, you can use multiple shades of eye shadows too.
4. Black Smokey eyes
Going all black in smokey eye makeup is about going gothic! However, only black eye shadow for the smokey eyes looks classic, sophisticated and self-explanatory too. To apply black eye-shadow, just make sure that it blends well. Add a touch of bronze, copper or gold to finish your dark look and be ready to roll. If you are wearing a monochrome outfit (currently in trend) then the classic black smokey eyes' style is one to go for! Grab the dark side of yours and show it through your eyes!
5. The Sharp Angle
Are you inspired from Arabian women and the eye-make up that they apply? It gives a beautiful, sexy and sensuous look to their eyes, making them look big and bold. The reason behind the popularity of Arabian style smokey eye makeup is the sharp angles, which is often achieved by using the tape method. In this style the eye shadow shape ends very sharply!
Most popular eye shadow colours for smokey effect on eye makeup –
Brown smokey eyes– A brown smokey eyes gives you intense look, without being too flashy. A tinge of gold on the eye really brightens up the eye and adds a bit of soft shimmer. This look can go with any of your party dresses, making it easier for you to create a gaudier contrast. You can modify it by keeping only winged eyeliner instead of bold eyeliner on the lower lashes.
Blue smokey eyes – Blue is powerful and great colour which compliments the blue and green eyed beauties. Blending some of the white shimmery eye shadow with this alluring colour under eye brows makes it look neutral. Don't forget to apply eyeliner to give your eye a winged look.
Pastel smokey eyes– Brown-eyed ladies should turn to wear a variety of pastel shades which lighten up their dark and dramatic look. During this season, pastel smoky eyes are a fantastic option in place of the regular smoky eye look. Apply pastel shades like pink, green and peach with charcoal eyeliner to give a best look. Applying a bit of gold eye shadow will finish your look and will go well with summer dresses.
Purple smokey eyes– If you are not afraid to play with colour then you must go for purple smokey eye look. Deep purple works well with a number of eye colours such as hazel, green and brown and it will make them look extraordinary. Other neutral shades like light silver will also make a big difference in your desired look.Use white shimmer eye shadow to highlight your eyebrows and ensure it blends well.
So girls play with these unique styles and enjoy your new sexy, smouldering Smokey eye makeup look!