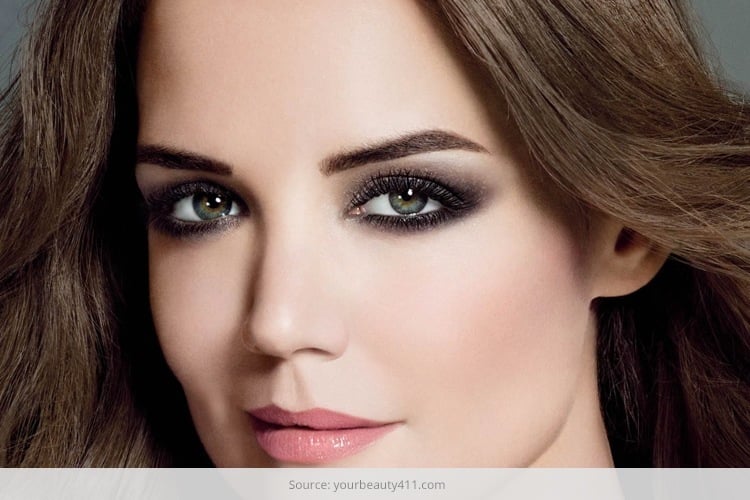 Raise a toast to smokey brow trend as HD eyebrows had had its time under the sun. The smokey brows whose first popular use can be traced to South Korea, is fast becoming the choice eyebrow style to be brandished by Hollywood celebrities. At the same time, makeup professionals and hair stylists are recommending their high-profile clients to do up their eyebrows the smokey way.
This novel style of grooming has become an instant hit with those who've thin eyebrows as the technique involves following a milder stance with respect to creating an arch. Also, sprucing or tidying up your eyebrows in this manner makes you appear more suave and charming.
[Also Read: How To Apply Concealer On Eyebrows]
Why Smokey Eyebrows Are All The Rage?
What it is about the smokey eyebrows that have made them take the world of women's fashion by storm? For a start, they're exactly what HD eyebrows are not. The pattern or outline of the HD approach comprises of tracing out perfectly contoured and precise lines adding extra depth and heaviness to the brows.
On the other hand, the smokey method entails marking out smudgier and milder lines all the time making sure that the skin over the brows and beneath it doesn't appear too dark or silhouetted. At the same time the edges should appear blurry and the arch towards the nose should be left more or less untreated. This style is particularly suitable for those women who have slim eyebrows that can be managed without much effort.
If you've brows characterised by sparse hairlines, then you'd find it easier to do them up in a manner that make them appear natural and original. The smokey mode of eyebrow makeup lends a more natural and softer tone to them making them appear uber-appealing. When you step out, you look more youthful, vibrant, and charismatic, courtesy the puerile, ungroomed look of your eyebrows.
Smokey Eyebrows Ideas
Your eyebrows and eyes are what people notice first when you step out and presently it is considered more fashionable to have eyebrows with lightly accented lines. Bear in mind that styling the eyebrows not only highlights the eyes but your face as well. Tweezing your brows and using the eyebrow pencil to create a look that gels with the rest of your facial makeup calls for having exemplary skills that's acquired through practice.
[sc:mediad]
The following smokey eyebrows ideas will help you generate the look that goes with your facial outline. You could have an oblong, oval, round, squarish, heart or diamond-shaped face. Accordingly you can settle for creating an eyebrow style that is roundish, angled, soft-angled, curved or flat. Use a good-quality tweezer for plucking the hairs and refrain from overplucking. Hairs that have become too large or overgrown should be trimmed to an appropriate length.
Take an eyebrow pencil whose color closely corresponds with the shade of your brows and sharpen it finely. Look out for gaps within the hairs and try to fill them by tracing long fuzzy lines with quick single strokes. For flaunting the smokey look, you'd need to make an arch.
And in order to create the perfect arch without overdoing it, you'd need to tweeze disorderly hairs by either plucking or trimming them. Thereafter, you'd have to wax mildy and brush using upward strokes. So as to accentuate the smokey appearance, gently apply a highlighting rousse or powder.
The Celeb Quotient
The credit for popularising smokey eyebrows goes to fashion diva Cara Delevingne who raised many eyebrows when she appeared at the Burberry Prorsum SS 16 show. Since then, celebrated celebrities like Sofia Vergara, Alessandra Ambrosio, Kate Moss, Dakota Johnson, and Sienna Miller have epitomised the smokey eyebrows trend. If you want to pick up the basics of this brow style which is trending, then follow these tips for smokey eyebrows.
How to do Smokey Brows – DIY
1. Prepare your brows by daubing a primer covering the skin beneath and over the eyebrows are covered just to ensure that the arch doesn't become messy at the end. Alternatively, you could also smear your brows lightly with a highlighter and blending it perfectly.
2. Next take an eyebrow pencil that closely corresponds with the natural hue of the brows and trace a fine line just under it. Thereafter, run the pencil gently atop the eyebrow concentrating more on the area at the end near the ears. The idea is to make a perfect match of the color of the brow pencil with that of the natural color of your brows and blend them as much as you can.
[Also Read: How To Bleach Eyebrows]
3. Thereafter take a mascara brush to complete finishing the blending and go on till the lines become invisible. Take brow powder and an angular brush to cover at least three-fourths of the top of the eyebrows and keep smattering the brush till the lines have blended.
Closing up, it can be convincingly stated that making the switch from the HD style to a Smokey one will add an altogether new and refreshing note to your persona.