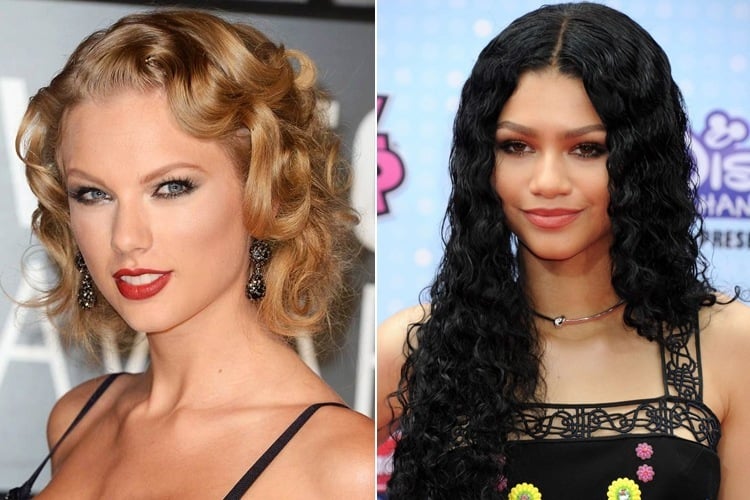 Whether you are lucky to be blessed with naturally curly hair or want to try something new, these are the perfect hairstyles for you!
Many women fret over their curly hair because they find it hard to manage their tresses. But worry no more! Take a cue from celebrities with curly hair as they will show you how to rock your curly locks. So now, it's time to embrace those beautiful curls and you can easily manage them with these stylish curls hairstyles of celebrities.
[Also Read: Hairstyles For Curly Hair]
Curls Hairstyles Of Celebrities
1. Beyonce Knowle's Perfect Spirals
Beyonce's sumptuous curls look fabulous and they are perfect for a diva like her. One of her all-time favourites is this gorgeous spiral look. Even you can rock this free-spirited hairstyle for an evening outside or a glamorous party. So don't think, just go for it, because this look never goes out of fashion!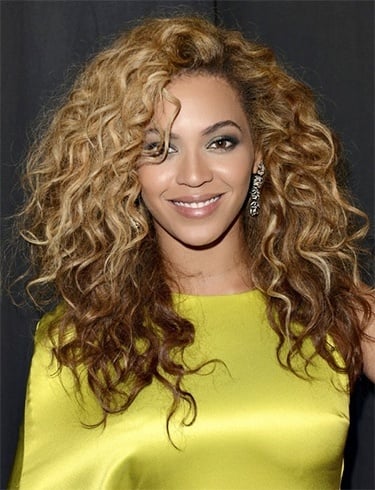 2. Bob With Curls For Short Hair
Taylor Swift rocks this lovely bob with curls hairstyle, and how! Many starlets with short curly hair prefer this cut because it's youthful and fun. A bob with curls looks fantastic and it flatters all face shapes and hair textures. Particularly low maintenance, if you're a lazy girl with curly hair who doesn't like to put in a lot of effort, this hairstyle can be your saviour!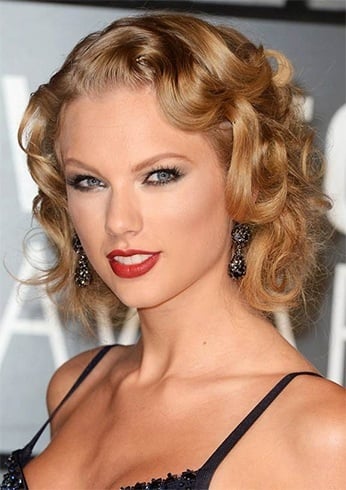 3. Au Naturel
Let your flowing, natural curls loose for a fresh, breezy and super-easy, nonchalant hairstyle that looks very simple yet beautiful. This is a minimalistic style that is perfect for everyday wear and for a casual outing during the day time. Without much fuss, you can let your mane shine naturally in all its glory.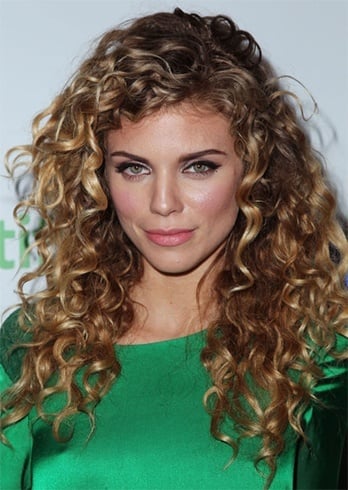 4. Pin-Up Style
Rihanna is one of those celebrities who changes her hairstyle very frequently and this particular style looks very chic and fashionable. For this look, all you need to do is pull your hair back and then pin it up. It is versatile and goes well in a formal setting or a fun party. To make it a little fun, pull out your ringlets from the sides. A pin up is the best way to beat the heat in style!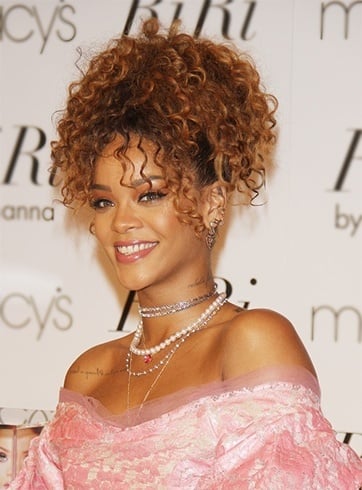 5. Jessica Chastain's Smouldering Side Swept Hair
For a more feminine look, you can sweep your hair to one side like Jessica Chastain. This style looks very elegant and it's prefect for a romantic date or a party. Whenever you want to dress up a little, just try this side swept look for your curls. You can also accessorize your hair with some clips or flowers and add a whimsical touch.
[sc:mediad]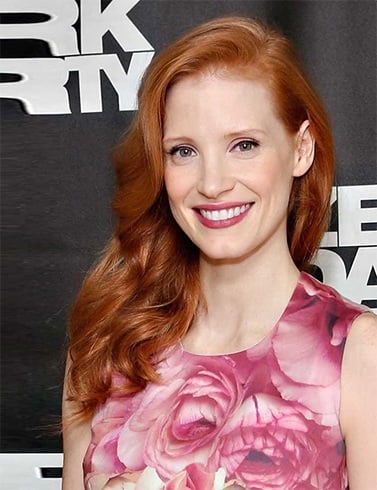 6. Zendaya's Mermaid Curls
This is one look that seems to be making a grand comeback. Zendaya pulls off the wet hair look with such confidence! You can sport this look and like Zendaya, you can make a middle parting for a bold statement and accentuate your lovely facial features.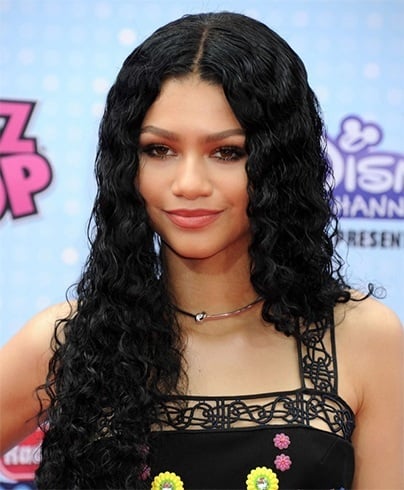 7. Blake Lively's Retro Style
Nothing looks classier than these vintage-y curls. Blake Lively looks ravishing in her retro inspired hairstyle and oozes sexiness. This hairstyle is a classic and favourite among celebrities for red carpet appearances and formal events. You can also sport this hairstyle and look like a Hollywood diva. You will make heads turn wherever you go!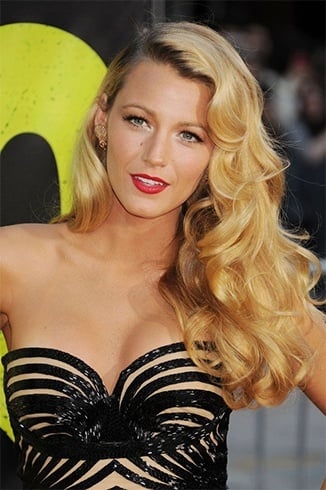 8. Ombre Curls
Ombre is the hottest trend of the season and this trend is here to stay. Depending on your haircut and hair colour you can opt for many different options to give your hair an ombre effect. This is the best option if you are a daring fashionista who loves to experiment and try different looks. You could go for a bob cut or ombre shag or color your long curly tresses for an edgy and stylish look.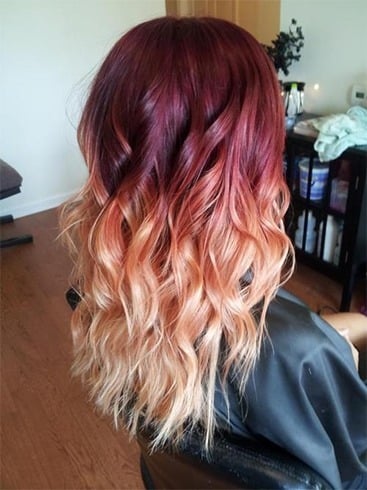 9. Kim Kardashian's Beachy Waves
This hairstyle is raging right now. Many celebrities are opting for this versatile look. Whether you've got a bob, medium length hair or even long hair, beachy waves work well for every haircut. This hairstyle is messy but it looks very playful and breezy. It can be a refreshing change from boring straight hair and looks very attractive for any occasion.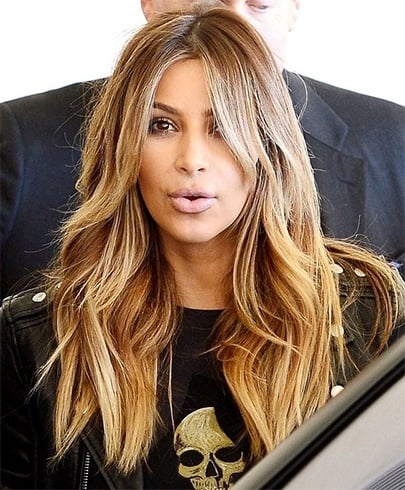 10. Lorde's Beautiful Ringlets
Lorde's long hair looks poised and elegant at the same time. To carry off ringlets like this hairstyle, make sure you add some shine to your hair.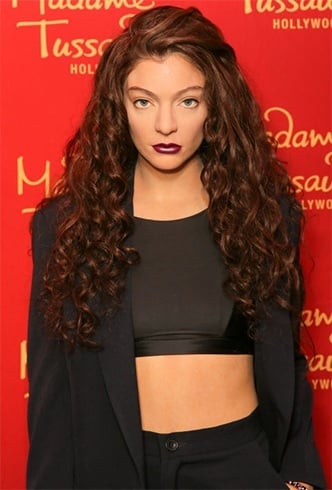 These are some fun, stylish and chic hairstyles for curly hair that will frame your face beautifully and help enhance your features.
Remember ladies, well-kept curls look fabulous! So, try on a new exciting hairstyle and give your look a boost. Carry your curly hairstyle with confidence and even you can be a trendsetter.
Images Source: pinterest.com