Which are the most long-awaited holidays for most people in a year? No prizes for guessing. Undoubtedly, it is Christmas and New Year's Eve. Whether you are at school, at work, in a family gathering or at a club partying with friends, you want to look special. And holiday or new years eve hairstyles have a huge role to play.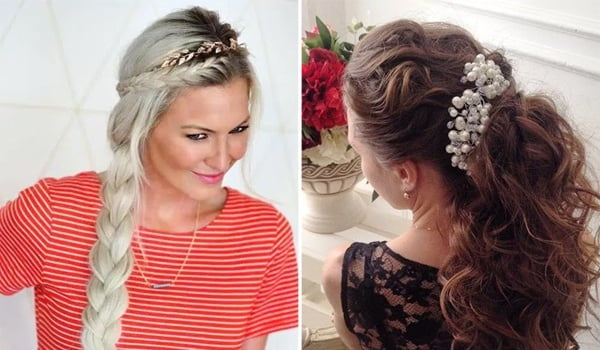 A new hairstyle can flatter your personality. That is why it should be chosen with as much care as your outfit. So here are the new years eve hairstyles 2020 – see them as party hairstyles, hair trends, or even new years eve hair ideas that will brighten your holidays and make them fond memories in the year 2020.
1. Textured Middle Bun:
This chic updo is one of the best-est and cutest hairstyles when it comes to new years eve hair ideas. Shuttles between holiday festive to romantic. The tousled hair shaped into an airy and voluminous bun has a messy feel to it which makes it all the more interesting. The style finished with a tendril on one side and a sparkly hair accessory on the other makes it perfect for the holiday season.
2. Long Bob With Side Braid:
Well, this new hairstyle might look a wee bit casual than what is expected of a party look. But at the same time, it looks chic. Enjoy the long bob (though slightly tousled) accentuated with a delicate side braid.
3. Blonde Fishtailed Crown:
Braided crowns are the most in-thing in hairstyles at the moment, so much so that their popularity in 2020 is here to stay. Now, this pretty blonde version that you see is styled to perfection making it great as one of the sassiest new years eve hair ideas. The sparkly hair accessory that you see in front is the added highlight of the updo.
4. Messy Off-Center Bun:
Traditional buns have the flexibility. They can be placed high, low, on the side or in the middle of the head. The modern versions have their own style factor.
The look that you see below has two off-center messy buns placed on either side of the head. As you can see, the hair is tousled and braided loosely before being placed in buns and then left messy purposely. What you finally get is a crazy-looking chic gold crown which sits off at one side so that you get a really regal holiday look.
5. Low Knot With Side Twists:
This gorgeous and sophisticated updo makes for one of the most fashionable new years eve hairstyles. With a collection of side flat twists making a low bun, this is is one of the easiest holiday hairstyles. It is a unique option to sport for holiday parties. The topping? The bejeweled multi-colored ear cuff and the matching hair accessory which moves towards the bun.
6. High Textured Ponytail:
Don't be under the impression that ponytails are just reserved for the school or college gals. They are a fashion roar when it comes to holiday hairstyles. This party-ready ponytail is held in place with the braided base. The voluminous blonde waves are a treat to watch. Since the ponytail is placed high on the head, it gets the long curls to beautifully cascade over the shoulders.
7. Low Twisted Chignon:
Meet this elegant and chic new years eve hairstyles 2020. The chignon is at the nape of the neck whereas the front is slightly twisted on the side. This is definitely one of the most elegant holiday hairstyles. It can be perfectly accessorized with the silver headband pushed towards the crown.
8. Teased Updo:
It is the festive season. So a bit of teasing done in this voluminous updo makes it one of the best new years eve hair ideas. The hair is expertly curled to get the max volume. The teasing done with a hairspray helps create a strong base. This ensures the updo will stay put during the dancing and festive celebrations and not open up. Floral hair accessory is a nice complement to the overall party hairstyles.
9. Spiky Pixie:
Great party hairstyles for round faces, and for ladies who want a different look for the holiday season. In order to dress up this style, all you need is a fun hair accessory – it could be a headband or even a necklace.
10. Messy Updo With Side Bangs:
This is one of the coolest new year's hairstyles, where medium sections of hair are twisted and pinned in no order. To get a messy feel, a few wisps of flyaway give it an added definition. A gold leaf headband gives a nice finishing touch.
11. Side Braid And Wavy Pony:
Not an understated hairstyle it is, but truly a gorgeous one. The long wavy pony on the side and the half-braided crown, placed on the same side looks a great combo. To get added height and drama, the crown is lightly teased.
12. Side-Parted Crown Braids:
Better than a single crown braid is two crown braids. This is definitely one of the most popular new years eve hair ideas that is a perfect holiday hairstyle.
13. Curly Bob With Side Braid:
This is one of the quirkiest new year's hairstyles. It can be both dressy and sophisticated or modern yet casual. The bob is amped with thick curls. A side braid (unfinished) is placed in front along the hairline, and a sparkly hair clip added to keep up the festive look.
14. Side Chignon:
There are some hairstyles which are too pretty and perfect. The sculpted side chignon is one of them. Bears a nice retro feel! The addition of embellished comb gives a nice beautiful touch.
15. Messy Faux Bob:
Add the retro style of the 1920s to the holiday celebrations this year. This Great Gatsby-inspired hairstyle is a must try. You have to create a faux bob by pinning textured locks under and leaving a few wisps of hair out so that you get an undone look. Add an embellished headband featuring feathers or rhinestones.
16. Long Blonde Side Braid:
Classy and simple is this flirty side hairstyle. Perfect for long hair, this platinum blonde side braid also has a half-braided crown. Add a foil-leaf accessory and you are ready with one of the most feminine new year's hairstyles.
17. Low Loose Swirl Updo:
Welcome the holiday season with this highly teased crown. This night out hairstyle makes the low bun stand out. The crown adds volumes while the front is parted on the side with a sexy bang. The real bun is given a swirl shape and a gold leaf hair accessory adds the perfect dash of glamor.
18. Fauxhawk Updo:
Perfect new years hairstyles for the daring and adventurous girls out there. What makes it different is that it combines extreme teasing and braids to form a fauxhawk updo. To keep the hair in place there is pinning and tucking to do.
19. Modern Retro Updo:
100% party ready. Meet this yet another chic-n-retro hairstyle. This messy updo is a beehive in silhouette pattern. The soft side bang helps keep the look feminine. As for the finishing and embellishments, there is a striking sequin headband.
20. Thick And Textured Ponytail:
This ponytail is ideal for those gals who are naturally gifted with thick and curly hair. There are tons of curls to manage before they are placed into a ponytail. The base of the ponytail looks beautiful with a pearl hair accessory.
21. Weave Hairstyles:
Sweet, sassy and a whole lot of fun, weave hairstyles protect your hair from the harsh effects of styling products. Plus they act as a security blanket protecting you from those bad hair days.
22. Fine Hairstyles:
Fine hair doesn't mean thin hair. The fine hairstyles are the best type of hairdos to have – they are manageable and are able to hold the shape far better than any other kind of hairstyle. This is one of the best examples of fine hairstyles for long hair sported by Keira Knightley. Like the others on our list of the hottest holiday hairstyles, this too makes the cut.
Which of these new year's eve hairstyles are you going to try before you hit the party circuit at the 2020 year-end? Also, make sure you ask an expert which style would suit your face cut the best.
Do mention the name of your favorite new years eve hair ideas in the comments section below.