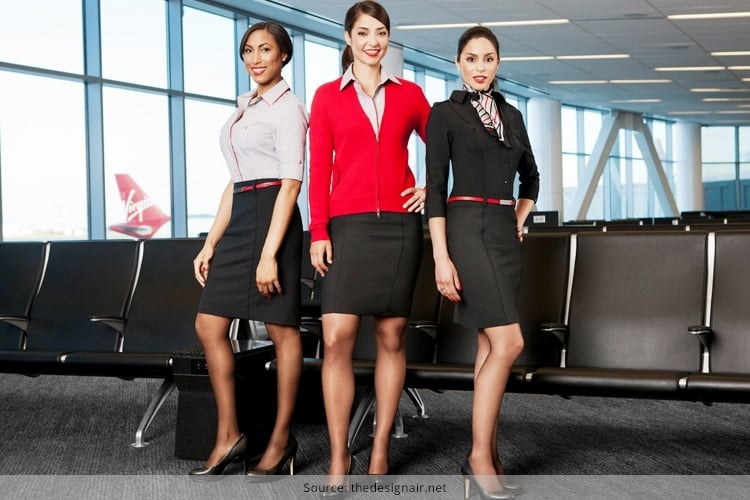 Beauty isn't only on the roads, the streets and the ramp walks, look up in the sky and watch the bevy of beauties serving up a feast, each time you fly the high mile! Yes, we are talking about the chicest of flight attendants, well-groomed and all dolled up in designer wear cabin crew uniforms.
Lets look at some of best cabin crew uniforms
British Airways
Buttoned up and so smart, stylish to the core, the flight attendants on British Airways, the national carrier for UK have touches from Givenchy and Chanel designer, Julian Mac Donald. The uniform speaks of trust, responsibility, and professionalism and of course, glamour. The flight attendants look smart and not like old grannies queuing up at soup kitchens. Flattering to the eyes, comfortably worn, we love British Airways cabin crew uniforms no doubt!
Alitalia Airlines
Italians have style, class and panache when it comes to fashion and glamour. Needless to say, forty thousand feet and up in the sky, our flight attendants at Alitalia Airlines are a glamorous bunch of smiling women. Sleek couture and mind blowing cabin crew uniform for both genders, the girls especially look the part of high class corporate women on the go. Never would you see an unhappy smile on any of their faces; we now know why!
Qantas
The Australian national airline redesigned their crew's uniforms and brought in Yves Saint Laurent and Gucci to help. French Navy touches, vibrant and colourful tones, with a mix of the airline's signature colour; ruby red, flattering every shape and size on board, we are madly in love with their trench coats!
Turkish Airlines
Talking about chic cabin crew uniforms, you must check out the hot and haute Turkish Airline cabin crew uniforms. Trendy and very sleek, keeping to the norms of the routes their travel in, a mix of traditional and the new age fashion combined, Turkish airlines wins our hearts on this one!
[sc:mediad]
Korean Airlines
Thanks to the creativity of Gianfranco Ferre, popularly called the 'Italian architect of fashion', the flight attendants at Korean airlines since 2005 have been grabbing more than just eyeballs Celadon touches with cream and white, blue involved too, the best cabin crew uniform so far with loads of comfort and functionality thrown in. You now know why Korean airlines serve you like a queen up in the skies! If you truly want to check out a fashionable piece of art, look at their gravity defying scarves!
Singapore Airlines
Singapore Airlines, would we make the folly of not mentioning the signature Singapore airlines dress code? The Sarong Kebaya was worked upon by the famous Pierre Balmain, a French couture specialist in the late 1960's. Forty years hence and the same remains, with colours from navy blue to yellows for various positions on flight attendants to wear and flaunt! Hats off for the style withstanding the change of winds in fashion!
Air France
Bonjour Madame, comment ca va? And the ever so stylish women on the flight makes flying a fashionable saga to behold. We couldn't but mention these pretty bevies of beauties on Air France, with their costumes designed by the famous haute designer, Christian Lacroix! Enough said we guess about the best airline uniform.
Lufthansa
What we love most about the flight attendants on Lufthansa would be the lovely outfit for work they wear, while they serve you like royal forty thousand feet above ground. The scarves and hats are made from the finest quality of silk, making the German carrier flight attendant a chic bunch of confident women keeping their flyers happy!
Aeroflot
Most would not want to mention Aeroflot as one of the best in style for their flight attendants' uniforms, but hey, have you checked the glam quotient in them? Inspired by the retro touches, vintage is so haute we tell you, especially when the girls doll up in bright and very bold tangerine-red tones. Iconic hats and chic sleek white gloves for the hands; brings back the good old sixties that swung across the world isn't it?
Emirates
Without a doubt, Emirates won our hearts when talking about the best cabin crew uniform was concerned. Monotone fashion in pale off-whites and yellowish touches at its best, with their signature scarf-hats in red and white; Emirates we heart your services up and about in the skies, and your sense of fashion too.
So, here were the most stylish cabin crews uniforms discussed, and in no random order shown to you! Your thoughts on this would be appreciated please!