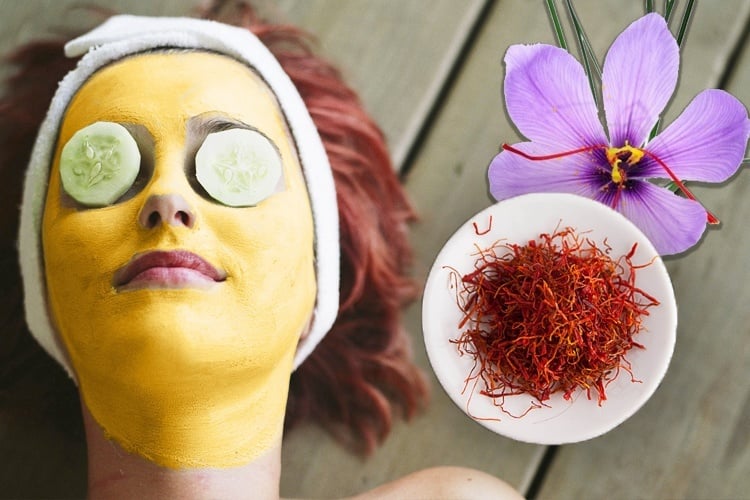 We all love the fragrance of saffron in our dishes, but did you know that a few strands of saffron in face mask is also very beneficial for our skin? Saffron is expensive, but one or two strands of the same can work wonders for your skin. Saffron Face mask in fact, is tremendously helpful to keep pimples at bay. There are various combinations you can make for saffron mask for pimples and we will discuss some of the best ones here.
[Also Read: How To Use Saffron For Skin]
Saffron Face Mask For Pimples
Homemade saffron face mask is the best because you are using all the natural ingredients and also it is very safe for your skin. Saffron face mask for pimples can be applied twice a week or as per your convenience so that your skin is smooth, fine and supple.
Saffron is an anti-bacterial agent and only a few strands of it can create wonders to your face pack. One of the many ways how saffron can help is by using it in many different face packs available for acne.
Adult acne is serious issue and many adults face this problem at a later stage in their life. But the issue with these adult acnes is that they are very stubborn and they take really long to subside and subdue.
[Also Read: Saffron Oil For Skin]
So, if you feel that you are prone to your skin breaking out, then you should take precautions beforehand to prevent any such problem.
Let's talk about a few saffron face masks which will help you battle with adult acne:
1. Saffron & Sandalwood Powder Face Pack
This face mask is the number one face mask for pimple-prone skin. The ingredients in saffron and sandal help to shrink the pimples and keep the skin dry. Here is what you will need:
Very few strands of sandal
Some sandalwood powder
Raw milk
[Also Read: Saffron for Acne Skin]
Mix all the ingredients together to make a smooth paste. Clean your face thoroughly before applying the face mask and apply to your face in circular motion. Massage your face if necessary and let the paste stay on your face for at least an hour or till it dries. The bottom line is, this face pack is extremely helpful for those who have an oily skin and regular application can help fight this issue.
[sc:mediad]
2. Saffron and Honey Face Mask
This one is also an extremely anti-septic but mild face mask. Oxygen is also mild bleach and will help your skin to glow. Here is what you will need:
2-3tbsp of honey
A few saffron strands
Just put the strands in honey and apply a thick layer on the face and keep it till it dries. Wash off with lukewarm water. The lukewarm water will help to open up your pores and remove any impurities. Make sure you moisturize after you have cleaned your skin properly.
[Also Read: Saffron Oil For Skin]
3. Saffron and Milk Face Mask
This face pack is a brightening face pack and also removes pimples because of its anti-bacterial properties. Here is what you will need to make the face pack:
Some raw milk
Water
Saffron strands
[Also Read: How To Remove Pimples In One Day]
Just mix all the ingredients together and apply on your face with a brush. Keep on your face for at least 14-15 minutes and then wash off with COLD water to close the pores.
Some immensely helpful face masks to keep pimples at bay!